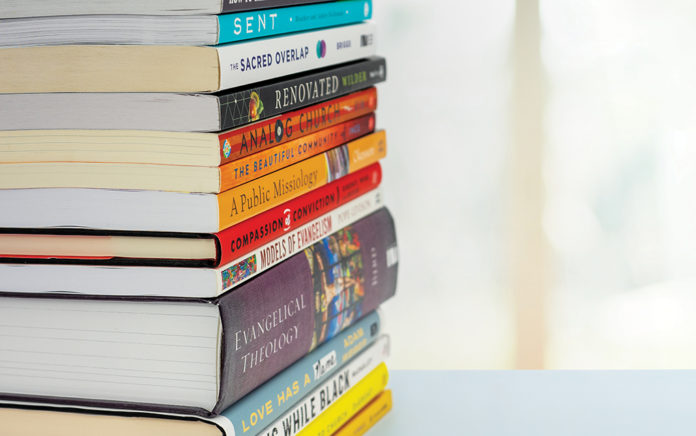 Outreach Magazine Names Resources of the Year
For the 18th year, Outreach magazine is celebrating some of the best outreach-oriented books and curricula by honoring them as Outreach Resources of the Year.
The Outreach Resources of the Year aims to highlight valuable resources for church leaders and bring deserved attention to resources that can help churches better engage in effective outreach to share the gospel and reach their communities for Christ. This year's titles address issues in evangelism and apologetics, discipleship, the church, leadership, racial reconciliation, and social issues and justice, among other concerns. The resources are featured in the March/April 2021 issue of Outreach magazine.
More than 150 resources published between Nov. 1, 2019, and Oct. 31, 2020, were submitted for consideration. An expert in each category evaluated the resources and chose what they considered to be the best. The experts also chose how many resources to recognize, and whether to include any as "Also Recommended."
The Outreach Resources of the Year are:
EVANGELISM AND APOLOGETICS
RESOURCES OF THE YEAR
How to Talk About Jesus (Without Being THAT Guy)
By Sam Chan (Zondervan)
Read our interview with Sam Chan»
SENT
By Heather & Ashley Holleman (Moody)
Also Recommended
Reclaimed
By Andy Steiger with Sheri Hiebert (Zondervan)
Telling a Better Story
By Joshua Chatraw (Zondervan)
DISCIPLESHIP
RESOURCE OF THE YEAR
The Sacred Overlap
By J.R. Briggs (Zondervan)
Also Recommended
Leading Small Groups That Thrive
By Ryan T. Hartwig, Courtney W. Davis and Jason A. Sniff (Zondervan)
From Social Media to Social Ministry
By Nona Jones (Zondervan)
CHURCH
RESOURCE OF THE YEAR
Renovated
By Jim Wilder (NavPress)
LEADERSHIP
RESOURCE OF THE YEAR
Analog Church
By Jay Y. Kim (IVP)
Read our interview with Jay Y. Kim »
Also Recommended
Maximize Your Influence
By Phil Cooke (Cooke Media Group)
Better Decisions, Fewer Regrets
By Andy Stanley (Zondervan)
RACIAL RECONCILIATION
RESOURCE OF THE YEAR
The Beautiful Community
By Irwyn Ince Jr. (IVP)
Also Recommended
Healing Racial Trauma
By Sheila Wise Rowe (IVP)
CROSS-CULTURAL AND MISSIONAL
RESOURCE OF THE YEAR
A Public Missiology
By Gregg Okesson (Baker Academic)
Also Recommended
Exiles on Mission
By Paul Williams (Brazos Press)
40 Questions About the Great Commission
By Daniel L. Akin, Benjamin L. Merkle and George G. Robinson (Kregel Academic)
SOCIAL ISSUES AND JUSTICE
RESOURCE OF THE YEAR
Compassion (&) Conviction
By Justin Giboney, Michael Wear and Chris Butler (IVP)
THEOLOGY AND BIBLICAL STUDIES
RESOURCES OF THE YEAR
Models of Evangelism
By Priscilla Pope-Levison (Baker Academic)
Evangelical Theology
By Michael Bird (Zondervan Academic)
SPIRITUAL GROWTH
RESOURCE OF THE YEAR
Love Has a Name
By Adam Weber (WaterBrook)
CHRISTIAN LIVING
RESOURCE OF THE YEAR
Reading While Black
By Esau McCaulley (IVP Academic)
Also Recommended
The Deeply Formed Life
By Rich Villodas (WaterBrook)
The Way Up Is Down
By Marlena Graves (IVP)
COUNSELING AND RELATIONSHIPS
RESOURCE OF THE YEAR
When Narcissism Comes to Church
By Chuck DeGroat (IVP)
KIDS AND YOUTH
RESOURCE OF THE YEAR
Tiny Truths Wonder and Wisdom
By Joanna Rivard and Tim Penner (Zonderkidz)
WHO MADE UP THIS YEAR'S PANEL?
Evangelism
Ed Stetzer, an Outreach contributing editor, who holds the Billy Graham distinguished chair of church, mission and evangelism at Wheaton College and the Wheaton College Graduate School, where he also directs the Billy Graham Center.
Discipleship
Thomas Bandy, director of Thriving Church Consulting and the author of more than 60 books and articles.
Church
A.J. Swoboda, assistant professor of theology, Bible and world Christianity at Bushnell University and the author of After Doubt.
Leadership
Knute Larson, an Outreach magazine consulting editor and a coach of pastors and churches, is the director of Pastorpedia, a monthly video and blog for church leaders, accessible through OutreachMagazine.com.
Racial Reconciliation
Mark DeYmaz, an Outreach contributing editor, directional leader of Mosaic Church of Central Arkansas and convener of the National Multiethnic Church Conference.
Cross-Cultural and Missional
Robert Gallagher, professor emeritus of intercultural studies at Wheaton College Graduate School and teaching pastor at Lombard Bible Church in Lombard, Illinois.
Social Issues and Justice
R. York Moore, national evangelist for InterVarsity Christian Fellowship and the author of Do Something Beautiful.
Theology and Biblical Studies
Scot McKnight, author or editor of some 60 books and the Julius R. Mantey Chair of New Testament at Northern Seminary in Lisle, Illinois.
Spiritual Growth
Bobby Harrington, pastor, author and CEO of Discipleship.org and Renew.org.
Christian Living
Ken Wytsma, the author of The Myth of Equality, Pursuing Justice, The Grand Paradox, Create vs. Copy, and co-author of Redeeming How We Talk.
Counseling and Relationships
Drs. Les and Leslie Parrott, founders of the marriage assessment SYMBIS.com and authors of Saving Your Marriage Before It Starts.
Kids and Youth
Russell St. Bernard, an Outreach magazine contributing editor, the director for ministry operations at Kingdom Fellowship AME Church in Silver Springs, Maryland, and founder of After the Music Stops.
Outreach magazine offers the ideas, insights and stories of today's outreach-oriented, Bible-based churches. Founded in January 2003 by church communications company Outreach Inc., Outreach is an award-winning, bimonthly periodical for church leadership and is available by subscription and on Amazon.com. Find out more at OutreachMagazine.com.