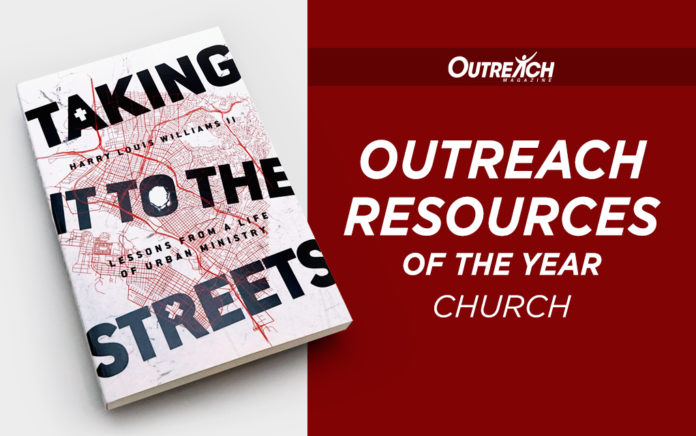 Evaluated by Bob Whitesel
Outreach Resources of the Year: Church
Now in its 17th year, the 2020 Outreach Resources of the Year honors the past year's best books that emphasize outreach-oriented ideas and ministries.
The church category was evaluated by Bob Whitesel, a church coach, consultant, practical theologian, John Wesley scholar, founding professor of a seminary and author of 13 books.
RESOURCE OF THE YEAR
Taking It to the Streets: Lessons From a Life of Urban Ministry by Harry Louis Williams II (IVP)
This veteran minister and budding academic weaves together stories from the inner city with biblical narratives to demonstrate what every church—suburban or rural, small or mega—can do to missionally heal the divisions in society. He covers it all: church planting, gentrification, prosperity gospel, racism, slavery, radicalism and reconciliation. For each problem he suggests practical and biblical steps almost any church can undertake to rethink urban partnerships and begin to repair Americans' divisions. To understand a culture, you need a guide. And Williams is one of the best I have encountered. If you are not from an urban culture and want to launch a ministry to it, absorb the stories in this book.
ALSO RECOMMENDED
Why Church? A Basic Introduction by Scott W. Sunquist (IVP)
To the question, "Is the church losing its relevance?" the author offers a well-thought-out critique, believing the church has lost its focus on its only two purposes—worship and witness—and suggesting a practical five-step solution.
The Church of Us vs. Them: Freedom From a Faith That Feeds on Making Enemies by David E. Fitch (Brazos/Baker)
Fitch uses his well-honed skills as a theologian to address the divisions in America from a clear and biblical theological perspective.
Additional church resources are available at OutreachMagazine.com/church.