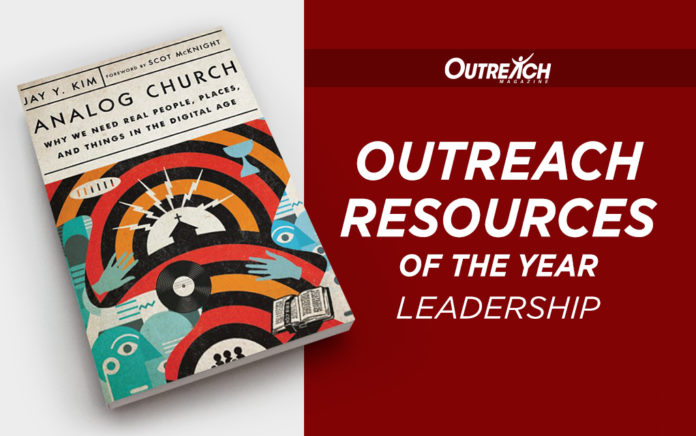 Evaluated by Knute Larson
Now in its 18th year, the 2021 Outreach Resources of the Year honors the past year's best books that emphasize outreach-oriented ideas and ministries.
The leadership category was evaluated by Knute Larson, an Outreach magazine consulting editor and a coach of pastors and churches. He is the director of Pastorpedia, a monthly video and blog for church leaders, accessible through OutreachMagazine.com.
RESOURCE OF THE YEAR
Analog Church: Why We Need Real People, Places, and Things in the Digital Age by Jay Y. Kim (IVP)
Jay Y. Kim carefully defines, from Scripture and experience, how connections and love—not just tech—make a good church in Analog Church. His three divisions—worship, community and Scripture—describe what a digital-first approach can do, and then what an analog or real community can be. Kim applauds digital skills, but warns they can produce spectators at best, even "frenetic shallowness." Lasting love skills modeled by Jesus long ago and copied by many churches sincerely invite and unite. Kim emphasizes the difference between communicating and communing.
ALSO RECOMMENDED
Church ministries will benefit from Maximize Your Influence: How to Make Digital Media Work for Your Church, Your Ministry, and You by Phil Cooke (Cooke Media Group), a great how-to practicum on digital media that explores what media to use and how to connect with people.
The five questions Andy Stanley says to ask before making a big decision are good, if you can sort your reasoning into fifths. But Better Decisions, Fewer Regrets: 5 Questions to Help You Determine Your Next Move (Zondervan) also is worth the read for the five chapters of Bible stories, teachings and personal illustrations told in a compelling way.
Additional leadership resources are available at OutreachMagazine.com/leadership.