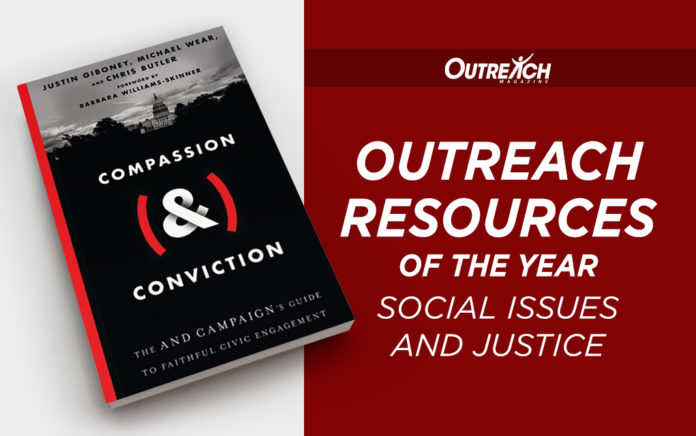 Evaluated by R. York Moore
Now in its 18th year, the 2021 Outreach Resources of the Year honors the past year's best books that emphasize outreach-oriented ideas and ministries.
The social issues and justice category was evaluated by R. York Moore, national evangelist for InterVarsity Christian Fellowship and the author of Do Something Beautiful.
RESOURCE OF THE YEAR
Compassion & Conviction: The AND Campaign's Guide to Faithful Civic Engagement by Justin Giboney, Michael Wear and Chris Butler (IVP)
Compassion & Conviction is a book for this moment of incivility, disruption and distrust. The authors provide an excellent framework to understand the durable tension between important issues like compassion and conviction, messaging and rhetoric, advocacy and protest. This book gives meaningful and accessible application to the ideas of contextualization, polarity and nuance, freeing Christians who have become trapped in the downward spiral of hating their neighbor because they do not have the ability to discern between differences and danger. The authors give practical tools and paradigms to enter public spaces and discourse with civility, power and love. A must-read for anyone serious about cultural engagement in a time of upheaval and unrest.
Additional social issues and justice resources are available at OutreachMagazine.com/justice.