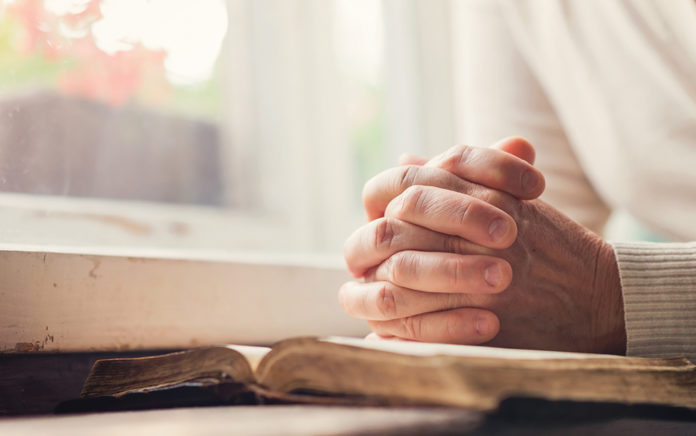 In the kingdom of god, you are an essential worker.
Among Protestant Churchgoers
How often do you pray for the spiritual status of people you know who are not professing Christians?
32% Every day
26% A few times a week
28% 1–4 times a month
14% Rarely/never
Few people got through 2020 unscathed. Some were furloughed for a season or even lost their job permanently. Others were told they were not essential during mandatory lockdowns or had to work from home. People took precautions by stepping back from many social activities. Sometimes they only spent time with their immediate family or extremely small sets of friends. These actions left others excluded from contact they once enjoyed.
Our congregations are full of people who have received the message they are not essential, and they are not needed. Like never before, your congregation needs to hear this message clearly: "You are an essential worker in the kingdom of God." As people evaluate their lives during this unusual season, they will see that this moment affords unique opportunities. As followers of Christ, we have to be willing to accept that God has called us to be essential workers in his harvest.
YOU ARE NEEDED
The fact is, God almost always uses people in the evangelism process. As LifeWay Research has assessed the discipleship signpost of sharing Christ, however, we have seen that many believers are not embracing this role. In fact, over the past decade, our research has shown the church in North America is falling short in this area more than any other. And that was before the pandemic.
As surprising as it may be, COVID-19 has created some evangelistic opportunities. As a result of the coronavirus, 13% of pastors say an attendee in their church has seen someone make a commitment to follow Christ after sharing the gospel with them. But COVID-19 has also complicated outreach. Distance, either at work or in the church, messes with your head. The doubts that Satan likes to plant—you are not needed, you are not appreciated, your contribution doesn't matter—can easily fester unchecked.
Isolation and division have been tactics Satan has used against the church throughout history. Our adversary wants nothing more than to isolate believers from each other, because it is through community that we remind each other of truth, we encourage each other to live out our faith, and we join together in this work.
There may be no greater encouragement we can give our congregations today than to remind them that they are essential. God doesn't need us to get people to turn to him, but God wants to use us as he works.
ASKING GOD
God does the work of turning hearts, but we still have a role to play. God wants us to ask him to do this. Jesus invited us to ask anything in his name. As we read all of Scripture, however, we see his desire is for us to ask for things that fit his will. What more fitting thing can we ask than for people we know to bend their knees before Jesus as their Lord?
Among the evangelistic actions we measured in Discipleship Pathway Assessment research, 58% of churchgoers say they pray a few times a week or more for people they know who are not professing Christians. This is a higher percentage than other outreach activities, but too often we aren't asking God to turn the hearts of these friends toward himself.
It has been easy to get distracted from our essential role of asking God to work in the hearts of our family, among our friends and throughout our community. Yet this is the easiest part of God's work to join on a daily basis.
MEETING PEOPLE
How we meet people has changed. Many of the places we used to gather are closed or not allowing large groups. The groups we belong to are not meeting in the ways they used to. Many in our congregations are rarely going out for health reasons.
However, safe ways to meet people still exist. Local churches can continue to innovate how to do this together, but we should encourage individuals to take on this role as well. The new, safe habits people have developed often include opportunities to meet people, whether it is walking in the park, participating in a virtual book club or frequenting a favorite eatery.
The gospel is a message to deliver, but to do so we must acknowledge that the person hearing the gospel is evaluating you as much as they are evaluating the message. Delivering the message of the gospel well means we start by loving the person. Remember, God demonstrated his love for us first, before we heard a message (Rom. 5:8).
A Christlike attitude toward others means that when we meet people, we listen to their story, hear their needs, find common interests and care about their hurts. If this sounds more like building a relationship than anything else, that's because it is.
Only 37% of churchgoers say they intentionally build such friendships specifically as a follower of Christ. I am sure a higher number are investing in relationships, but fewer than 2 in 5 are doing so wanting to help the other person in their relationship with Christ.
The important thing is not the quantity of people we meet, but the attitude we have around the people we do meet. Being an ambassador for Christ is not a role we play at Easter or Christmas. It is a day in, day out role of representing the King of Kings and the kingdom of God.
EXPLAINING THE WAY
As we love the people we meet, our hope that is found in Jesus Christ should overflow. As it does, natural moments in conversations when we can share who Jesus is and what he has done for us will occur.
That message includes explaining how a person becomes a Christian, something people become more comfortable with after some training. Before COVID-19, the majority of churchgoers (55%) had not shared with anyone how to become a Christian in a six-month period.
The classic market research question measuring satisfaction with a company asks, "How likely are you to recommend this company to someone else?" As someone taking a survey, I have often thought I don't go around recommending companies. Yet, I usually play along and answer, "Well, if I were to recommend, then my likelihood to recommend your company is an 8 out of 10."
Recently, I took a survey in which they posed a follow-up question asking how often I actually recommend that type of company. I had to admit I rarely do.
Similarly, we might rate our satisfaction with Christ very high. Consider the words we express in our worship music: "the highest King," "Christ is enough for me," "There's nothing better than you." If Christ means so much to us, we should be excited to recommend him to others.
But are we as followers of Christ just playing along with the God-given role of recommending Christ? Are we waiting for people to come ask us which god we recommend? Are we expecting people to ask us how satisfied we are in him?
Believers are part God's gracious work of reconciling people's relationship with him. We are essential in this work, not because God needs us, but because he wants us to join him in his activity of redemption. Spread the word: Everyone in your congregation is essential.