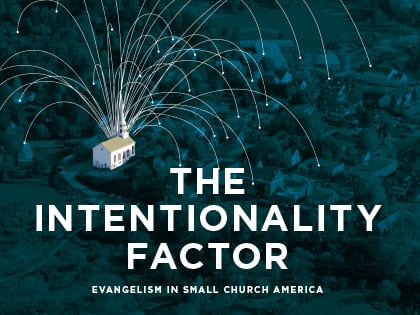 "Intentionality in prayer, evangelism and discipleship are necessary to drive the church toward reaching the unreached."
"Pastor, no one in your church will share the gospel more than you." This is a statement we regularly make when talking with pastors who serve in smaller-membership churches. The importance of intentional personal evangelism by the pastor cannot be overstated. Churches of all sizes can struggle with keeping evangelism the focus, but small churches often have significant hurdles to overcome.
Small churches tend to be more relationally focused—one of their most positive characteristics. In his book Taking Your Church to the Next Level, Gary McIntosh writes, "The core values of smaller churches cause them to look for a highly relational pastor who serves church members by listening to their concerns, ministering to their personal needs and following their lead." But, if pastors are not careful, this relational focus can become a hindrance to advancing the kingdom vision of making disciples who make disciples. Often, small-church members are so inwardly focused, they are unable—or unwilling—to connect with their community and share the gospel.
To counter this tendency, the pastor must lead the way by being intentional in personal evangelism to focus the congregation on the community. Modeling a lifestyle of evangelism, sharing it publicly from the pulpit and inviting others into evangelism are keys to helping small churches thrive in sharing the gospel.
A recent study on the personal evangelism practices of small-church pastors was conducted by the Caskey Center for Church Excellence and the Billy Graham Center for Evangelism, in partnership with a dozen denominations (see "Methodology" section at the end of the article). LifeWay Research, which conducted the survey, contacted 1,500 pastors. The calling list was a random sample, stratified by church membership and denominational groups, drawn from a list of all evangelical and black Protestant churches. The results provide a snapshot of the personal evangelism habits of small-church pastors—those pastoring churches of 200 or fewer attendees. A comparison between the top 20 percent of churches that retained new commitments with the bottom 50 percent of churches reveal the key to reaching a community with the gospel through intentionality in personal evangelism, creating a climate of evangelism within the church and leading members to make disciples.
New Attendees, More Commitments, Greater Retention
Intentionally evangelistic pastors (top 20 percent) are more likely to see an increase in the numbers of attendees in worship services, and also are more likely to see new commitments to Christ. In Matthew 9:37-38, Jesus says, "The harvest is plentiful, but the laborers are few; therefore, pray earnestly to the Lord of the harvest to send out laborers into his harvest." Missional Christians who see the scope of their lives as mission fields are the laborers the Lord sends in answer to this prayer. Pastors must lead their congregations to be diligent in this endeavor. As pastors are intentional in personal evangelism, God provides the harvest.
When asked to estimate the percentage of new church attendees who did not previously attend church, intentionally evangelistic pastors reported a higher percentage (more than half) compared to the bottom 50 percent of churches, which reported fewer than 1 in 5 were previously unchurched. Not surprisingly, then, intentionally evangelistic pastors reported a greater number of new commitments.
Small churches reported an average of 12 new commitments per year, but 60 percent of the responding churches had between zero and nine new commitments. Intentionally evangelistic pastors reported their churches averaged between 10 and 19 new commitments per year. The lowest 50 percent of churches averaged between zero and four new commitments each year.
Churches that offer new believers a course on the basics of how to live the Christian life saw greater retention of the new believers in their membership. Of the more effective churches, 78 percent indicated they offer a "New Believers" course, and on average, 57 percent of new commitments were retained. When asked how often the class was offered, 68 percent reported offering a class at least once in six months.
The influence of a small-church pastor on the congregation can be crucial in seeing these numbers rise, especially in the number of new commitments per year. Often, a new believer in a small church develops a strong connection with the pastor as a spiritual mentor. Statistically, the "New Believers" course has a high retention rate. Imagine if a pastor can excite other volunteers or lay leaders to assist with a new-member class, creating a greater connection between a new believer and lay leaders within the church. This can model discipleship to established church leaders that might not regularly interact with nonbelievers, and also help inspire them toward their own personal evangelistic endeavors.
Relational and Outwardly Focused
Perhaps the greatest indicator of a pastor's effectiveness in personal evangelism is intentionality. In a small church, a pastor can very easily get caught up in addressing the needs of the congregation. For "one stop shop" pastors, they already feel overwhelmed, overworked and underresourced.
Leadership in smaller congregations tends to be more relational and can become inwardly focused unless intentional efforts are made to reach beyond the congregation. This inward focus is often brought on by church structures that depend on the senior pastor as the doer and implementer of vision. It also places the pastor at the center of "doing" ministry, which feeds into many people's desires to be liked, appreciated and needed. This produces a challenging combination of codependency that many pastors unknowingly and unwittingly fall into.
One way to rise above the immediate needs of a small church and refocus on evangelism is evangelistic prayer. A full 92 percent of pastors specifically pray for non-Christian people by name each week. Furthermore, 82 percent of these pastors lead their church to pray for non-Christians by name at least once a month. Intentionally evangelistic pastors reported praying for non-Christian people by name weekly at 96 percent, versus the bottom 50 percent of pastors at 90 percent.
The Caskey Center encourages small-church and bivocational pastors to make a list of 100 people who do not know Christ. We encourage them to pray for these friends and family by name, that God would precede the witness and prepare them to receive the gospel.
The hard work of evangelism begins in the preparation of prayer. Prayer both changes our hearts and makes us sensitive to where God is already moving in a community or individual.
The Monday-morning prayer is a challenge the Caskey Center promotes to pastors, encouraging them to pray every Monday that God would direct them to intentional, gospel-centered conversations. As we pray, God's Spirit helps give us spiritual eyes and spiritual discernment to see the needs of others and how to address them. Again, the power is in the preparation. Dr. Mark Tolbert, director of the Caskey Center, says, "Ask God to put someone in your path, place someone on your heart and give you boldness as you share the gospel."
Intentionally evangelistic pastors have developed the discipline of sharing the gospel on a weekly basis. Three out of 4 pastors responded that they attempt to share their faith at least once a week, but we see the difference in the most evangelistic and the least. Among those who are most evangelistic, 87 percent of these pastors intentionally share their faith at least once a week, and 98 percent attempt to share the gospel at least once a month. Those who are least evangelistic are not nearly as intentional.
Pastors who are bold in sharing their faith, especially around other members of the congregation, model for others what it looks like to witness. It could be as simple as asking someone how you can pray for them, but looking and engaging with opportunities for spiritual dialogue is critical. As a pastor, think about where you frequently meet with lay leaders and volunteers. Choose places where you can model boldness for the gospel so others can see you do it, and thus be inspired to boldness themselves.