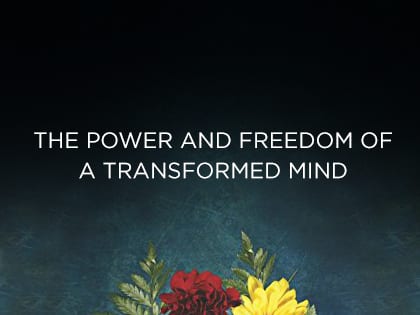 "A significant part of living the transformed life of a Christ-follower is a renewed mind."
What are the things we need to die to in our thinking? Are there belief systems that block our ability to meditate on the things of God? A significant part of living the transformed life of a Christ-follower is a renewed mind. "Do not be conformed to this world, but be transformed by the renewal of your mind, that by testing you may discern what is the will of God, what is good and acceptable and perfect" (Romans 12:2).
Our minds are full of things that remain upside-down to the Kingdom of God. We have worldly beliefs about ourselves, others, and the world in which we live. Some people are trapped into thinking that they will never amount to anything. Some people are trapped by superstitious ideas. Some people are held captive by hurtful and abusive words spoken by a person they believed loved them. That playground saying, "Sticks and stones may break my bones, but words will never hurt me" is not true. Words do hurt. Words can enslave a person and cause them to live below God's purpose for their lives.
Paul understood the power of words over a young person's life. We see an example of this as Paul encourages young Timothy:
Let no one despise you for your youth, but set the believers an example in speech, in conduct, in love, in faith, in purity. Until I come, devote yourself to the public reading of Scripture, to exhortation, to teaching. Do not neglect the gift you have, which was given you by prophecy when the council of elders laid their hands on you. (1 Tim. 4:12-14)
Timothy knew he was gifted; the elders of the church had laid hands over him and spoken into his life. He would have been encouraged and empowered by Paul's words here. But if it's true that words can give you the right mindset about who you are in Christ, then it's also true that words can be destructive and create a deceptive mindset. Are there false thoughts, corrupted beliefs, and abusive words swirling around your mind? Lift them up to the Lord daily. Confess these bad beliefs representing the upside-down world. Die to them daily until such time as they have no life in your thinking.
Another way of dying to things that aren't of God in our minds is to meditate on the truth of who we are in God daily. Through prayer, Bible study, and journaling we can experience the renewing of our minds. We need to remind ourselves on a daily basis that we are beloved children of God, that we are precious jewels, that we are valuable, and that God has given us resources to accomplish his purposes in our lives. These positive, biblical messages do battle with the negative messages that come at us from the broken individuals and systems that surround us. They help us die to the world and live in to the Kingdom.
Our right-side-up minds are not for our own edification alone. We can also have a transformative impact on others in their thinking. We can become agents of God's work in the world by encouraging others toward the renewing of their minds. When my two daughters were little girls they would ask me questions such as, "Am I beautiful?" I wondered if they asked these types of questions because the upside-down world was already leading them, at such an early age, to believe they were "less than." When they would sometimes ask me questions about their skin color, I would wonder if they had been given a message that black and brown skin isn't beautiful, or not as beautiful as white skin. I decided that my words could help to kill anything in their minds that would cause them to think less of themselves than they should. So when I would tuck them into bed at night, I would pray for them, kiss them, and then tell them to repeat after me: "I am beautiful. I am a queen. I am a champion. I am God's daughter."
My daughters, Jaeda and Mireya, are now twenty and seventeen years old. Jaeda recently told me that her belief in her beauty and giftedness is based on those words that I spoke over her as a little girl. I had almost forgotten about those days of tucking her and Mireya in bed at night. All these years later, they had not forgotten.
Taken from Killing Us Softy by Efrem Smith. Copyright © 2017. Used by permission of NavPress. All rights reserved. Represented by Tyndale House Publishers, Inc.
Order this book from Amazon.com »
Efrem Smith is the president of World Impact, an urban missions and church planting organization based on Los Angeles. He is a speaker with Kingdom Building Ministries and is the author of Jump and (with Phil Jackson) The Hip-Hop Church.