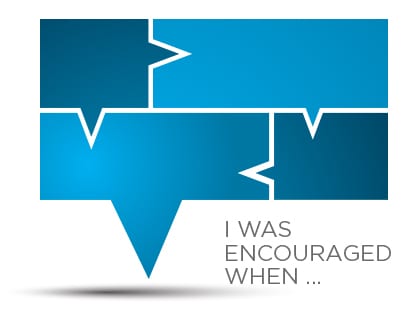 10 pastors of Outreach 100 churches share some of their most encouraging moments.
We asked 10 pastors of Outreach 100 churches to complete the phrase, "I was encouraged when …" Their responses were powerful and personal—and encouraged us as well.
God Told Me I Wouldn't Die of Leukemia.
"One of the my greatest moments of encouragement in ministry came when God showed me that I would not die of leukemia in 1997, a year after the doctors at UCLA Medical Center gave me approximately four years to live. God was silent for the first year and I had no clue whether I would live or die. When the Lord made his will known to me in various ways, and I was 100 percent confident that I would not die, that became a milestone in my life. Just the knowledge that God has a distinct plan for our lives and that nothing on this earth can override that plan was a very encouraging time in my life."
—Ron Vietti, Lead Pastor
Valley Bible Fellowship
Bakersfield, California
@ronvietti

A Stranger Changed His Mind About Suicide.
"One of my greatest moments of encouragement recently happened when I performed Brian Frank's wedding this year. The first time I met Brian, he showed me the shotgun shell he almost killed himself with. He keeps it in his backpack to remind himself of where he's come from. We started talking about connecting with God, one meeting at a time. Brian was a suicidal addict, who couldn't keep a job, a relationship, or the will to live without losing each of them over and over to substance abuse. Fast forward a couple years … he now has a life-changing, vibrant relationship with God, an amazing job, and now leads our Celebrate Recovery ministry at the church. On a weekly basis he helps hundreds of hurting people find God and freedom in the same way he did. Doing his wedding this year, watching him kiss his godly wife and experiencing his dreams coming true, reminded me of why we do what we do … and that our amazing God still changes lives today!
"A great moment of encouragement recently came to me in the form of an email. The sender told us about how he had decided to kill himself recently. His plan was to come to one last church service, then go commit suicide. He had heard of Red Rocks Church through the grapevine so he decided to come to one of our services before he ended his life. He came to what he thought would be his last church service ever. He put it like this in his email:
"'I am a sinner and a broken man. In the last year I have lost my career, my father, my wife and my children. I came to the RR Lakewood campus so that I could go to church one last time before I took my own life.'
"On that day he came to church, God did what only God can do … got a hold of his heart and changed his life! A month later, after not killing himself, and after God began to do miraculous things in his life, he wrote in and said this:
"'God is working on me big time.'
God is working on him, and me and all of us … and getting to be a part of the local church, this tool that God uses to reach and change lives … is a crazy undeserved honor! Hearing this story was a great reminder of that to me."
—Shawn Johnson, Lead Pastor
Red Rocks Church
Denver, Colorado
@shawnjohnsonrrc

One Person Offered to Pay Off Our $16 Million Debt.
"Six years ago one of our parishioners informed me over lunch that he was going to single-handedly pay off a $16 million dollar debt we had on our main campus. His last payment of $2 million will be this December—a confirmation of God's blessing and protection for taking a crazy step of faith 12 years ago."
—Bob Merritt, Senior Pastor
Eagle Brook Church
St. Paul, Minnesota
@bob_merritt

I Hired the Person Who Led Me to Christ.
"My youth minister, who led me to Christ, is now retired and recently joined our church at one of our multisite campuses. Amazing thought that I am now the pastor of the man who led me to Jesus as a teenager!"
—Gregg Matte, Senior Pastor
Houston's First Baptist Church
Houston, Texas
@GreggMatte

God Gave Us a Building for 1 Percent of Its Property Value.
"We pioneered a church in Ohio. We had no building and no money. God opened the door for us to purchase a downtown bank, built of Italian marble, on the tax duplicate for $6.5 million, for only $80,000. It was a miracle of miracles."
—Dan Betzer, Senior Pastor
First Assembly of God
Fort Myers, Florida
@PastorDanBetzer
I Baptized a Friend and He Gave an Impromptu Sermon.
"Antwain was the first black man we had ever baptized at our church. I had gotten to know him through a basketball ministry I started. He was six-foot-four and an incredible player. His friends called him 'Air' because of how well he could jump. (We all had court nicknames, such as 'Money' and 'Butter.' Antwain called me, 'No, Don't Shoot.' Not kidding!) But God gave me favor with him, and Antwain and I began studying the Bible together."
"He had had a rough past, to put it mildly: gang activity, violence, and crime. After several months of Bible study and friendship, the light of grace finally broke through, and Antwain broke down in tears, got on his knees, and poured out his heart to Christ. Immediately he began bringing other friends to church with him. Soon after that I led his girlfriend to Christ. A short time later I performed their marriage.
"As Antwain stood before our church the Sunday morning of his baptism, he looked out at our congregation and said, 'Some of my friends ask me why I go over to 'that white church.' [At this point, we were still an almost all-white congregation.] But I tell them, 'It's not a white church. The bricks are red and the interior is gray, in fact. This church is where I met Jesus, and he's the Savior of whatever color.' Then I baptized him.
"After the service an older gentleman in our church came up to me and said, 'Son, you know I don't like a lot of these changes that you are making in our church … ' Then he got choked up and said, 'But if that right there is what we're getting [referring to Antwain's baptism], you can count me in for every single one.'"
—J.D. Greear, Pastor
The Summit Church
Durham, North Carolina
@jdgreear
A Blessing From Several Years Ago Came Back Full Circle.
"This might seem silly, but one of my great moments of encouragement in ministry happened when I was attending an event for a hospital and a man came up and told me he wanted to make me a free, handmade, tailored suit. I asked him, 'What's the catch?' And he said, 'There's no catch; I just want to set you up with a couple of nice suits.' It ended up being a very expensive suit that was custom made, and he charged me nothing. It was also the same company and fabric that makes suits for NFL and NBA players.
"When I was trying the suit on for the first time I was thinking, 'Lord, I don't understand how a man I don't even know and doesn't attend my church would be motivated to do this for me.' It was at that moment the Lord reminded me of something that I had done several years earlier.
I had gone on a mission trip to Kenya, at about a six-hour drive into the country where I taught a group of 40 pastors. They, in turn, had traveled miles to come and hear me speak. They were so poor yet they were dressed in old suits and ties. At the end of that mission trip, we raised monies for churches, orphanages and water projects to send back to Kenya. I had about $1,500 left over and was trying to decide what to do with it. So, I called the main mission director in Kenya and asked him how much it would cost to gather all 40 pastors together and surprise them with two custom-made suits, shirts, ties and shoes. He said, "About $1,500." When I was trying on my own custom-made suit and questioning why such a wonderful thing was happening to me, I realized God was just encouraging me as I had encouraged those men that day. And the greater lesson is that whenever you choose to bless and encourage someone, it always comes back full circle. You reap what you sow (Galatians 6:7-9). And if you sow encouragement you will reap encouragement."
—Dudley Rutherford, Senior Pastor
Shepherd Church
Porter Ranch, California
@PastorDudley
We Baptized 345 People During Our First Open Baptism.
"The first time I did an open baptism we had 345 people get up out of their seats and come forward to be baptized. That was one of the greatest moments for me in ministry. I was excited as well as emotional as one after another got into the tank to be baptized. There were so many stories we later heard of God working in the moment and people responding. We have done several open baptisms since with similar results but the very first one was an incredible moment of encouragement in my life."
—Steve Poe, Senior Pastor
Northview Church
Carmel, Indiana
@pastorstevepoe

Our Church Was Able to Feed 5,000 During the 2008 Recession.
"12Stone was taking its greatest financial risk to date (many times anything previous). The full weight of the risk landed in 2008! Yep, the year our nation faced one of its tougher economic downturns. The hit became progressively substantial in our community and the once foreign word 'unemployment' became all too familiar. The timing was awful for 12Stone.
"In the fall of 2010, while asking God to provide for us, I sensed a leading to take another risk and go feed 5,000 unemployed families over Christmas (on top of all we were already giving away). I was faith-shaken by the idea as math confirmed it would cost over $1 million. It was impossible. So I was contemplating how to 'delay' that prompt until a more opportune time. My prayer partner dropped off a copy of an 'annoying' devotional page. The title? 'Don't Avoid the Impossible.' The text? The feeding of the 5,000 families. The quote? 'Christ will lead you into many situations that will seem impossible, but don't try to avoid them!' Annoying right? In a tongue-in-cheek sort of way.
"As we took a deep breath and jumped in, God, with divine precision opened the door to a relationship with HoneyBaked Ham, a local food supplier and they joined the effort. We determined to freely give a HoneyBaked Ham (or turkey) along with two weeks of groceries to 5,000 unemployed families throughout our community. The congregation caught God's heart and gave an impossible offering and then served with great compassion.
"When it was all said and done, we gave away over $1 million in food to bless some 25,000 people who were in need. Paid in full.
"To this day, I keep that devotional page taped up in my office. 'Don't Avoid the Impossible!' It was indescribably encouraging then, and now."
—Kevin Myers, Senior Pastor
12Stone Church
Lawrenceville, Georgia
@KevinMyersPK

The Church Responded When 300,000 Lost Their Homes.
"The most encouraging moment in the history of our church was in 2007 when over 300,000 people in the city were displaced because of the fires. Our church went to work to serve, house and clothe countless people in our community and building."
—Miles McPherson, Senior Pastor
The Rock Church
San Diego, California
@milesmcpherson