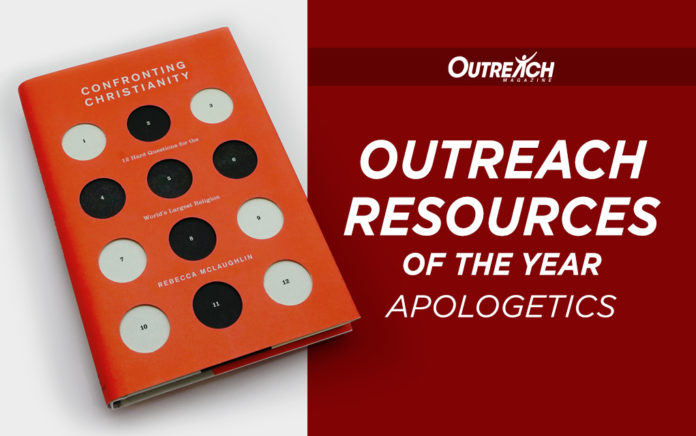 Evaluated by Ed Stetzer
Now in its 17th year, the 2020 Outreach Resources of the Year honors the past year's best books that emphasize outreach-oriented ideas and ministries.
The apologetics category was evaluated by Ed Stetzer, an Outreach magazine contributing editor, who holds the Billy Graham distinguished chair of church, mission and evangelism at Wheaton College and the Wheaton Graduate School, where he also directs the Billy Graham Center.
RESOURCE OF THE YEAR
Confronting Christianity: 12 Hard Questions for the World's Largest Religion by Rebecca McLaughlin (Crossway)
Apologetics can be an odd field, often answering questions that most non-Christians are not really asking. Too many such books are just "doubt repellent," mainly bolstering the faith of Christian readers, assuring them there are answers to the difficult questions raised.
Confronting Christianity by Rebecca McLaughlin is, in a sense, a different kind of apologetics book. It actually raises the hard questions and answers them.
McLaughlin goes straight to questions secular people ask. Her experience with secular professors and students serves her (and us) well here. As you read it, you will find her writing top-notch. But, unlike many other apologetics books, you will have confidence giving it to your secular friends.
The book is considered both an apologetics and an evangelism title, which is right, but I'd also add the missiological dimension. As a missiologist, I see it answering the real questions people are asking in culture, rather than rehearsing old apologetics arguments.
ALSO RECOMMENDED
Narrative Apologetics: Sharing the Relevance, Joy, and Wonder of the Christian Faith by Alister McGrath (Baker)
My library is filled with Alister McGrath books, from theology to apologetics, and Narrative Apologetics is yet another helpful resource, in this case, showing us how apologetics can be done through story—the grand narrative of Scripture, and many other stories of faith.
Cultural Apologetics: Renewing the Christian Voice, Conscience and Imagination in a Disenchanted World by Paul Gould (Zondervan)
Gould takes us on a deep dive into the pattern and promise of the apostle Paul's missionary encounter in Acts 17, drawing out implications that point us to a fresh and creative vision for the Christian faith in a confused world.
Additional apologetics resources are available at OutreachMagazine.com/apologetics.