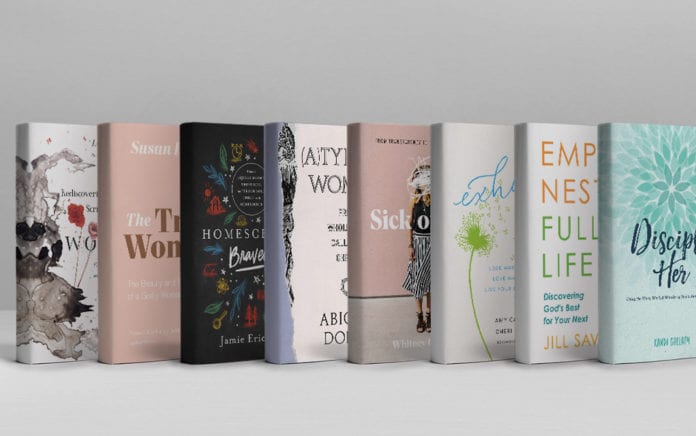 Books to help you be better equipped to serve the women in your church.
Most women have many different roles and often feel as if they are failing in all of them. These 2019 new releases can equip you and your staff to better understand and help the women inside and outside of your church see their identity in Christ.
• (A)Typical Woman: Free, Whole and Called in Christ by Abigail Dodds (Crossway) helps readers understand womanhood through the lens of Scripture.
• Disciple Her: Using the Word, Work and Wonder of God to Invest in Women by Kandi Gallaty (B&H Publishing) helps readers develop an effective disciple-making strategy in their life and the lives of others.
• Empty Nest, Full Life: Discovering God's Best for Your Next by Jill Savage (Moody) guides women through this unpredictable time of life, showing them how to let go of mixed emotions and grab hold of life here and now.
• Bethany House Publishers' Exhale: Lose Who You're Not, Love Who You Are, Live Your One Life Well by Amy Carroll and Cheri Gregory walks women through a process that releases them from the things that have created unbearable pressure in their lives.
• Homeschool Bravely: How to Squash Doubt, Trust God and Teach Your Child with Confidence by Jamie Erickson (Moody) teaches readers to see homeschooling as a calling, helps them overthrow impossible expectations and guides them through the common bumps in the road.
• Rediscovering Scripture's Vision for Women: Fresh Perspectives on Disputed Texts by Lucy Peppiatt (InterVarsity Press) looks at relevant passages in Ephesians, Colossians, 1 Peter, 1 Timothy and 1 Corinthians to discuss women working alongside men in all forms of ministry, leadership and service on the basis of character and gifting.
• Sick of Me: From Transparency to Transformation by Whitney Capps (B&H Publishing) shows that spiritual growth means being both honest and holy. While virtues like vulnerability, honesty and humility are desperately needed, women should fight for more.
• The True Woman: The Beauty and Strength of a Godly Woman (Updated Edition) by Susan Hunt (Crossway) explores what the Bible says about biblical womanhood, helping women understand their God-given purpose and how to fulfill it.
For more women's ministry books click here »