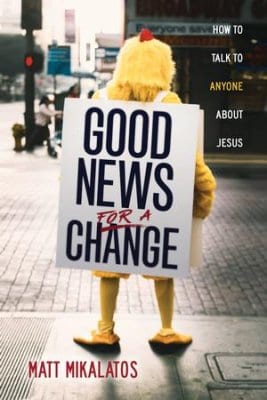 Matt Mikalatos: How to Talk to Anyone About Jesus
Good News for a Change
How to Talk to Anyone About Jesus
(NavPress, 2018)
WHO: Matt Mikalatos, an author dedicated to nonprofit work that focuses on helping people love one another despite their differences.
HE SAYS: "This really is the good news about evangelism: It's much easier than you thought."
THE BIG IDEA: This book talks about ways in which Christians can more fully participate with God in the work of bringing others back into relationship with him. It emphasizes how to have natural, Spirit-led conversations about Jesus even with people hostile to Christianity.
THE PROGRESSION:
In a nonthreatening manner, the author takes readers on a journey through evangelism, beginning with the basics of the good news through ways of evangelism and concluding with how to talk to someone resistant to the gospel.
This book covers being sensitive to the Holy Spirit's leading, the importance of listening, understanding what the good news is for the particular person, and how to contend with jargon, translation and "noise."
Good News does a good job taking the fear out of evangelism and making it a natural outgrowth of a Christian's life.
"Talking to people about the good news is one of the most fun, interesting, exciting adventures you could possibly embark on. And along the way, God is going to change some lives."
Order this book from Amazon.com »
Read an excerpt from this book »