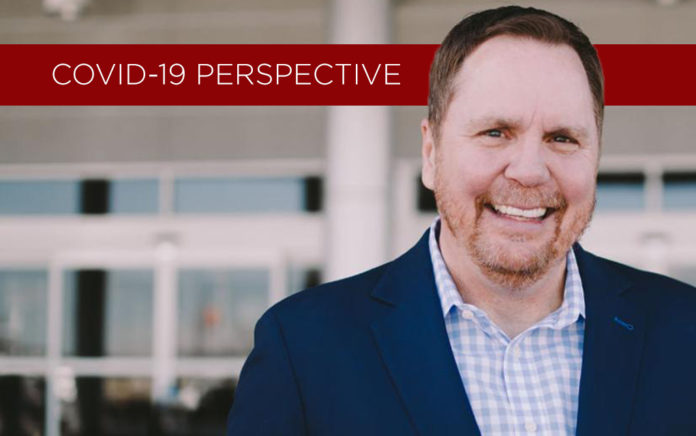 COVID-19 PERSPECTIVE: Brady Boyd New Life Church, Colorado Springs, Colorado In this era of livestreaming and social media, none of us would have imagined that a simple phone call could save our church. When the COVID-19 virus wreaked havoc on our weekend gatherings, churches of all sizes scrambled to take advantage of advanced technology to […]
COVID-19 PERSPECTIVE: Brady Boyd
New Life Church, Colorado Springs, Colorado
In this era of livestreaming and social media, none of us would have imagined that a simple phone call could save our church. When the COVID-19 virus wreaked havoc on our weekend gatherings, churches of all sizes scrambled to take advantage of advanced technology to connect with their scattered and scared flocks.
At New Life, we have certainly used our HD cameras, Facebook Live, YouTube and Roku to broadcast songs, sermons and prayers. However, the most powerful moments have happened on personal phone calls between our teams and our church. We decided during the first week of the pandemic to simply pick up the phone and call everyone in our church. Weeks later, we were still getting messages from our members retelling those sacred exchanges.
We rediscovered the power of personal conversations. We listened to their stories, heard their concerns and fears and ended every phone call with pastoral prayer. We realized, again, that shepherds must know and nurture the sheep. As it turned out, our modern technology was not enough. Our church needed outbound phone calls. We needed to rediscover the holy task of listening.
Calling thousands of people in a short time was a daunting assignment, but we had extra time because all other programming came to sudden stop. We had time to linger with people, time to cry with them, to chronicle and respond to their practical needs. Turns out, people needed to know we cared before they cared about our online content.
Read more COVID-19 Perspectives from pastors and church leaders.