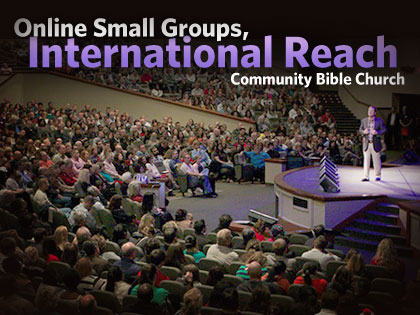 Community Bible Church Offers Plentiful Online Groups
Sixty-year-old Jim Hebbard accidentally found Community Bible Church when he was searching for Canadian Broadcasting Corporation online.
He was captured by the preaching, which he watched at OnlineChurch.com, CBC's Online Church website. After a month of asking questions, he committed his life to Christ and soon became a leader at Online Church. He has ministered to hundreds of people around the world as a volunteer host, group leader and social media or prayer team member. The San Antonio, Texas, church attracts online worshipers from 160 countries who have joined the more than 33 online groups and Bible studies.
"The online church is for those like Jim who may be uncomfortable attending a physical church," says Innovation Pastor Nils Smith, "but God is doing a great work in and through Jim at Online Church."
COMMUNITY BIBLE CHURCH San Antonio
Website: CommunityBible.com
Lead Pastor: Robert Emmitt
Founded: 1990
Affiliation: Interdenominational
Locations: 1
Attendance: 14,031
A 2013 Outreach 100 Church
No. 24 Largest