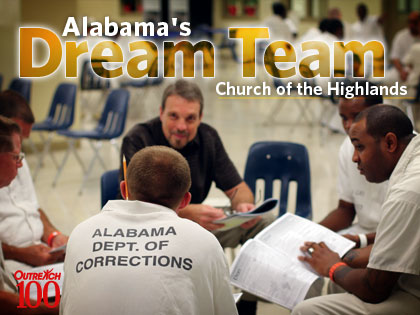 Plenty of volunteer opportunities, and a system that matches members to the best ministries for them, have contributed to Church of the Highlands ranking as the nation's #6 Fastest-Growing Church.
View the complete Fastest-Growing list >>
Church of the Highlands
A 2013 OUTREACH 100 CHURCH
#6 FASTEST-GROWING, #5 LARGEST
Alabama is known for its exuberant college athletics programs, so it's no surprise that Church of the Highlands would choose a sports moniker—the Dream Team—as an umbrella term for its far-reaching ministries throughout the state.
"We believe God has a special place where every person can use his or her unique abilities and passions to touch the lives of others," says Senior Pastor Chris Hodges "We also believe that life will never make sense until you find, develop and fulfill your purpose."
One out of three people at Highlands serves on the Dream Team from the church's nine campuses. A four-session Growth Track helps them figure out their best fit among more than 25 ministries—everything from tech crew to communion to small groups. Not only does this system get more people involved, its combination of efficiency and effectiveness allows the church to stay 30 percent under budget.
An outgrowth of the Dream Team is the church's Dream Center, serving urban Birmingham with social services and a medical clinic. It's also a "nerve center" from which Dream Team members find volunteer opportunities such as neighborhood cleanups, kids' outreaches and food distribution.
CHURCH OF THE HIGHLANDS Birmingham, Ala.
Senior Pastor: Chris Hodges
Twitter: @Chris_Hodges
Website: ChurchOfTheHighlands.com
Founded: 2001
Affiliation: Nondenominational
Locations: 9
Attendance: 22,184
Growth in 2012: +6,226 (39%)