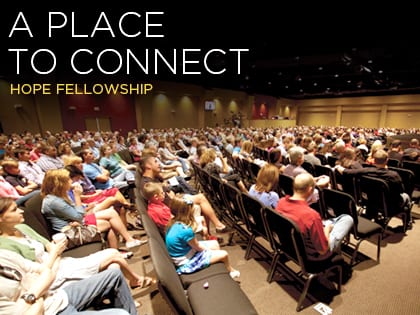 A Frisco, Texas, Megachurch Keeps Up With Its Rapidly-Growing Community
When Anthony and Cozy Reich went "church shopping" several years ago in Frisco, Texas, they wanted to find a church completely unlike the one his wife had a "bad experience" with during her youth in California.
During an Internet search, they came across the website of Hope Fellowship, listened to one of the messages and decided to attend with their four children.
Anthony, a general sales manager at a car dealership, says Hope Fellowship changed his wife's view about church.
"Our whole family just kind of felt at home," says Anthony. "We went in with the idea of church shopping, but when we left there, from my oldest down to my youngest child, it was like, 'What church are we looking at next week?' All of us were unanimous it was Hope Fellowship. We knew it was our home."
Today, Cozy is part of the worship team, Anthony is part of the hospitality team and their children are active at the church located in one of the fastest-growing cities in America.
Home to a growing number of major corporations, Frisco has grown from a population of 20,000 to 143,000 over the past 14 years. From 2000 to 2005, Hope Fellowship rented various facilities for its services and grew from 50 to about 500 people. Since then, the church has spent $19 million on its three campuses and the average weekend attendance has shot up to 5,500.
Mark Lunsford, the executive pastor, attributes the rapid growth to several factors, including the city's explosive growth, the expansion of church services, ministries for the "next generation" and home groups.
"Frisco has been one of the fastest-growing cities for many years," Lunsford says. "We've had a big focus on those in the community who are disconnected from God. We are reaching out to people who are not currently attending church."
Launa Vaughn, the missions pastor, says the church also places an emphasis on outreach ministries for young people.
"It's about getting connected to Bible studies and home groups and just serving people and connecting to the community as well," Vaughn says.
Lunsford says home groups have played an instrumental role in the success of the church.
"It's how we make a large church smaller," he explains. "It's about people coming together where they are developing those relationships that help them grow in their faith and grow in their community with one another—that is a key to helping them feel connected to the church."
HOPE FELLOWSHIP
Frisco, Texas
Lead Pastor: John McKinzie
Website: HopeFellowship.net
Founded: 2000
Affiliation: Assemblies of God
Locations: 3
A 2014 OUTREACH 100 CHURCH
Attendance: 5,241
Growth in 2013: +839 (19%)
Fastest Growing: 29