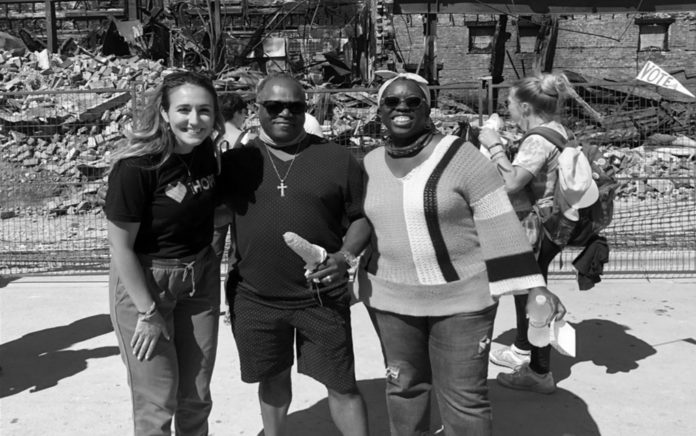 1HOPE ministry is helping the hard-hit Uptown community of Kenosha, Wisconsin, by restoring hope and transforming lives in the wake of the Jacob Blake shooting.
We all know that God's plan has a way of revealing itself in mesmerizing—and sometimes messy—ways. A perfect example of such a plan is currently unfolding in Kenosha, Wisconsin, the site of the civil unrest that has followed the shooting of 29-year-old African American Jacob Blake on August 23. 1HOPE, a ministry born out of Journey Church in Kenosha (a 2017 Outreach100 church), is coordinating response efforts to the crisis. 1HOPE, now a network of multidenominational churches working together to serve the community, was created after a Convoy of Hope event that took place in Kenosha several years ago. At that event, 30-plus churches, nonprofits, private sector, and the city and county came together in alignment to serve the community. In that moment, the people looked at one another and said, "If we work together 24/7, 365, think how our aligned efforts can transform the community?" and 1HOPE was born.
1HOPE launched in 2019 as a 501(c)3. Through the fall of last year and into early 2020, the organization convened 15–20 faith-based leaders to ask questions like, "What are our city's values? What are the greatest opportunities? What are the biggest challenges? What do our communities fear?" They then voted on the top three issues.
"We knew that in order to reach our city together, we had to create a shared community narrative," says Nicole Thomsen-Coughlin, executive director of 1HOPE.
The leaders identified the biggest challenge in Kenosha as racial division and high economic stress. Nevertheless, despite the challenge, God had told these pastors that the city was going to be a place of hope and healing and that there would be an outpouring that would spark a regional movement. Fast-forward a year and it's astounding to see how prophetic their assessment was.
"Based on conversations with the faith-based community, government and business leaders, we recognized the most significant way to offer hope to this narrative is to channel this energy into neighborhood transformation, foster care and mentorship, all of which deeply intersect with the root challenge identified," says Thomsen-Coughlin.
Earlier this year, they laid out a map and gave each pastor a "pebble of hope," telling them, "We can each keep dropping our individual pebbles where we are located with minimal ripple effect, or we can work as one church, one body of Christ and focus on where God is specifically calling us to be as a faith-based community."
"We were certain that that ripple effect of us working together as a boulder would be felt throughout the entire county," says Thomsen-Coughlin. Interestingly, the majority of the effect was felt in the Uptown neighborhood—the community that was most affected by the recent riots. When they asked each church's prayer warriors to participate in the same exercise to see where the Holy Spirit would lead; it took them to precisely the same place.
Following Blake's shooting, destruction came to the Uptown neighborhood (nearly 100 businesses were destroyed, looted and set on fire). Business owners and residents were displaced. Thomsen-Coughlin and her team had to mobilize quickly. They began working closely with many community partners, such as the Journey Disaster Response Team (DRT), to coordinate and streamline efforts to serve those affected by the fires and looting in the Uptown area more efficiently and effectively.
"We joined forces with them knowing that we would need all hands on deck," says Thomsen-Coughlin. Together they worked to board up several of the Uptown businesses. 1HOPE created a volunteer intake process in order to streamline communications with volunteers. In a week's time, they had amassed 989 registered volunteers. They also created a needs submission form for any resident, business owner or property owner who has been affected by recent events. "We can then connect them with a social worker on our teams who is helping to meet the immediate and long-term needs," says Thomsen-Coughlin.
Sadly, many families have lost everything. So, 1HOPE launched an Uptown recovery fund to help those directly affected. (As of September 3, they had raised $25,000.) In addition, they are working on creating a centralized intake point for all material donations received in partnership with other organizations who have been supporting the community during this time to ensure that they can access the necessary resources and not duplicate efforts. Coordinating efforts across nonprofits for things like, say, paint, water bottles or hand sanitizer, means that they can create a shared inventory in order to leverage resources.
According to Thomsen-Coughlin, though the community is economically disadvantaged it's also resilient. "Day in and day out, people are coming in to help out even when they are in the midst of their own crisis," she says.
Though 2020 has been discouraging, disorienting and devastating, hope has still managed to bloom.
"You have all of these spiritual aspects brewing in the background and in the forefront as well," says Thomsen-Coughlin, noting how the faith-based community has come to Kenosha in many different ways. For instance, right after George Floyd's tragic death, various revival groups traveled around the country baptizing people by the hundreds. Sean Feucht is one such missionary who has been doing this, and he's coming to Kenosha.
A group of local pastors organized a prayer rally. Another pastor is starting a revival called The Awakening on farmland near the Illinois-Wisconsin border because he says God called him to do so. Nona Jones, founder of Faith and Prejudice, a movement created for Christians who stand up against racial injustice, approached 1HOPE to join forces for a national virtual prayer rally with local Kenosha pastors leading in prayer. This platform will be held at 8 p.m. CST from September 6–12.
"You're seeing the hurt and pain, but you're also seeing the organic moves of God," says Thomsen-Coughlin, who points to the people and events happening at ground zero where all of the protests are taking place. "You have protestors and you also have worship and prayer."
The factors that hinder a community from transforming are systemic, long-term challenges that need to be addressed through a multitude of partnerships, trust and long-term commitment. The team at 1HOPE recognizes that it will be a long road ahead for the community, not just in physically rebuilding the area, but also in mending all the brokenness that has led to this event.
"We need to be able to cultivate hope or else we will lose sight of what God has in store for us for this community long term," says Thomsen-Coughlin. "As we help our community restore hope economically, we are partnered with several local churches and groups that will help restore hope spiritually and emotionally as well. This is just the beginning as we work together to create lasting change."
For churches that are interested in starting a network like this in their community, Thomsen-Coughlin admits that there is no playbook that can be duplicated across communities. The key, she says, is being obedient to the voice of God and asking what God wants you to focus on for your city.
"You also have to have an incredible pulse on your community to understand how that connects together," says Thomsen-Coughlin. "Then there has to be a coming together of the pastors to align on these things. There has to be that fellowship and trust before those conversations can take place."
Though the past 10 days have been full of much work and little sleep, the 1HOPE team is grateful and humbled that God has brought them together to be used in this way.
"You never think, in a million years, that this is going to happen in your community, so the fact that we were positioned to offer hope in a way we never would have imagined is a blessing from God," says Thomsen-Coughlin. "We are trying to honor that blessing, steward it the best we can, and reach as many individuals and families as possible during this time."
To learn more, visit 1Hope.community.