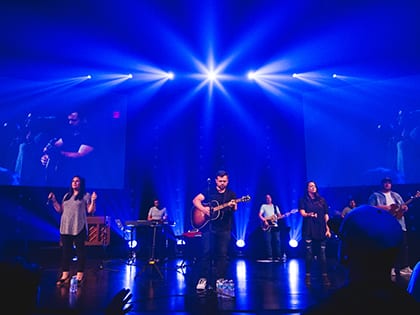 No. 60 Fastest-Growing: Journey Church in Wisconsin Credits Its People for Moving the Vision Forward
In 2013, newlyweds Darnell and Nicole King wanted a closer walk with God, but found it difficult to forgive others.
"We had been praying about some things after our wedding," says Nicole, "and we were really struggling with forgiving others, and we asked God to heal our hearts."
Then, a family friend invited the Kings to a Sunday morning service at Journey Church in Kenosha, Wisconsin. The experience, says Nicole, became an answer to prayer. "The pastor was preaching a series on forgiveness, and I broke down."
"Also, we just felt welcomed at Journey Church," adds Darnell. "You had people greeting you and asking if you needed anything and directing you to the right place."
Today, the Kings are active church members who volunteer in the children's and youth ministries, as well as in the men's and women's ministries. They also participate in a life group for married couples.
Lead Pastor Kevin Taylor says creating an atmosphere of grace is both a goal for the church and a contributing factor to its rapid growth.
"There's a sense of warmth at the church, a sense of transparency from the stage, a sense of vulnerability," says Taylor. "We're regular people, and we love Jesus, and we walk through some of the same things you're walking through."
Taylor started at the church 21 years ago as a worship leader and senior associate. Nine years later, he became co-pastor before taking the helm two years ago.
The church's original name was Kenosha First Assembly of God, but four years ago it became Journey Church after merging with another Assemblies of God church.
The church's main campus in Kenosha is in the midst of a growing, white-collar community and is racially diverse, with minorities making up more than 20 percent of the membership. Journey has a campus in nearby Burlington, Wisconsin, and another in Beach Park, Illinois. At the request of Assemblies of God World Missions, they will plant a fourth campus in Lithuania next year.
Journey Church places a heavy emphasis on community outreach, which has also helped the church to grow. Taylor recalls several instances when people who had volunteered on local projects with Journey members ended up visiting and joining the church.
"People today are interested in causes more than ever before," he says. "And when they find out that a church isn't just inside its walls with its hands raised in worship and singing, but out in the middle of the community making a better city—that's an amazing magnet to people."
The church often partners with the Kenosha mayor's office and other area agencies and nonprofits to offer assistance. In July, for example, after flooding struck in Burlington, church volunteers helped with cleanup efforts. The church also has a mobile food pantry where people can get free groceries once a month.
"It's the old thing of, 'If they removed Journey Church from the city of Kenosha, would anyone notice that we were gone?' We want the answer to be yes," Taylor says.
He notes that the church's contemporary-music worship ministry also draws in people. The worship team plans to record a live record this fall.
In addition to its outreach and music ministries, Journey Church offers fellowships for single adults and seniors, plus classes on personal finance and the Christian faith.
"I've grown closer to Christ," says Nicole, "and my husband recently rededicated his life to Christ and got baptized. That was such a huge moment in our lives."
Leading Journey Church and watching congregants follow his lead has been a humbling experience, Taylor says.
"That's a big responsibility," he says. "It's been gratifying and super humbling to me to see people grabbing on to the vision, and then become the engine for it. You can't take credit for that. It's the people moving the vision forward."
Read more Outreach 100 fastest-growing church profiles »
JOURNEY CHURCH
Kenosha, Wisconsin
Senior Pastor: Kevin Taylor
Website: JrnyChurch.com
Twitter: @KevinTaylor, @JrnyChurch
Facebook: /JrnyChurch
Founded: 1933
Affiliation: Assemblies of God
Locations: 3
A 2017 OUTREACH 100 CHURCH
Attendance: 3,205
Growth in 2016: +384 (14%)
Fastest-Growing: 60