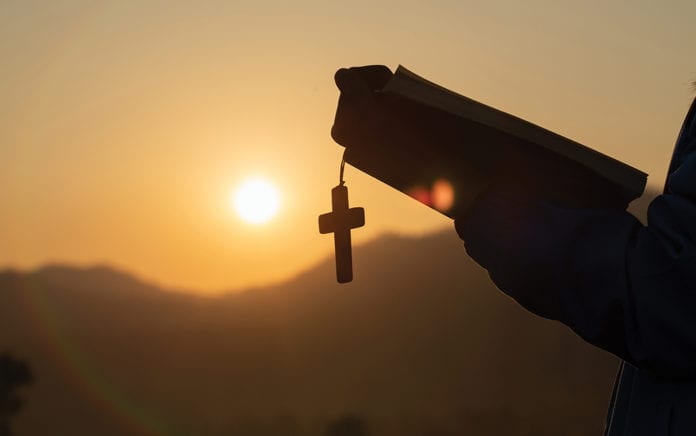 Churches on the fastest-growing and largest lists share a commitment to mission both locally and globally.
Twenty-two years ago, Eastview Christian Church in Normal, Illinois (No. 77 Largest), adopted a people group in North Africa. The church has changed missions pastors twice since then, but the commitment remains.
The adoption was quickly followed by a family going to live among the people group. About 12 years later as they began to see some disciples reproducing themselves, but the family had to leave the country. Not deterred, two years ago, Eastview sent a second family to live there, and others have expressed interest and may soon join them.
"That's the kind of church we want to continue to see ourselves becoming: everyday people in everyday places being mobilized to the farthest and hardest places throughout the world," says Tommy Nika, pastor of Eastview global.
This commitment to outreach is not uncommon for the nation's fastest-growing and largest churches. As LifeWay Research, in association with Outreach magazine, surveys churches for these annual lists, we notice patterns that may be helpful for other churches. One of the ways we see the churches on this year's lists involved in outreach is in the way they view and practice international missions.
A LONG-TERM VIEW
In the same way Eastview has been committed to the same people group for over 20 years, other large and fast-growing churches are quick to share the long-term nature of many of their missions efforts. It isn't that they don't do one-time trips or short-term partnerships, but the more memorable and meaningful missions activities are often those that are sustained over time.
Bridgewater Church in Montrose, Pennsylvania (No. 81 Fastest-Growing), supports a number of missionaries and organizations, but Bob Kadlecik, the church's Montrose campus pastor, naturally gravitates toward discussing their partnership with Food for the Hungry in Guatemala. With two trips each summer and more than 100 families involved in sponsoring children, this long-term partnership has enriched both organizations over the years.
While Bridgewater has been involved in missions for over 150 years, including supporting one of the first female doctors as a missionary in the 1800s, Lifepoint Church in Fredericksburg, Virginia (No. 40 Fastest-Growing, No. 76 Largest), has only been in existence since 2012. That same year, however, they also connected with and began serving alongside an organization in Guatemala. Eighteen months later, two families from Lifepoint moved to Guatemala to do long-term missions, which led to a seven-year partnership.
The priority of global missions is also reflected financially. At Life Church in Germantown, Wisconsin (No. 17 Fastest-Growing), 20 to 25% of every dollar coming in is going out for missions. While the church was still without its own permanent location, the church felt led to use $30,000 allocated for a down payment to instead build a church in Tanzania.
Ryan Coggins, executive pastor at Life Church, describes the moment as a question of "Are you going to be openhanded toward God or closefisted? Not in a 'name it, claim it' type of way, but in a generous way." As the church acted in obedience, they waited. God provided them with a $4.3 million facility of their own at less than half that cost.
Christ Church in Gilbert, Arizona (No. 6 Fastest-Growing), made a similar commitment early in its life. Founded in 2012, the church sent its first mission team within the first year. After two years, the church began supporting a church plant in Rwanda.
According to Jeff Carlson, executive senior pastor at Christ Church, "We were a young church that said, 'Man, we want to invest significantly in Rwanda,' and yet we didn't even have a building we owned or a building that was a long-term answer for us. There was a culture that created a trust in people that we're not just trying to build our thing. We actually have a kingdom mind-set. I think that's huge in the culture we are in."
ALL MINISTRY IS LOCAL
"Our whole vision and focus is local," says Stella Cathcart, who serves on the lead team for outreach at Lifepoint Church in Fredericksburg, Virginia. "We're either serving locally in this house, or we're partnering with people who are doing ministry in their area in their context, and we are coming alongside them.
"We engage with local organizations that exist in those countries and come alongside of them because we believe everything has to be done through the local church," she says. "We don't partner with anything unless a local pastor or a local organization is present, beyond us being there."
It can be easy to assume the largest churches in America do their foreign missions on their own, but among those we interviewed that's not the case. Partnerships with indigenous organizations and churches are a priority.
Vineyard Columbus in Westerville, Ohio (No. 60 Largest), works alongside missions organizations that have expert knowledge in the particular part of the world they want to serve.
Bill Christensen, international ministries pastor for Vineyard Columbus, explains, "We work with missions that have a long-standing history—for example, working in the Muslim world. We send people out under their auspices."
Eastview also partners with a couple of international missions agencies. "We work with them specifically because of how well they function," says Nika. "They are strategic from the beginning of the process to reentry back into the States."
Nika describes the church's relationship with their long-term missionaries as one of support and encouragement, making field visits to them when it makes sense. They support the missionaries in any crisis and connect with them regularly. But the work and specialized training of these missionaries is overseen by the international missions organizations with which they serve.
Coggins at Life Church says their trips and financial support coincide. "We'll only do trips with missionaries and organizations that we support. We want to have a strategic partnership there. There's a trust level. We've found our trips to be a lot less chaotic when they're with an organization or missionary that we already have a relationship with. Certain organizations do a really good job on trips. That makes our life a little easier."
MISSIONS IS A CULTURE
"Making disciples and being on mission is not meant to be done in a day, or even seven of your 365 days of your year," says Nika. "What we're really trying to do is use our outreach ministry both locally and globally to launch people into a different lifestyle, rather than just getting more and more people involved one to 10 days a year."
Eastview seeks to be a launching place for people to engage in global ministry, but also a landing place for those who do participate to serve and engage locally. "The goal of what we're doing is to train up our people to truly be disciple makers, not just people who serve with a program," says Nika. "It's not the task of outreach. It's more living as a disciple who makes disciples, whether you are here in Bloomington or you're serving in Southeast Asia."
Eastview Senior Pastor Mike Baker has challenged the whole congregation with a three-by-three initiative. Step 1 of the challenge is to find three local places that God is calling you to that you haven't gone yet (a restaurant, park, school, etc.) and to join him in what he wants to see happen there. Step 2 is to find three people that God is nudging you toward inviting into a relationship with Jesus.
This initiative sounds like a missionary's activity, but these churches earmark it as a local activity for every disciple.
"We're just trying to join, from our senior leadership down, in that effort of what does the kingdom of God look like in this person's life, and in this place," says Nika.
Carlson describes it this way: "The benefit of a young church plant is people are going to ask, 'Who are you?' We were a church plant who helps plant churches from the very beginning—giving resources to that, locally, domestically and around the world.
"We have new people coming into a culture that says it's not all about our four walls," he adds. "We have worked to have missions not be a program and not be a ministry, but integrated into every aspect of our church life."
Cathcart points out the similarity of activities on mission trips and those near the church. Lifepoint has monthly serve days at each of their locations, plus a team that looks for families in the local community who parallel the families they help in Nicaragua. "They can come back and say, 'Man, this area of town is impoverished. We should come here and see how we can come alongside that community,'" says Cathcart.
Mission trips give people a new lens through which to see their community's needs. Participants can share ideas with church campus directors and start engaging in meeting those needs.
"I think we have a good synergy between what's happening overseas and our engagement with what's happening here locally," says Christensen. "Everybody in the church knows we want to aggressively send people overseas. What we do is let them know that what they can do is enter into a discipleship process.
"If you think of it as a mountain, we've got this great big base of lots of opportunities locally to engage cross-culturally and engage in community and engage in the basics of discipleship," he continues. "From that, we're seeing people who are saying, 'I'm really sensing that God is actually wanting me to engage further and go overseas.'"
Vineyard Columbus' goal is for every man, woman and child to be engaged in some way cross-culturally. The congregation is about 25% African American and 1 in 6 is foreign born. Attendees represent 136 nations. This environment has created a natural component of cross-cultural engagement done both locally and globally.
The international missions focus at Vineyard Columbus is first aimed at the Muslim world, then the secular world, and finally unreached parts of the world. Those emphases are also seen locally. The church is very involved locally with immigrants, with 50 people working weekly with refugees. English is taught to 800 students at their community center. As they serve, they are looking for appropriate ways to communicate the love of Christ and invite participants into Bible studies and other ways to engage with Christ personally.
SHORT-TERM IS STILL RELEVANT
Cathcart confronts those who downplay the effectiveness of short-term missions today. "That isn't true. If we're coming to do a job and then leave, I think that isn't helpful. But if we're going there to come alongside people there to do a job and encourage them to keep doing the job while we're not there, that's effective."
It is not uncommon for churches to have examples of people who went on short-term trips and then felt called to missions long-term.
Coggins sees numerous benefits of people going on mission trips. "We say quite often that 'missions is caught, not taught.' We can talk about it all day long in a service, but it's not really going to ring true and strike a chord until you see it yourself."
Two tangible changes he often sees are a different level of compassion and a new interest in generosity. "They often give to missions before they tithe or become a consistent percentage giver," says Coggins.
Kadlecik adds, "Going on a trip provokes a lot of good discussions. It's a way that we disciple some of our people, and it also challenges how we disciple."
"Our philosophy is mission trips are a great way for any follower of Jesus to grow in discipleship," Carlson says. He sees growth in generosity, discipleship, trust in leadership, and involvement in local compassion efforts as a result.
Cathcart says Lifepoint started locally in in their community, then did more things nationally and globally. Now these efforts are building on each other.
"As missions is growing internationally, we're also seeing the local church serving locally even more. The biggest takeaway that they get is how practical it is just to love people and show them Jesus. If they can do that in a Third World country where they don't have the same language, then coming to the States we can love people and show them the gospel, and share the gospel in a really practical way. It's not as scary as they would imagine."
MISSIONS RETURNS HOME
Churches see benefits in their church in America because of their participation in international missions. "There is a high connection with people who have gone who are also involved in our local compassion efforts," says Carlson. Although it isn't always clear which came first, "we're drawing from the same pool of people who have been mission minded."
For example, a woman at Lifepoint has a good relationship with the management staff of low-cost hotels near the church where some impoverished students are residents. She went on a trip to India where she taught English. After returning home, she realized she could minister to the hotel owners and use some of the same methods from the trip to share with students in low-income areas.
Participants on mission trips often experience two of the Lifepoint's four spiritual pathways: making a difference and discovering purpose. A medical and dental team from Lifepoint served in Thailand, a trip that led to many of the doctors and nurses rediscovering the purpose God placed on their lives.
A business owner from Life Church went on a mission trip because a friend nudged him to go. When he returned, the man changed how he did business. He began giving a significant portion of his profits to missions and began paying his employees to do a certain number of volunteer hours each year. Eight years later, he is just as passionate about it as when he returned from that first trip.
A woman at Bridgewater Church went on one of their trips to Guatemala. She began to blossom, learning Spanish and showing compassion to a single mom. The trip gave her purpose and changed her life the other 50 weeks a year. As a result, the woman began serving in the church's children's ministry.
Returning home from a mission trip not only can change individuals, it also can have an impact on a church's thinking and strategies.
"We have resources that others in the world need, but they have things that we need as well," says Kadlecik. "Our people go there, and they're like, 'Wow, I need this.' These Christians in other countries can give us what we need—the passion for loving other people, contentment with very little and their passion for God."
Vineyard Columbus sent a team to Amsterdam to help start a church. Over a decade of investment in that work has not only yielded a church of 300 people, it also has influenced how Vineyard Columbus approaches outreach.
Christensen says that the majority of people in Amsterdam describe themselves as atheists, but once the team engaged with them relationally, they found that most locals didn't completely deny the existence of God. Instead they had issues of anger, disappointment or frustration with a higher being.
As Vineyard Columbus watched the rapid growth of their city and the increasing secularization, they began to wonder if sending the team to Amsterdam was going to bear fruit in Columbus.
In Amsterdam, their team learned to have many parties to meet people and to offer creative venues because the local culture is so artistic. They also served among immigrants and the poor.
"You walk with people through life and then they reveal where they are. And that's when opportunities happen," Christensen says. "I don't want to make it sound like we've learned everything we have to learn. We're a long way from that. But we are learning."
Read more about Outreach 100 churches at Outreach100.com.