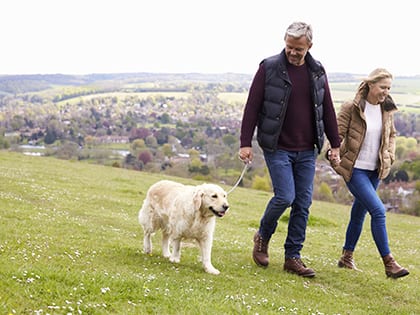 I've learned a lot of important lessons in the course of my marriage. May these help you navigate the 'new normal' of marriage.
I like to write articles commemorating milestones and moments. And for my wife Anne and my 20th anniversary I want to address something that, I hope, will encourage and perhaps give some couples a feeling of liberty.
Quite often we get messages that say, "I just want things they way they used to be." Usually, it's because something has transpired in the marriage that it makes someone (or both spouses) miss what they considered "normal."
This experience is not exclusive to a "type of person," generation or a vintage of a marriage. It's very common response to what happens when a man and woman go through this journey called "marriage." We desire to "go back" to something that feels "normal."
How does this change happen? The flow of life got interrupted, a situation developed or a challenging circumstance manifested itself. For you, it could be a number of things. Maybe a change in a spouse's health. An unexpected development in your relationship. Perhaps it is a shift in vocation. It could be a change in the season of life you find yourselves in. Change will always be a threat to comfort. The issue of "change" will attack the "norm."
Anne and I get it. Our marriage was shaken up at the birth of our daughter just a year and a half into marriage. What little "normal" we knew was already removed. Everything "normal" was out the window. And we discovered that marriage wasn't about fighting to get back what we thought we had but to move forward together with what we have.
We call it, finding the "new norm."
So today, I thought I'd give you 20 areas we've had to discover the new "norm" in our 20 years of marriage. We had to discover the new norm in …
1. EXPRESSING AND RECEIVING LOVE
Our love languages changed dramatically when Cammi was born. It takes careful evaluation and intention to keep up with the changes.
2. HAVING FUN AS A COUPLE
We've had to work hard finding things we like doing together as a couple. What was fun five years ago may not be as exciting as it used to be. We need to keep trying and discovering what is fun for the both of us.
3. PRACTICING OUR SPIRITUAL LIVES
We have felt the pressure to "keep up" with a standard or do what other couples do. Anne and I love the same worship styles but do our Word and prayer times differently.
4. WORKING THROUGH DISAGREEMENT
We've learned that disagreement doesn't mean "disunity." We have a unified heart but sometimes different opinions. Instead of trying to benefit selfishly, we work for the good of other.
5. CHANGING JOBS
We've changed jobs (location, home, etc.) three times in 20 years. Each job has introduced a new approach that has affected the entire family.
6. COMMUNICATING OUR EXPECTATIONS
Twenty years ago, we'd drop hints then get mad when the other didn't "catch" what we were hinting. We love talking on Sunday evenings about our week so that neither one of us is caught off guard about what's happening. It's taken a lot of stress and confusion out of our lives.
7. EXPRESSING CRITICISM
We believe in encouragement sandwiches. Every criticism must be sandwiched between two encouragements. But in the same vein …
8. BEING AN ACTIVE ENCOURAGER
Encouragement isn't saved for criticisms. Nobody will out-encourage us when it comes to our spouse. Nobody.
9. FINDING OUR SEXUAL FREQUENCY
Navigating with different libidos and expectations wasn't without a few frustrations. But there's a difference in failing at trying and failing to try. As a husband with a high libido, I need to make sure that my affection isn't laced with sexual expectation. As someone with a low libido, Anne would say (in her own words), "I am the only one gifted to satisfy my husband." Keep talking. Keep loving. And keep getting naked.
10. EXPERIENCING GRIEF
Anne lost a few family members in the first couple years of marriage. Most of mine have been in the past decade. Grief not only challenges you in the moment but it makes you evaluate how to move ahead.
11. PARENTING OUR CHILDREN
We've learned to change, not who we are, but how we parent our children based upon them and the season they go through. Cammi and Ethan are vastly different and, therefore, need to be parented a bit different. The principles are the same; the methods vary. Which leads me to …
12. CHANGING FAMILY DYNAMICS
We've had one high school graduation and we're three years away from an empty nest. It's hits us hard at varying times. We've learned not to look down on each other but to be there for each other.
13. DEALING WITH HEARTACHE
Our role as pastors can invite heartache. I can put up a good front, but I take the loss of church attendees to heart and criticism very hard. Anne digests it different. But again, we refuse to allow the other to journey through heartache alone.
14. PURSUING HOBBIES
Hobbies in marriage are an enriching outlet, not a beast of burden. Twenty years ago, video games were great for me, Anne scrapbooked. Today, Anne loves to work out and I love to rock climb. We do it when it fits best for our marriage so that it doesn't take away from it.
15. NAVIGATING EVOLVING FRIENDSHIPS
One of the hardest things is to navigate friendships. God has brought a number of people into our lives and it's always pained us to see circumstances and seasons change the nature and scope of those friendships. Though our "closeness" is different, our love for them hasn't changed.
16. TAKING TIMEOUTS
Like a boxer sitting down between rounds, we have embraced the art of the timeout. There's huge value to ceasing from a fight and take a few minutes (or an hour) to cool down to remember why you're fighting and what is ultimately important in the marriage.
17. DEVELOPING A THICKER SKIN
We have learned to stop looking to get offended so easily because we've learned to trust the each other's heart. If we don't understand what's taken place, we've leaned on the heart that we know and love. But in a similar vein …
18. LOOKING TO LAUGH
Laughter has been the drug of choice in our house. We are hooked on making each other laugh. In fact, having an atmosphere of laughter helps us to see what things we need to truly take serious.
19. GUARDING THE MARGIN TIME
Margin is not a luxury. Boredom, downtime, and fun is the space by which we catch our breath. The reason why too many marriages are lifeless is because they're running without any margin (rest, recreation and relationships).
20. CONTINUING TO LEARN
Learning isn't optional. The only thing "normal" about your marriage is change. Which means that you can't afford to stop learning. You both will change by nature of the seasons you go through as a couple and as individuals. Don't stop being a student of your spouse. Be an avid learner and grow through the changes.
How can you approach where you find yourself now? It's by first taking where you are and what you are doing and submitting it to the Lord. I love The Message's paraphrase of Romans 12,
"So here's what I want you to do, God helping you: Take your everyday, ordinary life—your sleeping, eating, going-to-work, and walking-around life—and place it before God as an offering. Embracing what God does for you is the best thing you can do for him. Don't become so well-adjusted to your culture that you fit into it without even thinking. Instead, fix your attention on God. You'll be changed from the inside out. Readily recognize what he wants from you, and quickly respond to it. Unlike the culture around you, always dragging you down to its level of immaturity, God brings the best out of you, develops well-formed maturity in you."
Stop trying to recreate what you had and give what you have to the Lord. Like the boy who gave Jesus what he had so that a miracle could be performed, give the Lord what your marriage has. Let Him make something beautiful and majestic out of what you currently possess.
Why try to reclaim what you had when, in Christ, the best has yet to come?
Read more from Dave Barringer »
Dave Barringer (@PDBarringer) is the lead pastor at Kalamazoo First Assembly of God in Portage, Michigan, and the author of Mosaic Marriage. He blogs about pastoring and marriage at PDave.me.