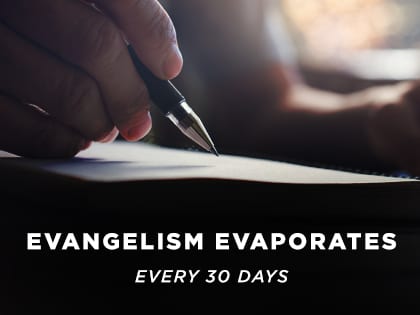 "Regardless of what we did, it seemed we could not sustain evangelism desires throughout our church body."
For the past five years, the Billy Graham Center for Evangelism has been gathering senior pastors into cohorts that meet monthly to receive encouragement and accountability in their personal witness, and to be equipped to lead their churches in evangelism. Randy Discher is senior pastor of Constance Free Church in Andover, Minnesota, and is one of about 60 pastors currently in an evangelism cohort. Here's his story.
If I had to use one word to describe our journey with fulfilling Jesus' command for the church to "go and make disciples of all nations," that word would be frustrating. Our church has had wonderful periods of growth. But to see outreach and evangelism saturate each ministry of the church so that those far away from Jesus are finding life and salvation in him was a desire that seemed to always elude us.
Like most churches, we recognized that sharing Jesus with those who do not yet know him was of "first importance" (1 Cor. 15:3-8). So we continued to strive to be a church that fulfilled that call. We had training classes, outreach events, "bring a friend" Sundays, special invite series and relevant weekend messages. We even founded a nonprofit to encourage our church to love, serve and bless our world.
But, at best, we had sporadic and minimal results. Regardless of what we did, it seemed we could not sustain evangelism desires throughout our church body.
So about two years ago, we set two simple goals to find a sustainable way to do outreach and evangelism in our church. First, we wanted to find a way to strengthen, train and inspire our staff in evangelism and outreach that would change the way they lead their ministries and the ministries themselves. Our initial thoughts were to attend an evangelism conference, to engage in ongoing training or to read a book together.
Second, we wanted to find a local church doing outreach and evangelism well that we could observe, follow and learn from. We were looking for a church similar to ours that was not using a seeker-driven, Sunday-based, invitational model.
In both goals, we came up empty for some time; we could not find any evangelism conferences and discovered that most churches like ours were having similar problems. To intentionally focus on and prioritize evangelism, and still not make any headway, was discouraging to say the least.
Eventually, through a blog and a video, we connected with Organic Outreach International, the Amplify Conference and Rick Richardson, a professor of evangelism and leadership at Wheaton College.
Through these organizations, we are learning to implement a systematic rhythm of evangelism that is saturating all of our ministries and leading to sustained growth in evangelism. Something that has been especially helpful is that under Richardson's leadership, we have formed a cohort with nine other local church pastors. Our group meets monthly to help each other apply what we are learning so our church culture can be transformed to fulfill the Great Commission. This process of learning and implementation has given us renewed energy and passion to bless our world with the good news.
The process of meeting monthly for accountability and encouragement has been so transformative that we created the phrase "Vision Leaks. Evangelism Evaporates—Every 30 Days!"
If discouraging or frustrating describe your process of cultivating a culture of evangelism in your church, our prayer is that God would provide you with a community where you and your leaders can receive accountability, equipping and encouragement every 30 days, and that God would fill your hearts with hope to believe it's possible to see your church body as a whole grow in passion for evangelism.
Read more stories from the Billy Graham Center for Evangelism »