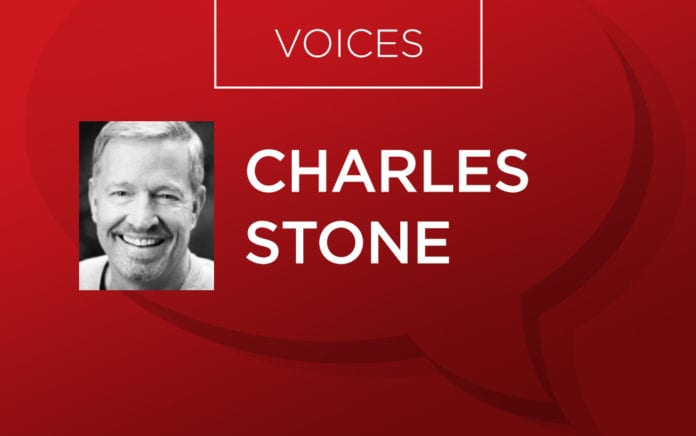 The Bible, Your Brain, and the Mindful Space Between Moments
Holy Noticing
(Moody Publishers, 2019)
WHO: Charles Stone, pastor of West Park Church in London, Ontario, Canada, and founder of StoneWell Ministries.
HE SAYS: "Holy noticing is a way to bring intentional awareness in the present moment to what and who is around us and what we're doing, thinking and feeling—all from God's perspective."
THE BIG IDEA: Holy noticing as a spiritual discipline has been practiced for centuries. This book teaches what the Bible, church history and neuroscience say about a mindful lifestyle and its benefits.
THE PROGRESSION:
In Part 1, "Noticing with a Holy Purpose," the author explains what mindfulness is—and isn't—how the Bible and church history support it and the BREATHe Model.
Part 2, "Looking Up and Out," examines the first three practices: pondering and yielding your body, reviewing and renewing your relationships, and noticing and engaging your environment.
Part 3, "Looking In," wraps up the book by looking at the last three practices: labeling and releasing your afflictive emotions, observing and submitting your thoughts, and searching and surrendering your heart.
"Mindfulness is the art of holy noticing—noticing, with a holy purpose, God and his handiwork, our relationships and our inner world of thoughts and feelings."
"Ancient wisdom and current research converge in a most helpful guide."
—John Ortberg, senior pastor of Menlo Church and author of Eternity Is Now in Session
Order this book from Amazon.com »
Read an excerpt from this book »
How did Jesus model and embody this way of life?
Jesus is the perfect model of what it means to live mindfully, to notice with a holy purpose, to live in the present moment. Many scriptural accounts reflect how he mindfully lived in the present moment.
• Although thirsty himself, he took time to quench the thirsty heart of a woman at a well (John 4:7–15).
• Although pressed by crowds, he knew that a sick woman had in desperation touched his robe for healing (Mark 5:24–34).
• Although his disciples tried to inhibit him, he welcomed little children into his arms (Mark 10:13–16).
• Although demands mounted, he spent leisure time with Mary and Martha (Luke 10:38–42).
• Although tempted by Satan in the desert, thoughts and feelings about power and wealth didn't preoccupy his mind (Matt. 4:1–11).
• Although a hectic schedule loomed, he stopped to pay attention to cries from lepers (Luke 17:11–14).
• And although he had only three years of public ministry, he often withdrew from the crowds to spend time alone with his Father (Mark 1:35; Luke 5:16).
How do you distinguish Christian mindfulness from the secular approach to mindfulness?
Much secular mindfulness is founded upon Buddhism. However, Christian mindfulness, what I call holy noticing, is not Buddhism in disguise. Huge differences exist between Christianity and Buddhism, one of which is that Buddhism is essentially a god-less faith. You can be a practicing Buddhist and an atheist at the same time. And when a Buddhist practices secular mindfulness he seeks detachment from self or personal identity. A believer who learns the art of holy noticing, however, emphasizes the value of the self as a reflection of God's image, rooted in our identity in Christ.
Christian mindfulness is not a new age practice where you strive to empty your mind, stop thinking, and thus subject yourself to malevolent spiritual forces. It is learning to pay attention to all the streams of information coming at you every day. Rather than seeking an empty mind, this spiritual discipline helps us become more aware of your mental and emotional experiences while also recognizing Christ's presence in the moment. We don't stop thinking when we practice mindful living. Rather we stop to think. Rather than thoughtlessness, we become thought-full and mind-full of God's truth, power, promises, and presence.
Finally, Christian mindfulness is not a self-absorbed, positive thinking experience all about me and my happiness. On the contrary, it "is linked not only to ethical values but to social justice" like we see in the story of the Good Samaritan (Luke 10.25–37). It helps us see the needs right before our very eyes, not just what we want to see. It motivates us to take action.
Can you describe how holy noticing can resculpt brain pathways?
A mindful lifestyle enhances the brain's ability to rewire itself through experience, thoughts, and behavior. It's called neuroplasticity. That is, the brain is more like pliable putty than rigid porcelain. What we think about and do changes our brain. When mindfulness effects neuroplasticity it's like an electrician running new wiring to bring a house up to code.
In one study, neuroscientist Andrew Newberg studied a group of nuns who had been practicing a form of mindfulness, centering prayer, for at least 15 years. He discovered significant neurological changes in their brains. In another study, after participants completed an eight week course and practiced it for an average of 27 minutes a day, their brains got thicker in these regions: areas involving mind wandering, learning, emotional regulation, empathy, and compassion. And, their brains shrunk in the regions of fear, anxiety, and stress.
This process is called experience dependent neuroplasticity. Another term, competitive neuroplasticity, describes the brain's tendency to look for neglected neurons to recruit for new purposes. The adage, 'use or it lose it' applies to your brain as well. If you want to retain your brain cells, you must use them because our thoughts and experiences reshape the brain's wiring.
The more you think about something (i.e., reflect on the truth in Scripture), the more your brain allocates its real estate to the subject of those thoughts. It forges stronger connections to other parts of the brain. The opposite holds true as well. If you repeatedly focus your thoughts on negative experiences (i.e., my friend hurt me with her words), those negative thoughts get wired more deeply into your brain.
So in sum, what you think about changes your brain. Our mental habits, to what we give our attention, literally shape our brains, which in turn shape our behavior. This relates to the biblical concept of 'renewing your mind' (Rom. 12–2). Holy noticing helps us sculpt our brain pathways which in turn influences behavior that honors God.