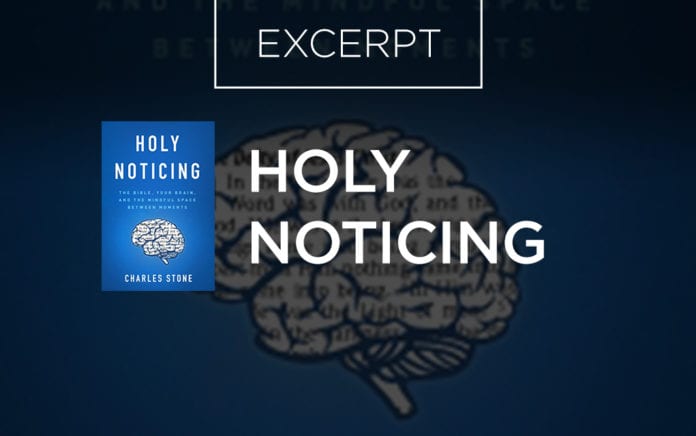 Taking the time to notice the things that God notices.
Excerpted From
Holy Noticing
By Charles Stone
At the outset, it's important to remember that our ultimate goal is not to use mindfulness simply to make us feel better—because science has discovered that it does just that—but rather to make us more like Christ (see Rom. 8:29; Eph. 4:13; Gal. 4:19).
For example, in the last few decades, scientific research has discovered that exercise is good for you. Exercise is exercise, though. We don't split it into secular exercise and Christian exercise. It benefits Christians and non-Christians alike. However, a believer can take exercise a step beyond. We exercise not simply to feel better and keep our hearts healthy (and that's a fine motive) but fundamentally to honor God. Because Scripture says that our bodies are temples of the Holy Spirit. When we exercise, we do it for God's glory. Our bodies are gifts entrusted to us by the One who created us. We honor him when we take care of our bodies. And with healthy bodies, we can serve him better.
Holy noticing is similar to exercise, but so much more. Although it brings tangible benefits such as a healthier brain (which, again, is a fine motive), it ultimately helps us love God and love others better. And even though some practices may resemble secular mindfulness (like slow breathing), we don't throw the baby out with the bathwater by rejecting science-based practices that may benefit anyone. Essentially, God created our brains to respond to these mindful practices in several positive ways. Holy noticing quiets our brain's circuitry when bombarded by afflictive emotions, negative thinking and reactivity, and amplifies our brain's circuitry to help us more consistently apply living out the mind of Christ.
My definition of Christian mindfulness is the art of holy noticing—noticing, with a holy purpose, God and his handiwork, our relationships and our inner world of thoughts and feelings. This spiritual discipline is an art (there isn't just one right way to do it) that involves noticing with a holy purpose. We don't notice just to notice. We don't notice just to benefit ourselves. We notice, however, with God's purposes and perspectives in mind. What we notice first and foremost is God himself. That involves noticing his handiwork, what's happening in our relationships, and our inner world of thoughts and feelings.
God models this pattern of noticing because he himself is a perfect noticer. Nothing in our lives is too small or insignificant for him to notice. He knows the number of hairs on our head (Matt. 10:30). He noticed the Hebrews groaning under Egyptian bondage (Ex. 2:25). He notices our pain, our joys, our heartaches and our happiness. The psalmist writes, "You keep track of all my sorrows. You have collected all my tears in your bottle. You have recorded each one in your book" (Ps. 56:8). God's sovereign nature reminds us that he knows and notices everything about us. Jesus modeled holy noticing in the Sermon on the Mount when he directed his hearers' attention to birds and flowers that we often overlook in our worrisome lives (Matt. 6:25–34). He also used the phrase, "He who has ears to hear, let him hear" (Matt. 11:15; Mark 4:9) to challenge us to pay close attention, to notice, to listen. The writer of Proverbs even admonishes us to notice things as tiny as an ant (Prov. 6:6). Holy noticing is a way to bring intentional awareness in the present moment to what and who is around us, and what we're doing, thinking and feeling—all from God's perspective.
Tell me more about this book »
Order this book from Amazon.com »
Excerpted from Holy Noticing: The Bible, Your Brain, and the Mindful Space Between Moments by Charles Stone (©2019). Published by Moody Publishers. Used by permission.