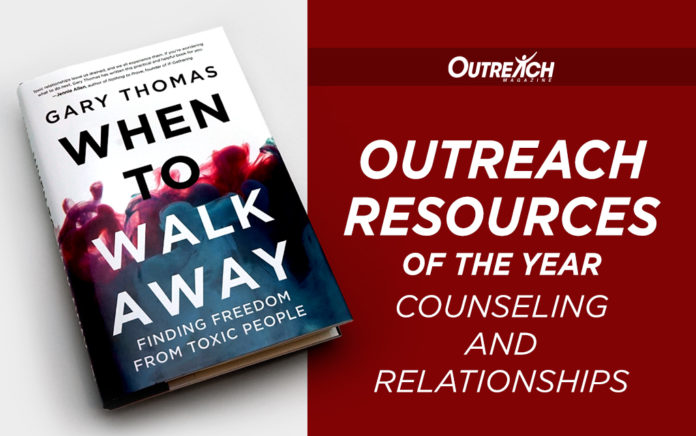 Evaluated by Les and Leslie Parrott
Outreach Resources of the Year: Counseling and Relationships
Now in its 17th year, the 2020 Outreach Resources of the Year honors the past year's best books that emphasize outreach-oriented ideas and ministries.
The counseling and relationships category was evaluated by Drs. Les and Leslie Parrott, founders of the marriage assessment SYMBIS.com and authors of The Good Fight, Crazy Good Sex and Saving Your Marriage Before It Starts.
RESOURCE OF THE YEAR
When to Walk Away: Finding Freedom From Toxic People by Gary Thomas (Zondervan)
Thomas deftly explores the dicey issues of unhealthy relationships in this practical book. He provides a biblically grounded pathway that is pertinent to all of us who find ourselves entwined in toxic patterns of frustration with a sibling, parent, co-worker or friend. Sensitively and pastorally, he unpacks surprising biblical principles for dealing with high-maintenance people and helps us set boundaries and guard our life's calling. This book is sure to be a classic for all of us who want God-honoring relationships.
Additional counseling resources are available at OutreachMagazine.com/counseling.