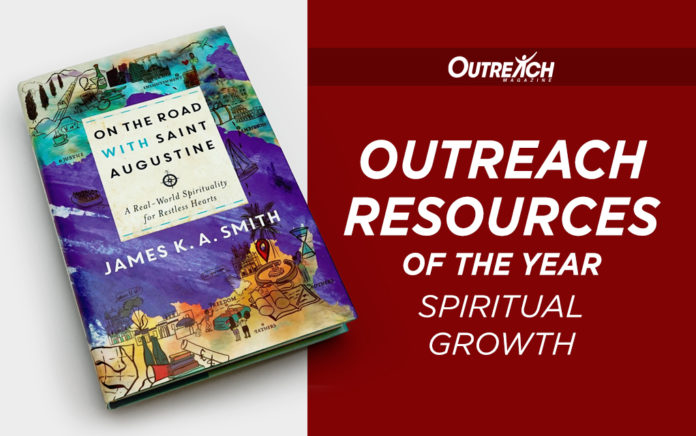 Evaluated by Glenn Paauw, director of content for the Institute for Bible Reading.
Now in its 17th year, the 2020 Outreach Resources of the Year honors the past year's best books that emphasize outreach-oriented ideas and ministries.
The spiritual growth category was evaluated by Glenn Paauw, director of content for the Institute for Bible Reading. He is the author of Saving the Bible From Ourselves.
RESOURCE OF THE YEAR
On the Road with Saint Augustine: A Real-World Spirituality for Restless Hearts by James K.A. Smith (Brazos/Baker)
Among the distortions of our time is the shrinking of communication and the loss of depth in our discourse. We increasingly think, write and hear only in bits and pieces. What are the chances, then, that a book exploring the writings of an ancient North African church father, and supplemented by excursions into existentialist philosophy and contemporary film and fiction, will capture our media-shortened attention spans? If we're wise, this one will, because it can both orient and inform a lifelong journey of spiritual formation. Smith's Augustine becomes our guide to navigating 10 perennial questions of the human quest, from freedom to ambition, sex to friendship. This book is a profoundly Christian one, coming alongside us to warn about pitfalls and wrong turns, while clearly directing us to our true home. In the end, it's about a Father who doesn't merely wait for us, but comes running to welcome us back.
ALSO RECOMMENDED
The Common Rule: Habits of Purpose for an Age of Distraction by Justin Whitmel Earley (IVP)
Eight good and grounded habits crafted specifically for our distracted, distracting moment—to set us free for the life we know we need.