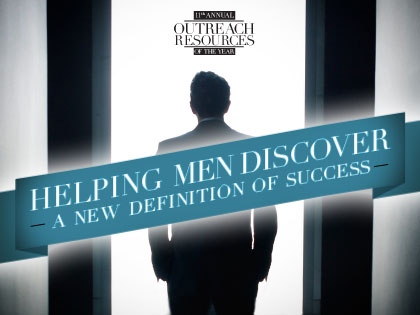 Colt McCoy and Matt Carter: "The real win for a man is built on two simple but strategic components—who you trust and who you serve."
Excerpted from The Real Win: Pursuing God's Plan for Authentic Success—Men's Bible Study
By Colt McCoy and Matt Carter (LifeWay)
A 2014 OUTREACH RESOURCE OF THE YEAR
IT'S TIME TO REDEFINE WINNING
Guys, quick! Can you name who won last year's…
• Super Bowl?
• World Series?
• NBA Finals?
• Daytona 500?
• PGA Tour Championship?
How did you do?
If you're like a lot of guys, you're probably surprised by how few of the winners you can recall, especially considering what a big deal those championships felt like to a lot of people at the time.
Inside each man is a desire to set goals and achieve them, to get ahead and finish strong. And God himself put a desire within us to drive hard and live with excellence. But things can go terribly wrong as we pursue our goals, can't they?
So many men start out to achieve what they think is the real win, but at the end of their lives they feel a sense of defeat, even though they achieved everything they set out to win. They think they're achieving what matters most in the long run, but it doesn't pan out the way they had hoped. Or they find that their goals disappoint them, or their accomplishments are quickly forgotten, or they achieve their goals but destroy their marriages and families in the process, or they never fulfill their destinies and end up frustrated, angry, hurt, and cynical. What then?
Lately, the two of us have been doing a lot of thinking about what constitutes authentic success for a man.
Raised to Be a Winner
Since boyhood, I (Colt) have been trained to win. I have wanted to win and have been expected to win. I even grew up thinking that if I did everything right, God would make sure I won.
A few years back, when I graduated from college, I ended up being the winningest quarterback in college football history. (That record's been broken now, but it felt good to achieve that goal at the time.) Yet even with all those successes, I still came up short with my goals and didn't achieve a couple of big wins I really wanted. And that hurt. I've gone on to play in the NFL, where I've had some successes as well as some challenges. My professional story is still being lived out even as we're writing this book.
I get that most men don't play professional sports for a living. And some men reading this book aren't even football fans. But I'm pretty sure you can relate to my story, because no matter what you do for a living or how you like to spend your free time, all of us can relate to this: we hate to lose. All of us want to be a success, in one way or another. That's why we want to talk about what real winning—winning according to God's definition of success—means, and how you can build a life as a man who makes winning a sure thing.
I'm still learning a lot as I go along, and that's one of the reasons I'm writing this book along with my friend and pastor, Matt Carter.
Winning or Losing?
Some people think of pastors as guys who don't have a competitive drive, who don't have a desire to succeed like everybody else. But I (Matt) am wired like every other man reading this book. I know what it's like to want to win. The church I planted started with a core group of 15 people and now has more than 8,000 active attendees. Only God can bring dead souls to life, and he gets every bit of the glory for what's gone right at my church. But still, on my end there was a lot of work to do, and I know what it's like to drive hard. When it came to planting Austin Stone Community Church, humanly speaking, I did succeed.
But I've also learned a thing or two about losing in the process. For one thing, I've faced death (more about that later). For another, I've faced a crisis in my marriage—a crisis that showed me how close I had come to losing everything when I actually thought I was winning. Through these events and many more, I've realized that if you're going to win in the short time you have here on earth, you have to redefine success. You have to make sure you're winning, not according to human standards, but according to God's.
Today Colt and I want to deliver a cautionary tale for men: If the pursuit of God and trusting him fully isn't at the core of your life, then it's going to be impossible for you to really win. In fact, in every way that really matters, you'll lose. That's what we want to talk about in this book. What does true success for a man, particularly a follower of Christ, look like?
It's been great to work on this book with my good friend Colt. Even though I'm an Aggie and he's a Longhorn, and the two don't normally get along (that's an understatement!), we've developed a great respect for each other over the years. Colt's got a lot of insights in this area. He's a man of wisdom well beyond his years.
Sometimes in this book Colt will be talking to you directly, and sometimes I will be, but every part of the message between these book covers is something that we both fully own and that we can't wait to share with you.