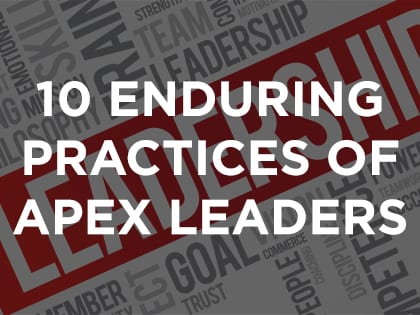 "There are things great leaders have always done and will always do."
There is no shortage of leadership books available to read but Brian Dodd's Timeless: 10 Enduring Practices Of Apex Leaders stands out. If you read Brian's popular website Brian Dodd On Leadership, he frequently profiles Apex Leaders – those who are the best in their profession. After years of research, Brian identified over 300 traits and practices of the world's best leaders. He then narrowed the list down to the 10 most common.
These traits make up the book's content. They are the following:
1. Apex Leaders Build Great Teams
2. Apex Leaders Are Humble
3. Apex Leaders Continually Improve
4. Apex Leaders Work Hard—Very Hard
5. Apex Leaders Form Strong Relationships
6. Apex Leaders Make Others Better
7. Apex Leaders Show Consistency
8. Apex Leaders Give Generously
9. Apex Leaders Lead By Example
10. Apex Leaders Deliver Results
After applying a biblical perspective coupled with modern-day examples to each practice, Timeless was born.
There are things great leaders have always done and will always do. Brian takes these complex concepts and boils them down into practices any leader can do.
What also makes Timeless unique is the book is not made to be read and applied alone. Each chapter contains a series of discussion questions. As a leader, you can now sit down with other leaders and with your team. Together, you can discuss what is needed to become the best leaders you can be and then collectively advance your organization's mission and vision.
Any leader can get better. Any leader can improve. Timeless is your tool for going to the next level.
It will help you become the leader you were meant to be.
Order this book from Amazon.com »
Charles Stone is the senior pastor of West Park Church in London, Ontario, Canada, the founder of StoneWell Ministries and the author of several books. This post was originally published on CharlesStone.com.