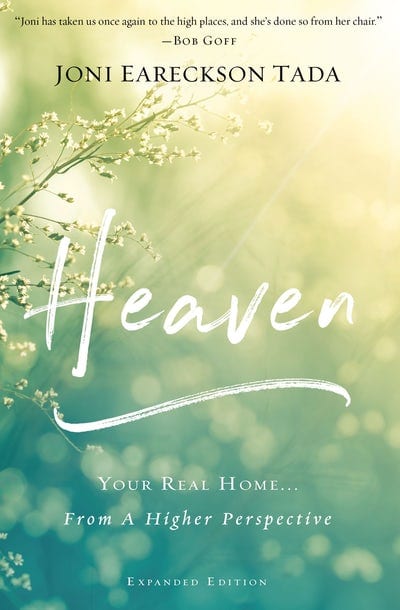 Joni Eareckson Tada: Your Real Home … From a Higher Perspective
Heaven: Updated and Expanded Edition
Your Real Home … From a Higher Perspective
(Zondervan, 2018)
WHO: Joni Eareckson Tada, best-selling author, speaker and advocate for people affected by disability.
SHE SAYS: "Everything we do here on earth—every godly response to a trial, even drastic little obedience—has a direct bearing on our capacity to experience the highest degrees of joy in heaven."
THE BIG IDEA: An exploration of what heaven is.
THE PROGRESSION:
This updated and expanded edition of Heaven includes new reflection questions and sections that go more in depth into the subject.
"What Will Heaven Be Like?" is the title of Part 1, a look at who we will be in heaven, what we will do and what heaven is like. "Will Heaven Be Home?" is Part 2, a look at how heaven is our heart's desire and is the home of love. The author wraps up with Part 3, "The Journey Home," a transparent discussion of getting ready to go to heaven.
"Until we are there, doing what God purposed for us from the beginning, we will be like the caterpillar writing to be free of the cocoon, to breathe the celestial air."