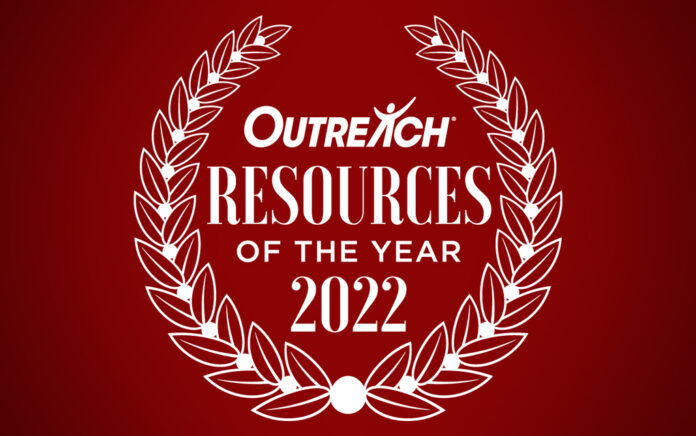 19th Annual Celebration of the Best
For the 19th year, Outreach magazine is celebrating some of the best outreach-oriented books by honoring them as Outreach Resources of the Year.
The Outreach Resources of the Year aims to highlight valuable resources for church leaders and bring deserved attention to tools that can help churches better engage in effective outreach to share the gospel and reach their communities for Christ. This year's titles address issues in evangelism, apologetics, the church, leadership, social issues and justice, among other concerns. The resources are featured in the March/April 2022 issue of Outreach magazine.
More than 150 resources published between Nov. 1, 2020, and Oct. 31, 2021, were submitted for consideration. An expert in each category evaluated the resources and chose what they considered to be the best. The experts also chose how many resources to recognize, and whether to include any as "Also Recommended."
The Outreach Resources of the Year are:
EVANGELISM 
• How to Revive Evangelism: 7 Vital Shifts in How We Share Our Faith by Craig Springer (Zondervan)
APOLOGETICS
• Why God Makes Sense in a World That Doesn't: The Beauty of Christian Theism by Gavin Ortlund (Baker Academic)
• Urban Apologetics: Restoring Black Dignity With the Gospel edited by Eric Mason (Zondervan)

ALSO RECOMMENDED
• How Do We Talk With Skeptics? by Sam Chan (Lexham Press) 
• Why Believe: Christian Apologetics for a Skeptical Age by Tawa J. Anderson (B&H Academic)
CHURCH
• Gospel-Driven Ministry: An Introduction to the Calling and Work of a Pastor by Jared C. Wilson (Zondervan)
• Radiant Church: Restoring the Credibility of Our Witness by Tara Beth Leach (IVP)
ALSO RECOMMENDED
• Preaching to People in Pain: How Suffering Can Shape Your Sermons and Connect With Your Congregation by Matthew D. Kim (Baker Academic)
• Preaching Hope in Darkness: Help for Pastors in Addressing Suicide From the Pulpit by Scott M. Gibson and Karen Mason (Lexham Press)
LEADERSHIP
• Power in Weakness: Paul's Transformed Vision for Ministry by Timothy G. Gombis (Wm. B. Eerdmans Publishing Co.)
ALSO RECOMMENDED
• Tempered Resilience: How Leaders Are Formed in the Crucible of Change by Tod Bolsinger (IVP) 
• Lead Like It Matters to God: Values-Driven Leadership in a Success-Driven World by Richard Stearns (IVP) 
CROSS-CULTURAL AND MISSIONS
• Teaching and Learning Across Cultures: A Guide to Theory and Practice by Craig Ott (Baker Academic)
ALSO RECOMMENDED
• Migration and the Making of Global Christianity by Jehu J. Hanciles (Wm. B. Eerdmans Publishing Co.)
SOCIAL ISSUES AND JUSTICE
• Reparations: A Christian Call for Repentance and Repair by Duke L. Kwon and Gregory Thompson (Brazos Press)
• Confronting Injustice Without Compromising Truth: 12 Questions Christians Should Ask About Social Justice by Thaddeus J. Williams (Zondervan Academic)
ALSO RECOMMENDED
• The Land Is Not Empty: Following Jesus in Dismantling the Doctrine of Discovery by Sarah Augustine (Herald Press)
• Embracing the New Samaria: Opening Our Eyes to Our Multiethnic Future by Alejandro Manes (NavPress) 
THEOLOGY AND BIBLICAL STUDIES
• Women in the Mission of the Church: Their Opportunities and Obstacles Throughout Christian History by Leanne M. Dzubinski and Anneke H. Stasson (Baker Academic)
ALSO RECOMMENDED
• Bullies and Saints: An Honest Look at the Good and Evil of Christian History by John Dickson (Zondervan)
SPIRITUAL GROWTH
• After Doubt: How to Question Your Faith Without Losing It by A.J. Swoboda (Brazos Press)
ALSO RECOMMENDED
• Good Works: Hospitality and Faithful Discipleship by Keith Wasserman and Christine D. Pohl (Wm. B. Eerdmans Publishing Co.)
• Being With God: The Absurdity, Necessity and Neurology of Contemplative Prayer by A.J. Sherrill (Brazos Press)
CHRISTIAN LIVING
• God of All Things: Rediscovering the Sacred in an Everyday World by Andrew Wilson (Zondervan)
ALSO RECOMMENDED
• Abuelita Faith: What Women on the Margins Teach Us About Wisdom, Persistence and Strength by Kat Armas (Brazos Press)
COUNSELING AND RELATIONSHIPS
• A Counselor's Guide to Christian Mindfulness: Engaging the Mind, Body and Soul in Biblical Practices and Therapies by Regina Chow Trammel and John Trent (Zondervan)
KIDS AND YOUTH
• Anxious for Nothing (Young Readers Edition): Living Above Anxiety and Loneliness by Max Lucado With Andrea Lucado (Tommy Nelson)
ALSO RECOMMENDED
• I Wonder: Exploring God's Grand Story by Glenys Nellist and illustrated by Alessandra Fusi (Zonderkidz) 
• Near: Psalm 139 by Sally Lloyd-Jones and illustrated by Jago (Zonderkidz)
WHO MADE UP THIS YEAR'S PANEL?
EVANGELISM 
York Moore, national evangelist and executive director for catalytic partnerships for InterVarsity Christian Fellowship and co-founder of EveryCampus. 
APOLOGETICS 
Andrew MacDonald, associate director of the Wheaton College Billy Graham Center Research Institute. 
CHURCH 
Knute Larson, an Outreach magazine consulting editor, coach of pastors and churches, and director of Momentum Ministry Partners, a monthly video and blog for church leaders, accessible through OutreachMagazine.com. 
LEADERSHIP 
A.J. Swoboda, assistant professor of theology, Bible and world Christianity at Bushnell University, and lead mentor for the doctor of ministry program at Fuller Theological Seminary on the Holy Spirit and leadership. 
CROSS-CULTURAL AND MISSIONAL 
Robert Gallagher, professor emeritus of intercultural studies at Wheaton College Graduate School and teaching pastor at Lombard Bible Church in Lombard, Illinois. 
SOCIAL ISSUES AND JUSTICE 
Mark DeYmaz, an Outreach contributing editor, directional leader of Mosaic Church of Central Arkansas and convener of the National Multiethnic Church Conference. 
THEOLOGY AND BIBLICAL STUDIES 
Scot McKnight, author or editor of some 60 books and the Julius R. Mantey Chair of New Testament at Northern Seminary in Lisle, Illinois. 
SPIRITUAL GROWTH 
Thomas Bandy, director of Thriving Church Consulting and author of more than 60 books and articles. 
CHRISTIAN LIVING 
Ken Wytsma, the author of The Myth of Equality, Pursuing Justice, The Grand Paradox, Create vs. Copy, and co-author of Redeeming How We Talk. 
COUNSELING AND RELATIONSHIPS 
Drs. Les and Leslie Parrott, founders of the marriage assessment SYMBIS.com and authors of Saving Your Marriage Before It Starts. 
KIDS AND YOUTH 
Russell St. Bernard, an Outreach magazine contributing editor; director of strategic ministry operations at Kingdom Fellowship AME Church in Silver Springs, Maryland; and founder of After the Music Stops, Ministry Pivot and The Pivot University.
ABOUT OUTREACH MAGAZINE
With an emphasis on evangelism, discipleship and service, Outreach magazine offers ideas, innovations and resources for churches that seek to reach their community and change the world. Founded in January 2003 by church communications company Outreach Inc., Outreach is an award-winning, bimonthly periodical for church leaders and is available by subscription. Find out more at OutreachMagazine.com.