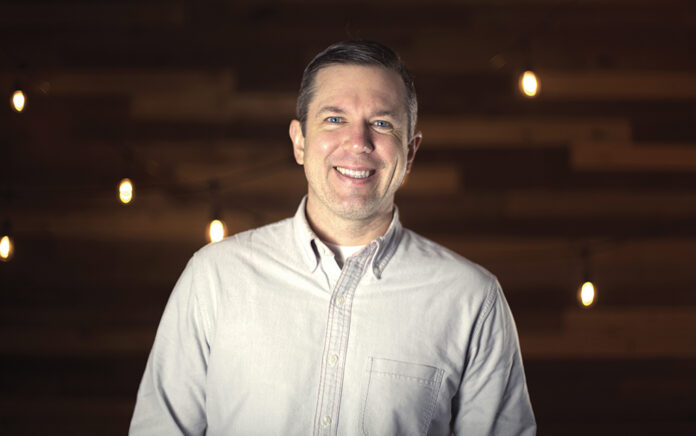 A Pathway for Church Health and Growth
The past several decades have proven to be challenging for the declining American church. On top of that, the pandemic has brought additional unique challenges. But Sam Rainer is hopeful for the church's future.
Rainer, who is pastor of West Bradenton Baptist Church in Bradenton, Florida, president of Church Answers, and a co-founder of Rainer Publishing, consults on a variety of church health issues. His latest book, The Church Revitalization Checklist: A Hopeful and Practical Guide for Leading Your Congregation to a Brighter Tomorrow (Tyndale), aims to encourage pastors about the future and give them a path toward a renewed, reenergized and more effective church.
He spoke with Outreach about some of the biggest challenges the church currently faces and how he sees it emerging healthier than ever before.
What's your analysis of the church today? Where do we stand in terms of health, longevity and our commitment to staying true to biblical values and to our Christ-ordained mission?
Most churches are smaller on this side of the pandemic, but the core is as strong as it's ever been. Almost every church struggles with evangelism, outreach and knowing and serving their communities. So we have a strong core, but that core needs to start moving outward for the church to truly regain health in North America. There's a lot of spiritual navel-gazing in churches. The healthiest churches inwardly are the ones that are most focused outwardly.
There are volumes of books written on the decline of the church, how the church is unhealthy, how established churches in particular have lost their way. I agree with most of those assessments, but I want to provide a hopeful pathway for churches into the future.
"The healthiest churches inwardly are the ones that are most focused outwardly."
When the pandemic began, nobody knew how bad it was going to be or what was going to happen. We're more than two years into this now, and we're still struggling, so I think it ended up being worse than most people anticipated. That said, I believe every church needs revitalization, whether or not they've experienced some pretty serious effects of the pandemic. And that doesn't necessarily mean the whole of the church is bad. But there are certainly parts of any given church that need to be revitalized. Depending on who is counting and how, there are about 350,000 churches in the United States, and somewhere between 8 of every 10 of those that are established will self-identify as needing some form of revitalization. So this is one of the biggest needs in the North American church right now.
In what areas are most churches struggling?
Evangelism is No. 1. Just about every church wrestles with accomplishing the Great Commission. But we're also hearing about issues with assimilation and things like attendance frequency. Obviously, if you have a church full of people coming every week and they go to every other week, which is common, your attendance is half what it used to be, even though you haven't lost anyone. So, not only are churches struggling with evangelism and outreach, they're also struggling with people being there as much as they used to be. We need to get people to church more often, and we need to get them thinking outwardly as opposed to inwardly.
How should pastors determine when to adapt in order to stay on mission, and when to hold off a while longer? That decision can be difficult, especially for churches whose congregations span several generations.
"Everything is different now" has always been the case. If you look back to the 1920s, people said things like, If we don't adapt to this thing called evolution, then the church is going to die. And in the 1960s, there was all sorts of turmoil in the nation, and everything felt so different. A lot of good and bad came out of the '60s. We rolled through the '80s and the '90s with the fall of communism and the boom of the internet, and now we're living through a pandemic. Certainly the technological innovations have sped up relative to 100 years ago, but the idea of things changing rapidly has always been the case. I believe people have always changed and will continue to change, and the church needs to adapt to these changes without messing with Scripture, the Great Commission or the Great Commandment.
To the point of generations, people are certainly living longer. The church once had two, maybe three, generations. Now the local church could have up to five generations. It is a lot harder to bridge five generations than two. So pastors who feel as if there's a much greater generation gap are correct. A lot of the older generations don't want the church to change, because it's the one thing that is stable for them, which is an understandable perspective. But at the same time, you have to adapt to reach the next generation. And that balancing act is a very hard one to accomplish.
How can pastors best lead their churches through the complex racial issues that have reignited in the last few years and have, in many instances, divided churches?
The best thing pastors can do right now in an age of polarization is to listen. Just listen more before you make decisions on anything. Take in as much information as you can, particularly at the local level. You shepherd at the local level, not the national level. Your influence is found in your neighborhood, not at the top levels of national leadership. And so pastors need to be listening very carefully to the people who are right around them, and then make conclusions. 
You will never be able to please everyone, but you can listen to everyone. The best bridge-builders are the ones who are listening well, and sometimes all people need to know is that you care enough to listen.
Is growth necessary for church health? Should we focus on numbers at all, and if so, to what degree?
Every church should focus on growth. The question is how that growth occurs and to what degree. There is certainly a net on unlimited growth. If you are on a small campus, only so many people can park and get into the building. But I also think every church should be equally focused on loving their neighbors and discipling the people who are within the body. 
In your book, you write that for the health of the North American church to improve, small and midsize churches must gain momentum, as opposed to a further increase in megachurches. Why is that, and what are the implications for those churches?
There are only 1,500 to 2,000 megachurches in the United States, but there are 350,000 churches. So the vast majority of what God can do in the kingdom will be accomplished through smaller and midsize churches. I believe they are far more the future than people realize. And I believe the younger generations are going to be drawn into these churches if these local churches can do what they're supposed to do.
"If you take the posture of serving first and leading second, then you will inevitably do what God has called you to do."
What that means for pastors is the opportunity of a lifetime. We're at a crossroads following a pandemic with people and church members who are as flexible as they've ever been. Churches that are on every street corner have the opportunity to own, love and serve their neighborhoods, and to reach the people who are their neighbors in ways that have never been possible in the last 30 years.
Pastoring a church during a revitalization can create the temptation to begin managing like a business leader first. How can pastors keep their pastoral calling front-of-mind?
There is a very simple biblical principle that every pastor can follow to avoid being a CEO and not a pastor: Serve first and lead second. If you take the posture of serving first and leading second, then you will inevitably do what God has called you to do with your congregation. 
In your opinion, what do the next 10, 20, 30 years look like for the church?
One of the things that excites me is the neighborhood church. I believe the neighborhood church is primed for a comeback. It's not inevitable, but I do believe the neighborhood churches that grasp their mission on a very local basis will do quite well in the future. 
What are a few key takeaways for starting on the path toward church revitalization?
I realize a lot of pastors are considering leaving either their current church or the ministry altogether. But I believe brighter days are ahead for the North American church. It's not going to look like it did in the past, and churches are going to be generally smaller, but maybe there is an opportunity that we haven't seen because we've been so distracted by some of the larger, more prominent churches. Perhaps some of these smaller and midsize churches can rise up in ways that we wouldn't have known 10 years ago. 
If you have a worship space of 200, enough parking spots on your campus and a handful of people who are excited about doing ministry, you've got a gold mine. You can change a neighborhood, and if every neighborhood church changes their neighborhood, we will see a mass movement of gospel work in ways we've never seen in our nation. It happens one neighborhood at a time, one church at a time, one pastor at a time.