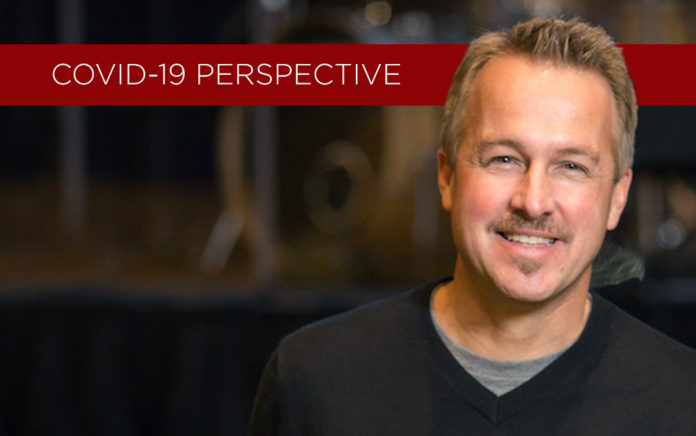 Two ways we shifted our focus
COVID-19 PERSPECTIVE: Dave Ferguson
Community Christian Church, Chicago
Chicago and the whole state of Illinois were given the "Stay at Home" order. Stuck in my house I called my friend, mentor and missiologist Alan Hirsch to discuss how I should lead my church into the future without buildings and programs.
After a short greeting Alan told me, "Dave, we used to play a simulation game in order to help people imagine how to mobilize their entire church for the mission of Jesus. The simulation game would go like this: 'I want you to pretend that you are the Archbishop of Canterbury and you oversee all of the Church of England. There are 44 dioceses and 12,500 churches. But suddenly one thing has changed: You suddenly do not have any church buildings. What would you do?'''
Then Alan said, "Dave, we are living that simulation game." And then he asked me, "What will you do?"
And let me ask you: What are you doing?
With lots of prayer and wise counsel, I shifted the focus of Community Christian Church in a couple new ways. These are probably changes that I should have made years ago. Realizing that necessity is the mother of innovation, we gave birth to these two shifts.
Shift 1: Focus on the needs of the community, not the church.
Through conversations with city leaders and other nonprofit leaders, we were able within a week to identify the top 12 needs in our city and communities.
1. Food Insecurity
2. High-Risk Individuals Care
3. Homelessness
4. Prayer
5. Loneliness and Isolation Outreach
6. Collecting Donations
7. Quarantined Individuals and Families
8. Homeschooling Instruction
9. Incarceration Connection
10. Essential Service Employees
11. Mask Sewing
12. COVID-19 Care
Shift 2: Focus people on external care, not internal programs.
Having identified the top needs in our city and communities, we began to repurpose about half of our staff and volunteers to lead these 12 teams, one for each of these significant felt needs. We put all this under the branding of "COMMUNITY Cares" and began to boldly challenge our people to be the church by showing that Community cares.
What was once a simulation game that was played just to imagine about the mission was now my reality with perhaps my greatest opportunity to mobilize our people for Jesus' mission.
What will you do?
Read more from Dave Ferguson »
Read more COVID-19 Perspectives from pastors and church leaders.