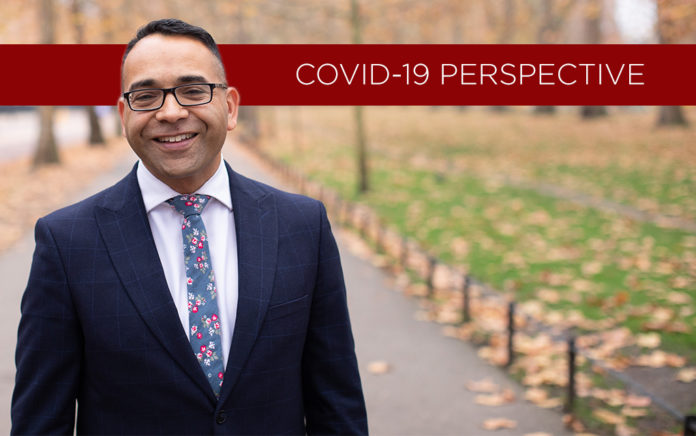 Encouraging signs for life beyond the pandemic
COVID-19 PERSPECTIVE: Krish Kandiah
Home for Good, United Kingdom
The word unprecedented has been used an unprecedented amount of times recently. We are running out of adjectives to describe the change the world has experienced going through the coronavirus pandemic. The global health crisis along with the evolving economic crisis and growing existential crisis has meant that in a very short space of time there have been huge shifts in the way we do business, school, life and of course church. Some of these shifts are surprisingly hopeful.
Rapid Innovation Is Possible.
The sudden closing of places of worship has meant churches jumping on to the digital bandwidth wagon at unprecedented speed. For the most part quite successfully. The media have enjoyed the few mishaps—a UK vicar momentarily set himself on fire by leaning into a candle while livestreaming, and an Italian priest left emojis on while he was doing the mass. Nevertheless Skype, Zoom, Facebook Live and Periscope churches have broadcast services to their congregations and beyond often to larger numbers than would have normally visited in person. This gives us great hope that we are able to adapt at pace. The church is more agile than maybe we believed ourselves to be. The spirit of creativity and speed of innovation must continue as our world gets used to a new normal.
Reinvention of the Parish.
Surprisingly the move to digital has coincided with the need to rediscover the local. This helps bust the myth that online interactions lead to the death of actual relationships. With lockdown in place in many parts of the world Christians are rethinking what it means to love their neighbors and engage with the people that live in their immediate geographical communities. We are hearing of Christians who are offering phone calls or doorstep visits to the lonely and vulnerable. Food banks are working on delivering food to the needy. This upsurge in neighborly engagement may prove critical and fruitful not only now, but for years to come.
Responsible Evangelism.
Just as during post-9/11, many churches are reporting more engagement than normal. Many point to a spiritual openness in the face of these seismic social changes and the threat to life. Christian leaders should steward this opportunity well, helping people come to a clear understanding of the gospel that is more than a fear-based, get-of-hell-free pass. When the rich young ruler asked Jesus about how to inherit eternal life—potentially out of a fear of his own mortality—Jesus instructed him to sell everything and give to the poor, possibly to broaden his horizons beyond his own situation. As we live out and explain the gospel we must make sure it is faithful to Jesus' teaching and lifestyle and not a diluted gospel of easy-believism, so that faith will outlast the crisis.
Rebooting of Our Heroes.
When I visited Haiti following the catastrophic earthquakes of 2010, I was very moved talking to the children about their hopes and dreams. Even those as young as 8 expressed their ambitions to become doctors, nurses and teachers. I have seen this echoed a little already here in the media. Suddenly celebrities and sports stars are no longer the central focus of public attention but rather health workers, scientists and good neighbors. This could have a knock-on effect on a whole generation growing up. If churches are seen to be part of this frontline crisis response, then we are laying foundations for a new generation of active, engaged disciples.
Reintegration of Mission.
Even when our churches can't be physically together, and we are reliant on digital communication more than at any other time in history, it is encouraging to see the reintegration of mission. The word and deed to the church's mission is coming together in profound ways. There is sacrificial service and there is clear articulation of the gospel. This balance offers us as the church an exciting way forward into life beyond the pandemic. We will continue to live and speak the good news. We will continue to love and to challenge. We will continue to offer compassion and call to repentance.
Read more from Krish Kandiah »
Read more COVID-19 Perspectives from pastors and church leaders.