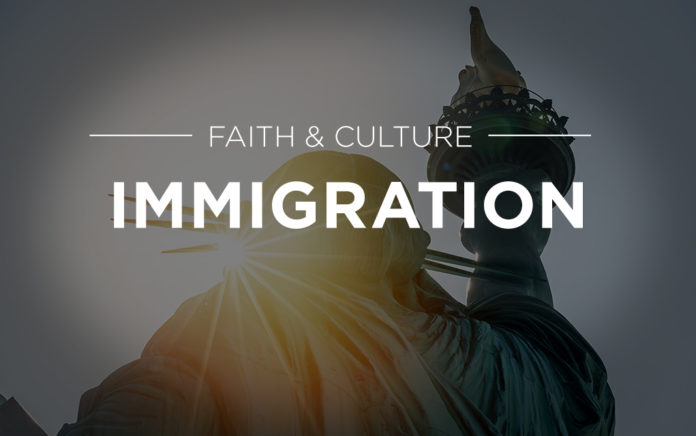 Christ crossed the ultimate border to reach us.
We spoke to six experts about how the church can be a redemptive voice and compassionate presence in front-burner cultural issues.
The following article on the topic of immigration is based on a conversation with Julia Lambert Fogg, professor of religion at California Lutheran University. Her latest book is Finding Jesus at the Border (Brazos Press).
Immigration became a passion when I met and worked with families and communities of immigrants living in Southern California. I grew up on the East Coast, and there my limited sense of immigration came from history books—waves of European immigrants coming from difficult circumstances, or coming for adventure or land. I explain a bit of this in the first chapter of the book. But moving to Southern California in 2003 and teaching at Cal Lutheran University I met students from all backgrounds—many first generation college students and a number of DREAMers and DACA students who were navigating multiple kinds of immigration status. Then I began preaching and working with a bilingual congregation in Pasadena. That relationship lasted about five years. I was eating and praying and worshiping with immigrant families—from Europe and Latin America. There were first, second, third, fourth generation immigrants and also recent arrivals to the U.S. The concerns these families had were different for each generation and finding ways the church could support, challenge and minister with them was very compelling to me.
As an educator I saw how difficult it was for families to navigate a public school system in a language and system they were unfamiliar with; how many more steps it takes to pay bills in an electronic world when you only operate in cash under the table, or your home address changes every six months because the landlord raises the rent, or decides to remodel. I worked with engineers and homeowners whose parents had been janitors and housecleaners. I met parents and children who didn't speak more than 100 words in the same language. I learned so much from these families—their deep emotional and relational resources, their commitment to education and their children, for many—their fear of deportation—and for all of them, their love of America and the importance of the church and Christ in their lives.
First, we have to realize that the people in our churches are immigrants. Some of us don't remember when we arrived in North America. Many of us trace ancestry back to settler ships from Europe, or slave ships from Africa. Others of us come to the U.S. more recently—walking, riding on trains, planes and trucks—coming from countries in turmoil. In many cases asylum seekers and economic or war refugees are part of the church—the global body of Christ. Yet they may not feel safe to come to a church or to be "out" about their undocumented or legal immigration status in their congregations for fear of ICE, or simply to avoid being stereotyped.
Christian redemption is needed equally for citizen families as much as for non-citizen families. One current immigration crisis—Central American caravans at the border, for example, is simply about families, protecting relationships between vulnerable parents and children. Jesus has always been about this work, and so should our churches.
There are many ways to get involved. I offer and discuss a number of these ways in the last chapters of the book. From educating our congregations about the economic and political conditions under which people are living, to raising money for college funds and supporting DREAMers and DACA students in their pursuit of education, offering low cost childcare for working families to gather and support one another, offering citizenship classes for green-card holders or DACA renewal for young people, to sponsoring refugee or asylum seeking families. This kind of ministry extends redemptive hospitality that characterizes how we can be the body of Christ in the world, whether we are welcoming fellow Christians, or folks of other faith backgrounds.
I think the key is compassionate curiosity and sharing stories. We are all curious about other people—so learning and hearing or reading and seeking out other people's stories is one way to grow our compassion and empathy for what others are experiencing. In the book I share stories of my encounters and experiences with immigrants, asylum seekers, and people I know who have navigated multiple kinds of borders in order to help congregations learn more about their neighbors. But anyone can do this work. Reading blogs of DREAMers or asylum seekers on line, following journalists working on the border and interviewing people waiting for their court cases is a first step. Speaking with friends and neighbors about the people whose stories you know in compassionate ways stretches our collective compassion and awareness of people. When we have names and faces and relationships in mind, suddenly "immigration" is not a scary issue, but real people seeking healing, safety, stability and hope for their children.
I wanted to share my experiences of crossing borders and stories of immigration in conversation with biblical stories of border crossing. Jesus crossed so many borders—gender borders, faith borders, geographical and political borders. If we want to learn redemptive responses to people who crossed borders, we need to remember that Christ crossed the ultimate border to reach us—he "immigrated" from the divine to the human. Welcoming Christ is not that different from welcoming neighbors who are crossing borders, or from learning to cross borders ourselves.
I also want to challenge Christians. We are so comfortable with the practice of offering hospitality that we forget Jesus' practice was to be a guest. Being a guest requires learning how to stretch outside of our own comfort zone. Active Christian practice demands that we operate outside of our comfort zone. For example, we need to stop waiting for people to come into our churches, and move out into neighborhoods where we are guests—not to change things we don't know about, but to learn how to support our neighbors in the ways they are trying to change their circumstances.
When I am in conversation with someone and the topic turns to immigration, or they make a comment about a group of people related to immigration, I have trouble keeping quiet. Because I am passionate about immigration, I try to listen carefully and to ask questions before I jump in with my own perspectives. Often people repeat stock ideas or headlines without having thought through them. Or, their comments stem from their own painful experience (job loss, for example) and they have related this to immigration without exploring how intricate global systems, or local stereotypes, or systems of power work. I think our first job in a conversation with someone we disagree with is to understand them. What is their story? Why have they written it that way? What views and values does their story reveal about who they are and what they have experienced in the world?
The more we listen to other people, the more willing they may be to listen to us. But there is an emotional factor too. I know that if I get angry at what someone has said, I will not be able to listen to them in an open and curious manner that gives them the space to develop their story and their perspectives. So I know that I sometimes will have to walk away from a conversation, or ask for a rain check if I am not able to listen well. In a similar way, I know that other people also come with their own passions and anger or hurt around certain topics and they may not be in a space to listen to me and my stories. I think having the right emotional ground and open space for conversations about things where we disagree is very important to having a good conversation.
So know your limits. When and where and about what topics are you able to listen and converse, and when are you not able to offer a conversation partner that openness? Sometimes you have to kindly tell someone that this is a difficult topic for you and you may not be ready to have a conversation.
But when you are ready for a complex conversation, and the other person is as well, it is good to agree on what you are talking about. Are you talking about economics or people? Are you talking about political approaches or social-scientific data? Another approach is, especially when speaking with a friend or colleague you disagree with, to commit to reading a book together on the topic. Or, commit to one conversation where you share your perspective and another where they share yours. That way, we come to the conversation with a predisposition to listen.
Our common culture is a sound-bite culture. A counter-cultural (and very Christian) move is to commit to a longer conversation with the person you disagree with. That way, there is no urgency to "convince" them of your position. Rather, you come wanting simply to share your perspective and to hear theirs. This relational commitment is almost more important that winning an argument on immigration. Because once you take the time to hear each other's stories, you have also won the trust to share the stories of immigrants you may know. And it is these personal encounters that create open hearts to receive our immigrant neighbors and their stories.
Civility sounds like tolerance without depth of relationship. I can be civil (respectful) with people as long as I have had enough sleep, food and I'm not overly stressed. But in our churches, and in our families as far as is possible, I would invite us to strive for love—a commitment to the well-being of the other person even when we disagree in heated, passionate, incommensurate ways. I still wish them well; I still want them to be safe, well fed, secure and loved.
How do we learn to listen to one another when we fundamentally disagree? Over time, with attention to our own emotions, and with care for the neighbor in front of us. It is almost impossible to convince someone in front of me that they should care about a third person whom I care about if I am not able to care about (listen to, honor, respectfully disagree with, create generous space for) the person in front of me. In other words, every interaction we have, especially in the disagreements and especially in our churches, there are opportunities to practice generosity and curiosity about the other person's stories. We have to do this in ways that are safe for ourselves. But practicing generosity and curiosity about other people and their stories is a good start.
For more: OutreachMagazine.com/faith-and-culture