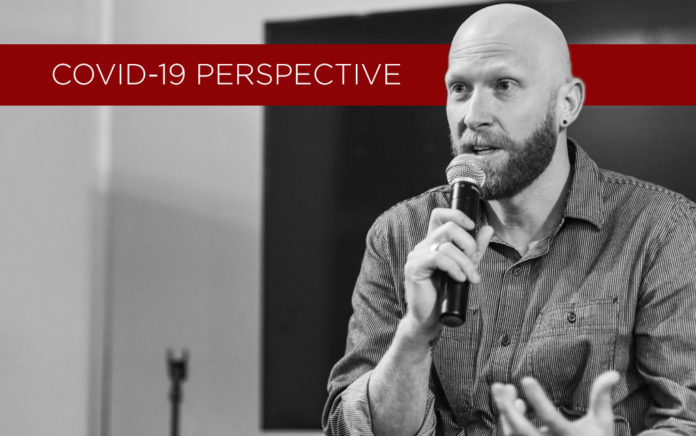 There's nothing like Jesus' church with its back against the wall.
COVID-19 PERSPECTIVE: Alan Briggs
Stay Forth Designs
I was with about 60 pastors when the waters of COVID-19 forced our hand. The waters rose to an uncomfortable level. Pastors sent videos to their churches, primarily announcing online Sunday services. Then the dam broke. Since then, I've been on the phone and Zoom each day with pastors I know and leaders I coach. I realize the swirling cultural fears are keeping many pastors up at night, but I am so proud of the way the church is responding.
Limitations breed innovation. Pastors who could have jumped straight to self-promotion, fear of future budget cuts and the pain of not "shifting to digital strategies fast enough" chose to embrace the opportunities amid the chaos. Youth ministries began to minister to a generation shaking with anxiety. Many lead pastors prioritized serving their community more than Sunday's online message. Churches created campuses at drive-in theaters, hosted online prayer, unleashed deacon teams to check in on their people, hosted Q&As about their fears and deployed small groups to deliver groceries.
There is nothing like Jesus' church with its back against the wall. Nothing. It's where we do our finest work. It brings us back to priorities. It helps us smile when we realize you can't destroy an organism that's been around a few thousand years. It reminds us we are God's people in buildings, homes and in the online space.
I want you to know I've been watching. You've showed up, and I'm proud to be attached to the local church. May these limitations bring us to incredible innovations we could not have dreamed up. Cute messaging goes out the window in crisis and we realize we have only one bullet in the gun; the great news of the gospel.
Read more COVID-19 Perspectives from pastors and church leaders.