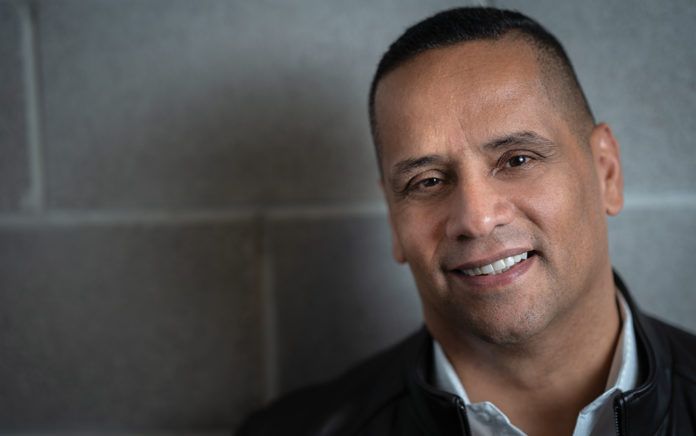 Staying grounded as your platform grows
In 2013, readers of Time magazine saw the face of a pastor from the South Side of Chicago featured on its cover as one of its 100 most influential people of the year. That pastor was New Life Covenant Church's Wilfredo "Choco" De Jesús. An accompanying profile written by Rick Warren said De Jesús "embodies the true definition of what Christ said the church should be." Part of the reason for this high regard was the diversity and practicality of New Life's ministry, ranging from outreach to prostitutes and addicts to programs directly addressing poverty and other pressing needs in their neighborhood.
Today, New Life continues to thrive, with eight campuses throughout the city, and a wide network of related churches. De Jesús, who has written several books, most recently Move Into More (Zondervan), and created a prime-time TBN television show, has surely reached his stride by nearly any visible metric for his ministry.
So, leave it to him to shake things up a bit. After 19 years of lead pastoral ministry in Chicago's Humboldt Park neighborhood (many lessons and stories from which he shared with Outreach readers in a 2014 interview), he stepped down at the end of September 2019 to become general treasurer of the Assemblies of God denomination. While on the surface a surprising move, this career transition is in keeping with his values and sense of ministry as an act of presence and service that always seeks to live God's "more" not for self, but for the sake of others.
To discuss his reflections and lessons that have come to mind during his special period of ministry change, Outreach caught up with De Jesús to hear, among other things, why success is like chewing gum (don't swallow it), and his deep heart for simple pastoral ministry in an age of bright and shiny counterfeits.
For the benefit of readers who do not know your story, give us the highlight reel.
Sure. At 14 years old, I walked into a little Pentecostal church here in Chicago. I was not saved and did not have a father in my life. No future—I'd failed third grade and couldn't even read, and came from a dysfunctional family. But there, in that church, I came to know Jesus.
As a result of that encounter with the Lord, I stayed in that small church. I stayed throughout my teenage years, stayed as I met my wife there (who happened to be the pastor's daughter) and then got married, stayed as I had my children there and dedicated them to the Lord.
From the beginning—1977—to the year 2000, I served in all sorts of different capacities in that local church—even puppet ministry! I had no problem doing what the church needed. During those years, I was learning and growing, using my gifts in our church and throughout the Midwest. Then, in 2000, my father-in-law said he was going to retire. After a vote of 60 people in that little church, my wife and I found ourselves leading the church where I'd been saved.
Fast-forward to now. What happened between then and 2019 was an explosion of ministry. It was like it was being birthed. More than 100 ministries have come out of our church—ranging from motorcycle ministry, food pantry ministry, Bridge to Life homeless ministry, Rose of Sharon street outreach ministry, the Dream Center, to the medical clinic we have and our secondhand clothing store that's called Let's Change. All these things have happened in 19 years of lovingly taking over our community. We went from one service to two services to five services. We went from that one church to two churches, then three. We now have eight affiliated churches on eight campuses that call New Life their mother church.
In addition to those campuses, we have another eight churches that say, "We are under the leadership of New Life." Rippling out from there, we have over 62 churches that are part of a less formal but still meaningful association with New Life. What an incredible 19 years. So much has happened.
And what is the new horizon now for you? A fresh ministry transition, a television show …
Most important to my heart—our family's growing. I'm now a grandfather of four. My wife and I feel as if we're living in the "more" of God, being able to see our grandchildren. That's one transition—continuing to grow into that incredible role. Like you mentioned, the In the Gap miniseries on TBN, which comes out of my book, ran for 10 weeks in prime time last fall. That series was such an exciting opportunity. And then, of course, my new position as general treasurer of the Assemblies of God denomination, which began in September.
Tell me about the new position. How did you find yourself in that role, especially since things with New Life were going so well?
I began to feel the change coming in 2013. I can say the year because it comes out of my journal. I wrote, "I sense the Lord is calling me to a national platform with the Assemblies of God." In hindsight, I think the six years following that were full of the Lord preparing me. He was planting the seed of leadership and influence. I had a few leadership positions of growing national responsibility. Then, in 2017, for the first time in history, a Hispanic name (mine) was nominated to be general superintendent of the Assemblies of God.
Obviously, that nomination did not result in my election. But it made an impression on me and put the sense of call to serve more widely at the front of my mind. I felt that I needed to prepare the church for what might be down the road. So, when we came back from that convention, I called our staff and pastoral team together, and said, "Hey guys, we need to make some changes. If at some point I am called to leave, we need to be ready." Starting in 2017, we began to make changes in our pastoral staff that helped us be resilient and much less dependent on me. So, for the last two years, really, I've been a bit of a "floater." I've been visiting our church campuses. By the time we had our 2019 Assemblies of God general council and, through a wild turn of events, I was made the general treasurer, I was able to say yes knowing that my wider service to our movement would not come at the expense of our beloved church.
You've told the story before about how early in your ministry you put on a recognizable priest's clerical collar and went knocking door-to-door in your neighborhood to reach out to the community. My impression is that you have that personal pastor's heart. What has it been like to navigate the pressures of growth on your leadership, especially when it comes to relationships?
Sometimes when you start growing, if you're not careful, you start losing touch with the sheep. We pastors should never stop smelling like sheep. The more we grow, the more intentional we must be to stay directly connected to the sheep. Whether you get to 1,000 people or 5,000 people or 500 people, we must remember the sheep.
There are so many excuses to forget about the basic pastoral needs people have—so many excuses to not really be with them. There are those tensions or temptations to go preach, then walk right out the back door—not greet anybody in the lobby or hug kids who would like to say hello in the sanctuary. It's tempting to check out. If we're not careful, we'll lose touch.
We must navigate those waters carefully. If you're a pastor, remember that what got you here is people. The people were there. They listened to you when there were only 20 people, when that grew to 40 people, when that grew to 400 people.
Remember the people.
How do you do that practically at this stage of your ministry?
I try to never lose sight of the basics. So many pastors get theory or theology down, but what ends up holding them back is the pragmatic part of it all: people.
I think every pastor needs to be willing to do weddings. I think every pastor should go visit hospitals so that you're not so out of touch. I don't think you need to do all the hospital visits, but it keeps you grounded to visit someone who's hurting. I think every pastor needs to be proactive with relationships. Pick up the phone—something practical here—pick up the phone and call a longtime member you haven't seen for a while.
Have breakfast with a couple. Say yes to lunch. Elizabeth and I reserved Thursdays just to have dinner with people from the church. Some people would wait nine months for me to come to their house to have dinner because of my schedule. It was great—we'd bring flowers to them and get to know them. We're having dinner, and they know I'm only there for two hours. We're not going to be there for eternity. But those are practical things that you need to do to stay connected to the people you are ministering to.
Bottom line? Don't lose touch.
Let's talk a little more about how leadership impacts the vision and the mission of a church. What have you learned about mobilizing people to own their roles in ministry?
The first step in mobilizing is to identify the gift that is in them. To say, "Hey, I really see you leading this children's ministry. Not only are you good, but I think you have a gift for it. Not only do I see this gift, but I want to invest in it. I want to send you to a conference that I think will begin to add to what I'm seeing." This is unbelievably affirming and empowering.
For instance, we had a 12-year-old kid who was a Bible whiz. Recognizing this, I sat with him and his parents. "Your son has a gift," I said. "We want to feed into this." We allowed him to preach on a Wednesday night in an adult setting. We exposed him to opportunities. From time to time, he shadows one of our campus pastors on a Sunday to see what they do.
But identification is only half the story. When we mobilize a person to a deeper sense of gift or calling, we need to give them space to operate in that realm. That way you'll be able to disciple them toward their ministry. This is often about focus—specializing. None of us can do everything. I don't want to see people trying everything or bouncing around. I want to see focus in areas of real gifting.
Once someone has had you sit with them, help them identify their gifting, had you invest resources in their training and truly encourage them, they'll buy in to what you're seeing. They will feel seen. Because they are seen.
Order 'Move Into More' from Amazon.com »
In Part 2 of the interview, Wilfredo "Choco" De Jesús discusses empowering church members for ministry, the dangers of success, and leaving a spiritual legacy at New Life Covenant Church.