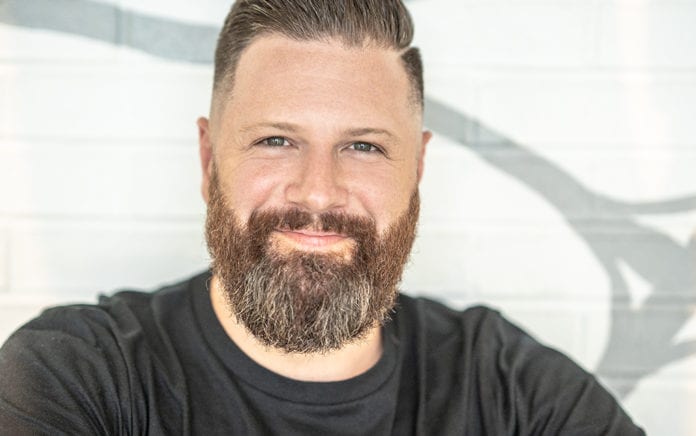 Chad Fisher's unlikely path from serving with the National Guard in the Middle East to planting one of the fastest-growing churches in America.
A few months after 9/11, 20-year-old Chad Fisher was called to the Middle East for one year of National Guard service, building bases, repairing infrastructure and patching holes in runways that had been bombed.
During that time, he struck up a friendship with some Nepalese men who worked in the gift shop on his military base. One Sunday, he attended an underground church, worshiping with 120 Nepalese men who weekly risked jail or deportation for gathering together in the name of Jesus.
"It was one of the most powerful, Spirit-filled, passionate, faith-infused experiences of my life," Fisher recalls.
The stories of the Nepalese Christians forever changed his perspective of faith. "I stood looking face-to-face with people who had paid a price for the gospel. I began to ask myself, "What price have I paid?"
When Fisher wrote in his journal I will do whatever it takes to start this church, he didn't know what it meant. He had no thought of planting a church. He didn't see himself as a pastor. Others were far more equipped. It just didn't click.
Surely, he thought, God would never use me.
Almost two decades later, Fisher leads one of the fastest-growing churches in the nation. Between December 2018 and February 2019, Rock City Church in Columbus, Ohio, experienced growth of more than 2,000 people.
But that's not the statistic that stokes Fisher. During about the same time—from January to May 2019—more than 2,000 people, many of them millennials, made decisions for Christ.
Here, Fisher describes a fusion of vision, surprise, expectancy and sovereignty in doing whatever it took to start this church.
As a child, what was your relationship to the church?
I grew up in the church. My great-grandfather on my mom's side started Faith Memorial Church, an Assemblies of God church in my hometown of Sandusky, Ohio. My grandparents and parents were believers. I was baptized at the age of 7 or 8.
Did you ever question your faith?
When I got to my late teenage years, I started realizing I was having a harder time finding my place within the church. Was the faith I grew up with someone else's faith handed down to me? In my journal, I was asking things like, Lord, where is your presence? I went to a Christian school, and I would watch all my friends, one by one, fall away from faith. I remember asking God, Why aren't we reaching and engaging my generation?
What did you want to do with your life?
At the time, I had no idea. I went to college to study business. I wanted to pursue something more secular and enlarge my world. I joined the National Guard in 2000.
How did military service affect your faith?
I met some Nepalese Christians. I listened to them tell their incredible stories about planting churches underground, and I had the opportunity to visit one of them. If they were discovered, they would have been jailed and deported. You would have expected their worship to be quiet, but it was loud and intense; they raised their hands; they jumped up and down.
One of the older guys in the church had heard the gospel in a village where it was against the law to be a Christian. The preacher had asked the man about his life and found out he had a sick mother. The man was told to go home and speak the name of Jesus over his mom and she would be healed.
After the mother was healed and the family saved, they started telling others about Jesus. During one of the church services, the man was arrested and spent two years in prison. All he had to do to get out of prison was recant his faith. He didn't. After weeks of being taunted by other prisoners for being foolish, they began to realize this guy wasn't breaking. Their taunts turned into curiosity and questions. They were so inspired by his courage and faith that, over time, many of his fellow prisoners and several guards committed their lives to Jesus.
What did these Nepalese believers teach you?
It made me realize how high the stakes were in real faith. In the underground church, what's the point in worshiping God half-heartedly when that worship experience may cost you your life—literally? When people count the cost and the cost is high, the appropriate response is to give God everything you have.
What did you do after your time in the service?
I was hired as a youth pastor and worship leader in Toledo, Ohio, and served there from 2004 to 2009. We were growing. Lots of kids were being impacted. I thought in my heart I was going to be a youth pastor until the day I died. The whole I'll-do-whatever-it-takes for me was less about a physical church and more about the style of ministry. Are we reaching lost people? Are we engaging the next generation? Are we being generous? Those were things that mattered to me.
Why did you leave?
There was no disagreement, moral issue or scandal. It just became clear that the time had come to look for something else. I started applying for campus pastor and youth ministry roles because I didn't see myself as a church planter or pastor.
After a few months, nothing opened up. My wife had just given birth to our second daughter, and we didn't know how we were going to support our family. We started asking the Lord, What's next? That's when he really started to bring back the vision: I'll do whatever it takes to start this church.
So what was the plan?
I didn't have a plan. I didn't have a clue how to plant a church. We wanted to look for something outside of Toledo because we had been leading 500 to 600 young people, and I didn't want to do anything that would negatively impact the church I had been serving. But that's all I knew. That's when we got connected with the Association of Related Churches (ARC), which provides mentoring for pastors seeking to plant churches.
I remember sitting down for my first ARC roundtable and telling my wife, "I can't share my story because they are going to think I am making it up." After listening to the stories of others, I realized mine wasn't unique. We were a bunch of young men, wounded by the church, who had a dream to start something significant.
We were surrounded by church leaders successful in growing healthy, life-giving churches. They were not insecure or threatened. They believed in the next guy; they believed in us—they believed in me. They asked, "What can we do to put wind in your sails?"
Can you give me an example of a specific mentoring relationship?
Pastor Rick Bezet of New Life Church in Arkansas looked me in the eye and told me he believed in me. At the time I wasn't even a pastor. I was just a young guy with a dream. I thought, You don't even know me. It was so shocking at first that I didn't even believe it.
He said, "If you ever need anything, here's my number. Just call me." It took me a couple of years to realize that this man meant it. He was willing to invest in me. It taught me that those who were most successful in being mentored were active in seeking it out. I learned never to assume that someone doesn't really want to mentor or walk alongside you. Having an older pastor say, "I believe in you" was world changing.
How did you decide on Columbus?
My wife and I drove to Asheville, North Carolina, and met some friends there. I'd read about the city and thought this could be the next Jesus movement, but when we got there, I just couldn't connect.
We were driving through the Blue Ridge Mountains and we were freaking out because we didn't know where in the world we were supposed to go. We were arguing when I turned the car hard off an exit and came to an abrupt stop. We both saw the sign at the same time: Welcome to the Billy Graham Retreat Center. We decided to go in.
When I stepped up to the traveling podium Billy Graham had used, my 10-month-old baby started belly laughing from head to toe. My wife and I had never heard her laugh like that, and we started to cry. It was like God saying, You don't know where you are going, but I do.
As we were driving home, my wife asked, "What about Columbus?" A few months later, we moved from Toledo to Columbus, certain of little but that God was calling us here.
ROCK CITY CHURCH
Columbus, Ohio
Website: RockCityChurch.tv
Founded: 2011
Denomination: Nondenominational
Locations: 4
Attendance: 5,083
Growth: +1,593 (46%)
Fastest-Growing: 2
Largest: 92
In Part 2 of the interview, Chad Fisher talks about how Rock Church has grown by targeting millennials, their innovative One for One giving program, how they reach out to men, and how they seek out the spiritually restless.
Read about more Outreach 100 churches at OutreachMagazine.com/church-profiles.