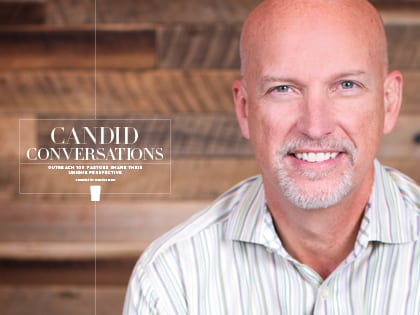 "My greatest concern for the church is the lack of biblical knowledge by many Christians today."
Each year, we speak with several Outreach 100 pastors in an effort to collect their honest observations about the church, their ministries and their experiences. 
STEVE POE
Northview Church in Carmel, Indiana
I'm very conscious of the dangers of pride and realize every gift or talent I have was given to me as a gift from God. So I start my prayer time with a heart of thanksgiving and gratitude to God for all that he has done and is doing in my life. It seems like a simple thing, but I have a strong conviction that gratitude grows humility and destroys pride. It keeps me focused on him.
Once I began pastoring, Willow Creek and Bill Hybels had the biggest influence on my ministry. I attended a lot of their early church-growth conferences and listened to a lot of leadership teachings from Bill Hybels. It all had a huge impact on how I pastor today.
Criticism is hard for everyone in ministry. You give your life for ministry and helping others only to have people say some very hurtful and cruel things. I've learned to do a lot of self-talk, reminding myself that in the end I'm really doing this for the Lord and not for the applause of man.
My greatest concern for the church is the lack of biblical knowledge by many Christians today; therefore, it is so easy for them to be deceived by the culture. This is the greatest threat to the future of the church. Yet, I love the church and believe it's the last great hope for our world. With all of its problems, there seems to be a resurgence of evangelistic zeal in many congregations across the country. And God seems to be blessing those churches that are reaching out to the unchurched. That excites me for the future of the church!
Churches that focus on fulfilling the Great Commission by reaching the unchurched will continue to grow, while the churches that do not will simply die off. Church mergers will become more of a common thing as smaller, struggling congregations join with larger, more evangelistic churches. I also think we will see the multisite experience take on many creative applications. For instance, I can see campuses started out of small groups meeting in homes or retirement centers or coffee shops or even in dorm rooms. So I think there will continue to be an increase of large megachurches with multiple campuses, and smaller, more intimate experiences.
Read more Candid Conversations with Outreach 100 pastors »
NORTHVIEW CHURCH
Carmel, Indiana
Twitter: @PastorStevePoe
Website: NorthviewChurch.us
Founded: 1980
Affiliation: Nondenominational
Locations: 5
A 2016 OUTREACH 100 CHURCH
Attendance: 8,000
Growth in 2015: +860 (12%)
Fastest Growing: 67
Largest: 24