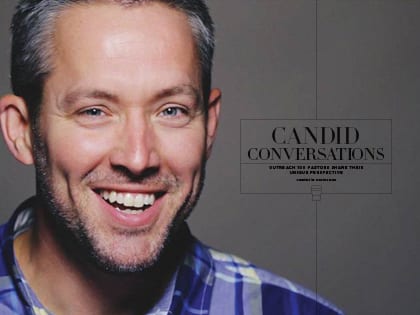 "Our Enemy wants nothing more than to use good things to distract us from the one essential thing: our focus on the gospel."
Each year, we speak with several Outreach 100 pastors in an effort to collect their honest observations about the church, their ministries and their experiences.
J.D. GREEAR
The Summit Church in Durham, North Carolina
Our Enemy wants nothing more than to use good things to distract us from the one essential thing—our focus on the gospel. Growth in Christ is never about going beyond the gospel, but going deeper into the gospel.
I also see many churches failing to play their part—either as cultural prophet, speaking truth to power, or as being the faithful citizens committed to blessing the "city" in which God has placed us (Jer. 29:7). I think we run the risk of either being too political or not political enough.
But I look around and see that God has raised up a generation that knows the gospel, is willing to testify to it—even at great personal cost—and is ready to be the countercultural people of God. There seems to be a new awareness of the mission of the church and of our responsibility to it.
Churches that want to reach "nones" need to retool. "Nones" do not saunter their way back into church because a particular pastor is super engaging, the music is cool or the guest services are Disney-esque. If we want to be effective in reaching people in this kind of culture, we have to train up our members to carry the gospel to them outside the walls of the church.
Jesus' vision for completing the Great Commission never consisted of platforming a few hyper-anointed megapastors to pack an auditorium with their electrifying sermons, but in empowering ordinary believers to carry the gospel with them everywhere they go. If we really want to see the power of God, it's not going to be primarily found in the pulpit. The real power will be released as ordinary, Spirit-filled people take the gospel wherever they go, into every part of our community.
You can't overestimate the value of a good team, among whom you live as equals, family and friends. Jesus was the Lord of the Earth and even he lived in close community with his disciples. He postured himself as their servant. Pastors who live as isolated celebrities, served by others, do not reflect the distinctive spirit of Jesus and will lead themselves—and their followers—into spiritual ruin.
The simplest lesson I've learned about criticism is also the hardest: Be humble enough to take it, even when it is given in the wrong spirit. God might be trying to teach you something from it. At the same time, it's important to always consider where criticism is coming from. Don't be too bothered by the criticism of those whose opinions you don't really respect.
When criticism stings too deeply, let that be a divine messenger that reveals where you have built your identity on the praise of others rather than Christ. After you have learned from it, shake it off and move on. God did not appoint us to failure, but to victory, and he leads us always upward to his glory, transforming even our error into his good purposes (Eph. 2:10).
Read more Candid Conversations with Outreach 100 pastors »
THE SUMMIT CHURCH
Durham, North Carolina
Twitter: @JDGreear
Website: SummitRDU.com
Founded: 1962
Affiliation: Southern Baptist
Locations: 8
A 2016 OUTREACH 100 CHURCH
Attendance: 9,437
Growth in 2015: +1,162 (14%)
Fastest-Growing: 46
Largest: 42