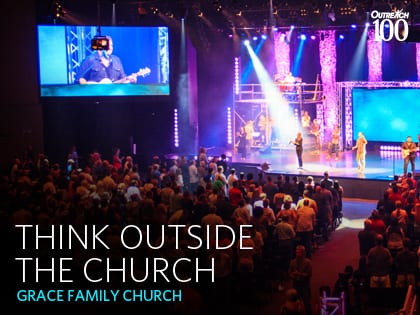 Grace Family Church Uses Creativity and Resourcefulness to Pour into Its Children and Community
Tony Dungy, former professional American football player and coach in the National Football League, wanted to find a church his children would not only enjoy but adore. At Grace Family Church in Lutz, Fla., he found precisely that. Hundreds of other families have also been so lucky.
"In our children's ministry, we present the gospel on their terms," says lead pastor Craig Altman. "We draw on God's creativity and design our environments to be inviting to youth." For instance, in their Zone ministry created for first- through fifth-graders, the leaders write and produce their very own Zone TV to present the Word of God to the kids through stories and examples from modern-day life.
Ten-year-old Kalesta Barreto explains why she cherishes attending Grace Family. "The pastors and the leaders are so friendly to us," she says. "They teach us so many things, and they do it in really fun ways."
Altman advises pastors, "If you really want to make an investment in your church, do something that's gonna rock it for the kids."
Single mothers often gravitate to Grace Family because of the Boys to Men mentoring program the church offers, which pairs fatherless boys with a male leader who can model godly Christian leadership and provide extra spiritual guidance.
In addition, Grace Family launched the Dream Center of Tampa Bay in a low-income area of town. "At the Dream Center, we provide hope for children in a hopeless place," says Altman. The church offers sports programs, mentoring and after-school care to reach those in need of Jesus.
The church also partners with the VA (Veteran's Affairs) home and children's home. "We're not just a church that's going to do something at Christmastime," says Altman. "We want to help year-round wherever the need arises."
Altman and his wife Debbie founded Grace Family Church in 1994. Beginning with just 25 families, Grace Family is now serving over 7,000 people at their weekend services.
Altman believes that the congregation's authenticity is a huge reason attendance has soared. "The ministers, the staff, the members—we're all authentic," he says. "When I'm preaching from the pulpit, I keep it real by sharing where I'm challenged each week in my walk with God."
By presenting God's truth in a way that people can connect to, the message feels genuine. It's that honesty, openness and gentle spirit of hospitality that Altman says encourages visitors to return.
Though the growth pattern at Grace Family has remained steady through the years, it's growth that has created their biggest physical challenge—traffic congestion. "We ran out of parking spaces and were parking volunteers in remote locations and shuttling them in," says Altman. Given that the church is currently growing 20 percent more than last year, Grace Family recently launched two new campuses. They plan to launch another campus service at their Dream Center this fall.
Altman also cites the church's musical diversity as a reason for its substantial growth. Worship services incorporate a unique blend of black gospel, mainstream rock, and music from Hillsong Church in Sydney, Australia.
"I can't even clap on beat," jokes Altman. "But we have great music leaders here who make the songs come alive for the congregation."
The pastor also encourages his members to think outside the church. "There's a tendency to turn inward, but we should go after the one, not the 99, just like Jesus said," he notes. "Who are you inviting to church? You're experiencing this amazing God. Have your neighbors met him?
Having grown up in a non-Christian family, Altman knows from which he speaks. One day he was in a bar when the woman sitting next to him began witnessing to him.
"I gave up my life to the Lord sitting in a pub," says Altman, who ultimately ended up marrying that woman. "So it just goes to show that at any time God can give you a new life and a new start."
GRACE FAMILY CHURCH
Lutz, Fla.
Senior Pastor: Craig Altman
Twitter: @GFCCraig
Website: GFCOnline.com
Founded: 1994
Affiliation: Nondenominational
Locations: 3
Attendance: 7,003
Growth in 2013: +816 (13%)
Fastest Growing: 64