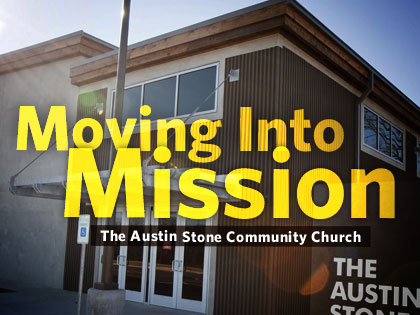 The Austin Stone Community Church Provides Diverse Missional Opportunities
For decades, residents of the low-income St. Johns community in northeast Austin grappled with drug abuse, gang wars and broken families. Homelessness, prostitution, murder were all common in its urban streets.
But over the last six years, The Austin Stone Community Church's members have embraced St. Johns and helped transform it through a multifaceted outreach effort that has connected a congregation of 7,100 people spread across several campuses with camaraderie and collaboration.
"We wanted to do ministry in such a way that if The Austin Stone were to close her doors, our city would grieve," says Todd Engstrom, an executive pastor at the 10-year-old megachurch, adding the effort has helped create a sense of community for the church.
The results speak for themselves. The Austin Stone launched the For the City nonprofit in 2007, and with the generosity of its members built a $7 million church, nonprofit hub and community center on 15 acres in the center of St. Johns.
The facility is ground zero for a variety of nonprofits—including a food bank, foster care agency and international missions organization—which collaborate and work together, share resources and strategies and harness major volunteer manpower.
That organizational leadership has allowed the congregation to tackle numerous projects in St. Johns. Take, for example, the area's dilapidated Reagan High School, which hundreds of volunteers have helped renovate. They also launched a teen mom support group, and they minister to students through various after-school programs.
Michael Stewart, one of Austin Stone's pastors, also moved into the underprivileged neighborhood and encouraged others to follow, saying St. Johns isn't a "project" or "event," that its residents are "neighbors and friends." Many church families followed suit, to the tune of 60-plus people now living in the area.
Another Austin Stone youth pastor, Tyson Joe, was so committed to the students at Reagan that he became legal guardian to one of its delinquent teens, Nijalon, who today is a 22-year-old intern at the church who aims to enter ministry full time.
"Scripture tells us God's people are going to be the repairers of the breach and restorers of the streets," says Senior Pastor Matt Carter. "That has been a rallying cry for us. … We get to live that out."
THE AUSTIN STONE COMMUNITY CHURCH Austin, Texas
Website: AustinStone.org
Senior Pastor: Matt Carter
Founded: 2002
Affiliation: Nondenominational
Locations: 4
Attendance: 7,428
A 2013 Outreach 100 Church
No. 72 Largest