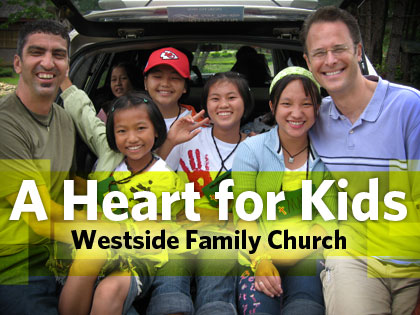 Westside Family Church Makes Its Concern for Children and Orphans Personal
When Pastor Dan Chaverin and each of the Westside Family Church pastors traveled overseas on mission trips and met hundreds of orphaned and impoverished children, their hearts were touched and changed forever.
"We all just fell in love with these kids," Chaverin says.
Fast-forward to today, and Chaverin and the eight other pastors at Westside Family Church in Lenexa, Kan., have either personally adopted orphans or work to help connect children with forever families, many in their own church.
"It's a love that has been injected in the hearts of leaders," he says, adding this passion has spread across the congregation and permeates most outreach efforts at the megachurch.
When the Chaverins adopted a baby girl from China, they became one of about 100 families at Westside Family Church to have adopted orphans or provided foster care for children over the last eight years.
"Westsiders have a heart for justice for orphans," Chaverin says. "We are focused on not just helping people learn about Jesus, but becoming more like him."
The church engages in a variety of ministries to help vulnerable youngsters, from those living in local urban neighborhoods to those in developing countries.
"One of the things we have been able to do in inner-city Kansas City is partner with other organizations, fund them, equip them and try not to invent our own thing," he says.
To that end, members of the suburban Kansas City church help provide hundreds of "snack packs" to low-income students on Friday afternoons so "they have food to eat over the weekend," Chaverin says.
Westside also sends volunteers to join with other nonprofit organizers to assist with outreach efforts such as teaching students how to read or building transitional housing for displaced wards of the state. Those efforts have paved the way for secular school officials to trust church leaders enough to allow 40 church volunteers to visit campuses and share an anti-pornography, anti-sex trafficking curriculum.
"We want to do good works and show God's love, and then share the Good News," he says.
Meanwhile, the church serves as a hub of sorts for adoption and foster care support in the region. It offers classes on everything from parents wondering if adoption is right for them to foster care training and parenting skills for adopted children from "hard places."
"We want to become Kansas City's go-to equipping place for adoption," Chaverin says.
In addition to reaching the last and lost among urban Kansas City streets, Westside has a huge global impact ministry for children abroad and spends nearly $1 million a year in aid to various causes around the world.
Among that outreach, the church helps funds teams in countries such as India, Thailand and South Africa to assist at orphanages, manage programs that feed 2,500 kids a day and operate safe-houses for victims of sex trafficking.
This isn't just random assistance, Chaverin adds; the church is deeply committed to the children.
"For example, we sponsor 700 children through our One Life program," he says. "We know their names. Where they go to school. We know if someone's missing. Our folks are on the ground, caring for these kids."
WESTSIDE FAMILY CHURCH Lenexa, Kan.
Website: WestsideFamilyChurch.com
Pastors: Dan Southerland (teaching),
Dan Chaverin (executive)
Founded: 1976
Affiliation: Southern Baptist
Locations: 5