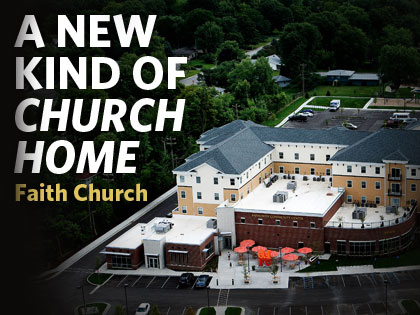 Faith Church Creates Housing and a Community Center for a University Neighborhood
As the house-church movement spreads in China and elsewhere, a new model has taken root in West Lafayette, Ind.—the housing church.
That's not really what it's called, but Faith Church's new campus near Purdue University does meet the challenge of creating Christian community among students and others with apartment units on the top three floors of its four-story Faith West Community Center.
The $12 million center's ground floor comprises meeting spaces, a café, preschool and child care facilities, a fitness center and a gym where worship services take place. Above, residents of the 39 apartment units sign a covenant to serve, live biblically and attend church, with about half going to Faith West services (average weekend attendance 400), says Purdue history student Jordan Jones.
"It's on the honor system," Jones says. "It's not as if someone is knocking on the door asking if you went to a church on Sunday."
The center opened last August, providing residents myriad opportunities to serve, from cleaning to helping at events. Among recent events: a neighbor held a birthday party, and a throng of women celebrated Indian culture and life, says Josh Greiner, pastor of Faith West Community Ministries.
"The opportunity to rub shoulders with these folks represents a great chance to strike up conversations that would not otherwise be possible," Greiner says. "One of the organizers of the women's event, at which there were over 1,000 members of the community in attendance, took one of our women's Bible study informational brochures and was asking questions about the group."
The church's Faith East campus (average weekend attendance 1,600) has developed into a counseling powerhouse since it began 25 years ago, and Faith West has followed suit.
"On Mondays, the study rooms that we make available to the public are transformed into counseling spaces that we use to reach out into the community and help them with a variety of needs and offer free counseling," Greiner says.
Faith West features 11-week counseling training courses; Jones says he is half-way through a course that will certify him in biblical counseling, which he has found edifying.
"It's taught me to ask, 'Am I seeking to please God in this decision, or am I seeking to please myself? Am I relying on circumstances in my decision-making, or the gospel?'" he says.
As he prepares to attend a Fall Fest party at the site, Jones says Faith West has given him many opportunities to interact with the community.
"There will be games, kids and prizes," he says. "A lot of people will come who are not part of Faith West, so that's a way we can serve them."
FAITH CHURCH
Lafayette, Ind.
Website: FaithLafayette.org
Senior Pastor: Steve Viars
Founded: 1964
Affiliation: Baptist
Locations: 2
Attendance: 2,000