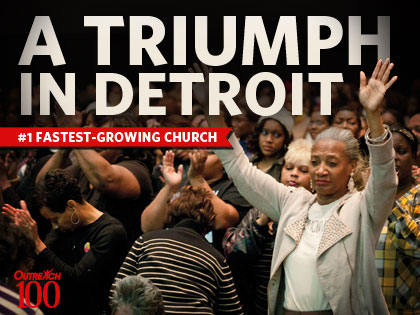 Here's a quick profile from the fastest-growing church in America. What makes them tick? They make it (almost) impossible to miss church.
View the complete Fastest-Growing list >>
Triumph Church
A 2013 OUTREACH 100 CHURCH
#1 FASTEST-GROWING, #34 LARGEST
"The only reason you miss church is because you choose to," says Cedric Scott, director of media and communications for Triumph Church, Detroit, Mich. Take a look at the church's service schedule, and you'd have to admit he's right.
There's an early bird 7:45 a.m. service at Triumph East. But if you're running late, drive 15 minutes to the 8:45 a.m. service at Triumph North. Say you live closer to Ann Arbor, which is about 40 minutes from Detroit—you can attend the 9:45 a.m. service at Triumph West. If you live in a western Detroit suburb and you are running late to that 9:45 a.m. service at West, there's always the traditional 10:45 a.m. service at North, just minutes away.
Even more delayed? Zip down to East for the 11:45 a.m. service. For those who work nights or are out late on Saturday, you can sleep in on Sunday and still make the 12:45 p.m. service at North.
"We are one church in multiple locations," Scott says. "All our services offer the same award-winning vocalists or major gospel recording artists and choirs as well as the prophetic preaching from Senior Pastor Solomon W. Kinloch Jr., all in about 75 minutes."
And if you notice a little pixie dust at Triumph, don't be surprised—the church's volunteers take courses through Disney Institute.
TRIUMPH CHURCH Detroit, Mich.
Senior Pastor: Solomon W. Kinloch Jr.
Twitter: @TriumphDetroit
Website: TriumphCh.org
Founded: 1920
Affiliation: Nondenominational
Locations: 5
Attendance: 11,600
Growth in 2012: +3,800 (49%)