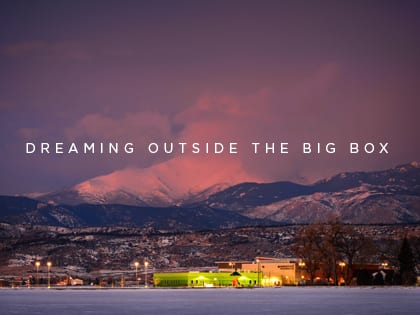 "This fresh, outside-the-box, community-oriented, architectural-evangelism approach totally aligned with our church culture."
This article is part of our Sacred Space series, which highlights churches that are creatively using architecture to reach their communities with the gospel.
As I write this, I just wrapped up speaking at a church's Sunday services in the small town of Berthoud, Colorado, with my good friend Clay Peck. Clay overcame a background of substance abuse and legalistic denominationalism to found Grace Place, a church with the aim of reaching out to the "burned, bored and bypassed." They met in rented facilities for the first five years before buying a building along downtown Berthoud's main street.
Rather than becoming lost in the fabric of downtown, the church opened Trailhead Café as an outreach initiative and legitimate restaurant venue in front of its 300-seat auditorium. They also acquired two adjacent buildings for children and youth, further embedding them in the heart of the downtown. Eventually, however, space and parking restraints became a burden that limited Grace Place's influence in the community.
Cross Creek Commons
Prior to meeting me, Clay had purchased 19 acres of land at the city's new center of gravity—a prominent spot on the U.S. Route 287/Colorado state Highway 56 interchange. As we talked and I attended services at Grace Place, I realized that Clay shared God's heart for the community at large—beyond just the faith-based community of the church. Rather than planning a simple "campus relocation," we articulated a vision for a regional community gathering place called Cross Creek Commons.
"The whole thrust of this is to build a facility that really is for the whole community," says Bill Miller, trustee of Grace Place Church.
Cross Creek Commons was developed for $10 million, including the cost of the land. The cost was covered through $4 million raised from the congregation, $1 million from selling their existing buildings and a loan for the remainder. Grace Place's attendance has now gone from 700 people to nearly 1,800 per weekend.
Phase 1 recently began and includes the construction of a 26,000-square-foot, 600-seat auditorium, a rooftop deck overlooking the Rockies, the new Trailhead Café and bookstore, and a 9,000-square-foot children's environment called "The Outpost." Glass garage doors and double-sided fireplaces blur the lines between inside and outside.
The Outpost is themed as a junior ranger training camp featuring an indoor climbing structure and an outdoor play zone. Additional thematic elements include canoes, historic trail maps and a unique vantage point in which "etched glass" window graphics identify each of the peaks of the majestic Rocky Mountain Front Range—pointing visitors toward God's architecture.
Throughout the week and weekend, visitors can play in the outdoor sand volleyball court and play zones, and dine at the café.
On Sunday morning, the covered rooftop deck and fireplace act as a "Court of the Gentiles" for those not quite ready to attend a church service but who enjoy looking at the amazing view of creation while the music and sermon are broadcast through the speakers.
At full build-out, Cross Creek Commons will also provide a 1,200-seat auditorium and event center, a youth facility, an outreach center to distribute food, clothing and supplies, a greenhouse and community gardens, fishing ponds and waterfalls, walking trails and prayer paths, and possibly even a cause-oriented brewery.
"We want this to be for the community, not just for our members," says Peck.
Out of the Big Box
Today, the notion of the "big-box" church is being replaced by a much more relevant concept. Churches of all sizes, rather than standing apart from their surrounding communities, are becoming a crucial and viable destination that serves the greater good, bringing the church back full circle to the churches of centuries ago. And that's exactly where they should be.
"This fresh, outside-the-box, community-oriented, architectural-evangelism approach totally aligned with our church culture," says Peck. "Mel's team took the time to thoroughly understand the vision, culture and DNA of Grace Place, as well give close attention to the culture of our region, the contour of our land and the views of our property—both looking out and looking in."
When it comes to your church facilities, are you dreaming outside the box?
Mel McGowan, an Outreach magazine contributing editor, is the co-founder and chief creative principal of PlainJoe Studios, a multidisciplinary design firm focused on storytelling from branding to building. Mel combined his background in film and urban design during a decade long stint at the Walt Disney Company. Post-Disney, Mel founded and served as the president of Visioneering Studios, where he developed and led a team that won several Solomon Awards for "Best Church Architect" and "Best Builder." At Plain Joe Studios, Mel focuses on strategic branding, multimedia, and spatial storytelling/architecture for companies and causes around the world. Mel speaks extensively on the intersection of story and space and is the author of Design Intervention: Revolutionizing Sacred Space. Mel also serves as an adjunct professor at CBU's College of Architecture, Visual Arts and Design.