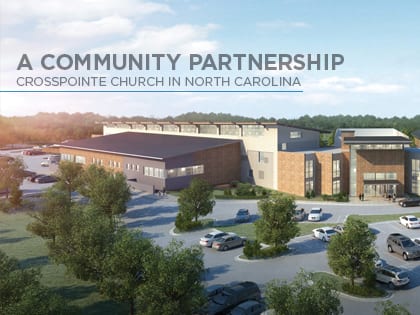 A North Carolina church and YMCA break ground on a mixed-used destination for the community.
This article is part of our Sacred Space series, which highlights churches that are creatively using architecture to reach their communities with the gospel.
A church busting at the seams with land to build on. A nonprofit with funding and vision but without a site. A match made in heaven.
When Crosspointe Church in Cary, North Carolina considered the needs of its community, they discovered bored teens with no activities nor places to connect, a growing crime rate and new residents who lacked the support of friends and family. The growing church also knew it was time to expand their facilities to accommodate more people in the Cary area—one of the fastest-growing areas of the state.
The local YMCA also planned to develop a new building in the area. From this shared need The Why Project was born: Why not partner together to do more than either organization could do alone? So Visioneering Studios, Inc. worked with both groups and in the fall of 2015, we broke ground.
Crosspointe is raising the funds, has designed along with Visioneering, and is building the facility. Once the facility is complete the YMCA will lease the space during the next 50 years from Crosspointe. Both Crosspointe and the YMCA will utilize this innovative, mixed-use facility. An internal "Main Street" commons features a coffee shop and a seasonal menu that will include vegetables and herbs grown on the property.
The YMCA will operate a 80,000-square-foot recreation center, complete with an outdoor pool, while Crosspointe will manage the rest of the campus. The church and the YMCA will share facilities and parking, allowing both entities to build less space than if each were building on independent sites.
Jonathan Bow, lead pastor at Crosspointe, says: "One of the questions I often get in the community is 'Why? Why would a church do something like this?' I think every church should ask the question, 'How? How can we best serve the specific community around us?'"
Visioneering's design of Crosspointe's new campus includes a gym that will serve as a 1,500-seat auditorium on Sunday, a cafe and community area, a gathering place for students, a children's ministry area, a teaching kitchen and more. The youth areas will double as space for the YMCA's child care and camp programs during the week.
"To our knowledge, this isn't something that has been done before," Bow says, "but we're hopeful it becomes paradigm-shifting in our city and across the country for how people and organizations can come together to do more and to serve the greater good of everyone."
Mel McGowan, an Outreach magazine contributing editor, is the co-founder and chief creative principal of PlainJoe Studios, a multidisciplinary design firm focused on storytelling from branding to building. Mel combined his background in film and urban design during a decade long stint at the Walt Disney Company. Post-Disney, Mel founded and served as the president of Visioneering Studios, where he developed and led a team that won several Solomon Awards for "Best Church Architect" and "Best Builder." At Plain Joe Studios, Mel focuses on strategic branding, multimedia, and spatial storytelling/architecture for companies and causes around the world. Mel speaks extensively on the intersection of story and space and is the author of Design Intervention: Revolutionizing Sacred Space. Mel also serves as an adjunct professor at CBU's College of Architecture, Visual Arts and Design.