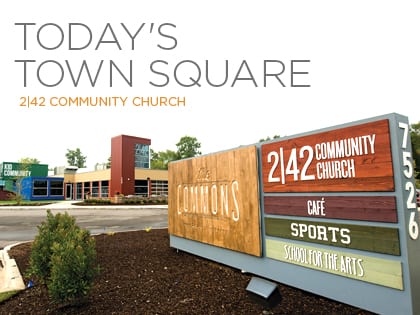 How a Michigan Church Campus Became a Community Gathering Place
Throughout history, sacred space has almost always been located at the heart of the community: from the Greek agora and the Roman forum to New England village greens and Midwestern town squares, people across centuries and continents have instinctively linked community to the deity of choice—and often, to a centrally located building.
In the modern era, developers try to make a shopping area or a coffee shop the heart of the community, but churches still have the potential to fill that God-shaped hole. For 2|42 Community Church in Brighton, Mich., that became their vision.
"When we began thinking about a facility, it just didn't make sense for us to think about spending all that money on ourselves when we would use it primarily on Sunday mornings," says David Dummitt, lead pastor at 2|42. "I hit pause on the idea until we came across this old tennis and racquetball facility. And then I asked our staff, 'What if we gave the biggest gift we've ever given?'"
2|42 has long been known within this community for its generosity. Last Christmas they gave $10,000 a week to different charities, and their "Free Stuff Van" appears at local events with giveaways. Developing a community center instead of a traditional church building expanded their vision—and their impact.
When I first walked through the abandoned facility, it had been empty for 15 years and was in an extreme state of disrepair. It looked like a location from The Walking Dead. There were still shoes on the floor, shorts and towels in the lockers and several tennis balls littering the courts in the expansive building. With stained walls and falling ceiling tiles from extensive water leaks, this place left me uncharacteristically unsure of its potential for redemption.
"After we bought the building, we put a sign out front that said, 'Coming Soon—You Decide' with a phone number," Dummitt says. "Anyone could text and tell us what they wanted their community center to look like." In addition to some of these requests, which led the church and Visioneering Studios to develop an indoor soccer field to serve as their lobby space, the new facility also hosts The School for the Arts and The Commons Café.
"If we followed a normal plan we would have built on the outskirts of our area where land is cheaper and waited for the community to come to us," Dummitt says. "Instead we bought the ugliest place in town—but a place that's close to the people we want to reach."
Entire cities may no longer be built around churches, but churches can still build Christ-centered community with community-centered buildings. 2|42 is "in the heart of things in Brighton," Dummitt says, and changing the hearts of Brighton's residents.
Mel McGowan, an Outreach magazine contributing editor, is the co-founder and chief creative principal of PlainJoe Studios, a multidisciplinary design firm focused on storytelling from branding to building. Mel combined his background in film and urban design during a decade long stint at the Walt Disney Company. Post-Disney, Mel founded and served as the president of Visioneering Studios, where he developed and led a team that won several Solomon Awards for "Best Church Architect" and "Best Builder." At Plain Joe Studios, Mel focuses on strategic branding, multimedia, and spatial storytelling/architecture for companies and causes around the world. Mel speaks extensively on the intersection of story and space and is the author of Design Intervention: Revolutionizing Sacred Space. Mel also serves as an adjunct professor at CBU's College of Architecture, Visual Arts and Design.