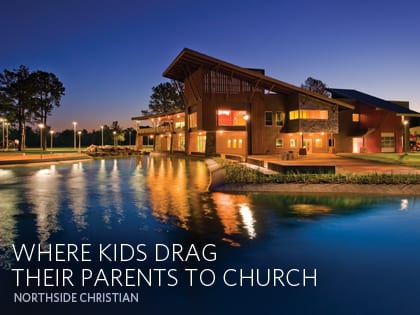 A Houston-Area Church Creates a Parklike Welcome for the Community
Many churches in the Bible Belt would be content with their existing "Christian country club" as long as it fits their "holy huddle." However, since its start in 1972 with a few families gathered in a deli, Northside Christian Church has neither had that luxury nor desire. The Spring/Woodlands-based congregation in the northwest Houston metro area abandoned their 32-year-old property in 2006 and moved to an intermediate school in order to accommodate their growth.
After acquiring 34 acres, engineered plans were drawn up to clear out the front half of the property's thickly wooded trees in order to "pave paradise and put up a parking lot." Senior Pastor David Garison had been prepared to give up his favorite deer stand amidst these trees, which he used for one of his favorite pastimes: bow hunting. Upon my first site visit, I was inspired by God's handiwork and realized that there was an opportunity to kill two birds with one shot: save an amazing grove of trees and avoid the normal Texas strip mall feel of separating the church from the community with an "ocean" of parking in between.
We asked, "What if the site didn't just serve the internal faith community, but the community at large? What if instead of being an internally oriented campus, it became the commons or Central Park of this part of town? What if we could tell the story of this unique people, place and their passion on this site?" After a unique community stakeholder consensus process called a Visioneering Blue-Sky Workshop, a master plan was developed that included a stocked fishing pond, sand volleyball court, disc golf course, indoor/outdoor playgrounds, two-level covered outdoor deck and nature trails weaving through the groves of trees and open fields.
The questions raised at the Blue-Sky Workshop started the church on an introspective journey of understanding their unique story, mission, values and vision. Brand consultants from Auxano helped them articulate their kingdom concept of a "warm welcome and honest faith," says Garison.
A figurative warm welcome was built into the master plan through an "open-armed hug"/crescent-shaped walkway that rings the pond and the grove. The initial structure housed a 650-seat auditorium in a 26,000-square-foot structure, which resembles a Texas Roadhouse or Hill Country Lodge. Rather than traditional stone or brick facades, one wing is clad in reversed license plates, stacked shingle style.
The first phase project had to encompass the entire needs of the church for worship, fellowship, nursery, children's programs and youth, in a compact package. After future phases are built, this facility will ultimately be used as the church's youth building. The two-story fellowship lobby looks out onto the decks and to the bubbling waterfall of the pond. The asymmetrical auditorium has a House of Blues club feel with multiple seating options including cushioned stackable chairs on the flat floor, stadium risers on one side, and two raised platforms with café tables and bar stools.
The church almost doubled in size from the first day on the new campus. "I ask all of our first-time guests why they decided to come to our church," Garison says, "and 90 percent of them said they were driving by and were intrigued by our site and our new building."
Four years later, Visioneering completed the 11,000-square-foot children's building, which is designed like a state park lodge, dubbed "Tonkawa Park." A glass tower encloses a themed indoor play area which is visible from the street and is open to the lobby. "Kids drag their parents to church rather than the other way around," says Garison. The indoor/outdoor park has become a significant regional destination that lifts the spirit.
NORTHSIDE CHRISTIAN CHURCH
Spring, Texas
Pastor: Dave Garison
Website: NorthsideChristian.com
Founded: 1972
Affiliation: Nondenominational
Attendance: 2,000
Mel McGowan, an Outreach magazine contributing editor, is the co-founder and chief creative principal of PlainJoe Studios, a multidisciplinary design firm focused on storytelling from branding to building. Mel combined his background in film and urban design during a decade long stint at the Walt Disney Company. Post-Disney, Mel founded and served as the president of Visioneering Studios, where he developed and led a team that won several Solomon Awards for "Best Church Architect" and "Best Builder." At Plain Joe Studios, Mel focuses on strategic branding, multimedia, and spatial storytelling/architecture for companies and causes around the world. Mel speaks extensively on the intersection of story and space and is the author of Design Intervention: Revolutionizing Sacred Space. Mel also serves as an adjunct professor at CBU's College of Architecture, Visual Arts and Design.