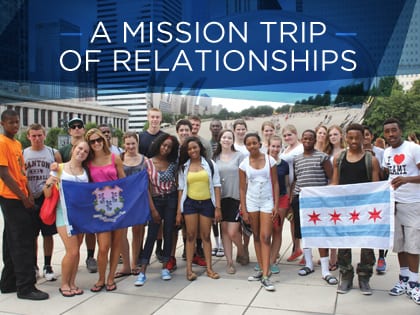 Two Churches from Connecticut and Chicago Lead Trips Allowing Students From Different Backgrounds to Bond
In 2013, 15 youths from St. Matthew Lutheran Church in affluent Avon, Conn., took a different kind of mission trip.
Their assignment: Hang out with African-American teens at a Chicago-area church.
"We all just started talking about school and classes and what we liked to do outside of school," says Maren Parchen, 17, who attends St. Matthew where the average Sunday attendance is 200. "Even though we come from different backgrounds and communities, seeing the similarities between the two groups really stuck with me."
The Rev. Daniel Hille, who pastors St. Matthew, a predominantly white church, says he wanted to organize a unique youth mission trip. So he called his friend the Rev. Yehiel Curry, who pastors Shekinah Chapel, a 200-member, African-American church in working-class Riverdale, Ill., just outside of Chicago.
"I said, 'I don't want to build anything or paint anything. … I want the mission trip to be about building relationships,'" Hille says.
The teens spent a week at Shekinah Chapel talking, team building and worshiping together.
"We talked a lot about having an open mind, being honest with one another and just experiencing a new culture," Curry says.
Then in 2014, the Shekinah Chapel teens spent a week in Avon with the St. Matthew teens. They even volunteered together at the church's 5K Run/Walk event, says Jarvé Rogers, 18, of Chicago.
"What I took away from this is that … we're more alike than we really know," says Rogers. "It all starts with that first hello."