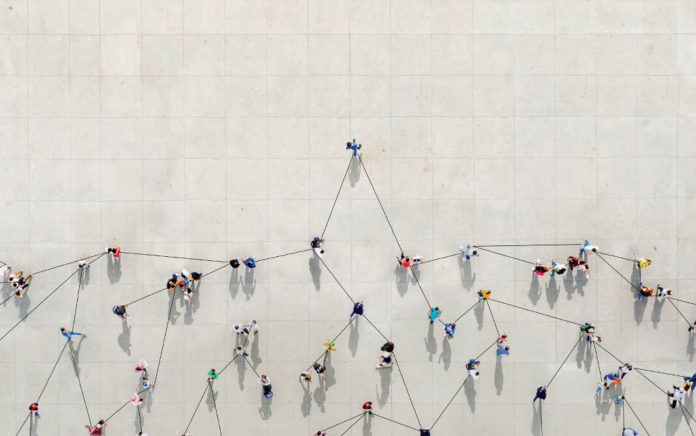 Evangelism and discipleship merge when we disciple someone on their way to faith.
When does discipleship start? For me, it was in the summer of 1977 after my sister became a follower of Jesus and two of her college friends began to invest in my life. I was a self-centered surf punk growing up in Southern California. I had no interest in Christianity or any religious expression. My driving passions were good waves, cute girls and fun with friends.
Without recognizing what was happening, I began a journey to Jesus about a year before I put my faith in the Savior. In action and with words, Doug, Glenn and my sister Gretchen taught me what Jesus looked like, his ways and the message of his grace. They talked about faith. They shared stories of God's presence and power in their lives. They were kind. They served me even when I was selfish, which was most of the time. And, they invited me to places and gatherings where there were more Christians than I had ever met before.
Along the way, the youth pastor at the church, a bearded guy named Dan, came alongside me and helped point me to Jesus. He taught God's Word creatively and lived out the stuff he was saying. To a 15-year-old guy, that really matters. I was not yet a follower of Jesus, and I had not received God's grace, but these people were actively pointing me to the Savior.
You might call this process evangelism and you would be right. It was also discipleship. When Jesus said, "Go and make disciples of all nations" (Matt. 28:19), he was talking about reaching nonbelievers and helping them follow Jesus. That's what Gretchen, Doug, Glenn and Dan were doing. They were evangelizing and discipling at the same time.
TO JESUS AND WITH JESUS
Over 10 years ago I wrote a book called Organic Outreach for Ordinary People. In it I describe two helpful scales that clarify where a person is on their journey to Jesus and then with Jesus after placing faith in him. One of these scales was developed by James Engel and the other by Thom Rainer. Inspired by these two great thinkers, I developed a similar scale that gives more room for what can be a long journey to Jesus—and also for the exciting walk forward in spiritual maturity with Jesus that continues after conversion. On this scale, where 0 is accepting Christ, I was probably a -12 when my sister began loving, serving and sharing Jesus with me.
It took less than a year for me to walk to the cross and receive Jesus. Once I was a believer, guess who continued to disciple me? You got it, Gretchen, Doug, Glenn and Dan. As a matter of fact, they helped me discover my spiritual gifts and had me serving in the church youth ministry about six months after I came to the cross.
LUPE'S STORY
Lupe came to Shoreline Church to get a few outfits from the woman's clothing closet. She had never faced poverty but had recently fallen on very hard times. The volunteers reached out to her, prayed for her and befriended her. She felt so cared for that she asked if she could come back and help them give clothes to other women in need. Over the following months, Lupe and the women who led the clothing closet ministry became friends. They began to teach her about Jesus. They invited her into their lives and shared their stories of faith and showed her the love of the Savior. They were discipling her on her way to faith in Jesus.
On the day that Lupe prayed to confess her sins and receive Jesus as her Savior, she was encouraged to begin a journey of spiritual growth and be mentored in faith. She was asked if there was anyone in her life who could help her read the Bible, grow in prayer and take first steps on her walk with Jesus. "Oh, I already have a bunch of people like that," she exclaimed. Lupe explained that two women in particular were already teaching her about the Bible, prayer and living for Jesus.
When Lupe came for clothes, she was about a -3. Within a matter of months, she was growing in faith, sharing Jesus with friends and family members, and serving faithfully in the church. She was around a +10 after six months because she had been growing in faith before she even knew where to place her faith. I knew Lupe's story fairly well, so on a Sunday morning, about six months after she surrendered her life to Jesus, I had a surprising moment related to Lupe.
During the worship service, one of our pastors was leading in prayer. He prayed for the new leader of the Women's Clothing Closet ministry. I'm sure you are already ahead of me. He prayed for Lupe. This example of the marriage of evangelism and discipleship took me to a place of joy and worship beyond words. So, I thanked God, composed myself and got up to preach with a fresh passion.
A JOURNEY THAT BEGAN YEARS AGO
When we understand the inseparable nature of evangelism and discipleship, there are many lessons we can learn.
I began walking with my father on the journey of discipleship 43 years ago. He was an intellectual atheist—not angry with God, just set in his materialistic worldview. He knew that God was not part of his equation or life. On the scale I use, he was about a -17.
To be absolutely clear, all five of his kids became believers and also began praying for our dad and sharing our faith with him. Our spouses have joined in. And, thousands of Christians around the world have prayed for my dad's journey. If discipleship is helping a person take the next step toward growth in faith, a whole community of people has been part of my dad's story.
When I was a student at Wheaton College studying philosophy, I learned the five arguments for the existence of God. When I shared them with my dad, he took time to explain them in greater detail to me and corrected me on some of the terminology I was using (and he was right). That was when I learned that my dad had read Thomas Aquinas' Summa Theologica and many other religious "texts" as he called them, including the Bible. He was not yet ready to receive and follow Jesus, but I kept sharing, as did many others.
Over the years, my dad has had countless conversations about faith, Jesus and the gospel. He has been invited to receive Jesus on many occasions. One of these times was while he was being wheeled into a heart surgery that had a serious chance of ending his life. But he said, "Not today!" I had watched my father move from being a kind atheist, to a thoughtful agnostic, to a friendly theist, to being very spiritually open. He had traveled from a -17 to a -1. But, he was not ready to surrender his life and confess his sins to Jesus.
Just a few weeks ago my dad got word that he had two new cancer spots that had metastasized. My wife and I traveled across the country to visit him with prayers and hope that we could have one more conversation about God's grace and the life that is found in Jesus alone. The first day we were with him he drifted in and out with 10 to 15 minutes when he was awake but a bit hazy. The second day he had about 90 minutes of absolute clarity. He sat up and we talked. He had his sense of humor and his mind was sharp. My wife Sherry and I were able to walk him through the story of the gospel one more time.
After sharing the story of God's love, our problem (sin), God's solution (the sacrifice and resurrection of Jesus), and our response, I said, "Dad, you know way more about the Christian faith than I did when I became a Christian. Is there any reason you would not want to confess your sins and receive the grace of Jesus right now?"
He looked at me and said, "None that I can think of."
I said a quick prayer and asked, "Dad, are you ready to pray and receive Jesus as your Savior and the leader of your life?"
He said confidently, "Absolutely!"
I paused and clarified so that we were both crystal clear about what this meant. He said again, "Absolutely!" After 43 years of praying, sharing and walking with my dad in a community of thousands who had prayed, shared and cared, my dad became a follower of Jesus. He prayed to receive the grace, love and leadership of the Savior. He crossed the line and entered God's family.
Now he is on the other side of the cross. Saved by grace. The day I am writing this article is one day after he finished another round of radiation. I am praying my dad has months and maybe years to walk with Jesus in this life. And, I am rejoicing that his journey with Jesus, which began long ago, will last for eternity.