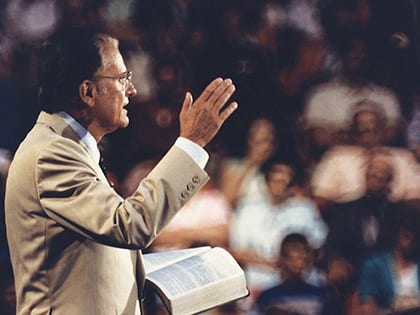 We need mentors. We need spiritual fathers and mothers pouring into us.
My heart is torn in a beautiful way.
It's the only way I know how to describe the state of my soul when someone passes from a limited, partial understanding of Jesus into the absolute fullness of that hope.
Within me, there is a part of me that mourns the loss of a giant. The other side of me absolutely rejoices that he now experiences the joy he has so often proclaimed. I've never personally met Reverend Billy Graham, nor have I been to one of his crusades. I have watched from afar, admired the beauty of his heart and been astounded at the power of his message.
It was a few years ago when I saw a fellow minister's interview with Billy Graham that I sat back and thought to myself: I just want to be in the room with him.
Have you ever thought that of someone? I do all the time. It's not because I have lists of questions to ask (I do). But I want to be in the room with people with years under their belt and experience dripping from their lives. With someone like Billy, I don't really want to say much other than "thank you." Other than that, I just want to be in the room, to be "quick to listen and slow to speak." I just want to catch the heart of who he is.
Sit with Giants
It's taken me a few years to get some boldness, but as I've matured (ish), I've realized how much I need to be "in the room" with "giants." These are people who have both years and experiences I do not possess. Younger, older, in my denomination (fellowship) or outside of the Assemblies of God, it doesn't matter. Everything God has given me belongs to him (including my life and calling), so allowing myself to be in a position to learn is nothing short of stewardship. I am responsible for growing what God has given me in order to be faithful with what he has entrusted me.
Chase Giants
If I'm being honest, I have a natural intimidation that comes from insecurities that I've battled my entire life. Early in ministry, I forfeited opportunities with "giants" out of fear or wanting somebody to pursue me. I discovered that for that to happen, I needed to stop waiting for them to chase me. I needed to chase them.
A couple of years ago, I was at a small conference where a pastor was speaking. This guy (IMO) is a giant in pastoral ministry. I've heard him speak before at conferences. I remember seeing him on the cover of Time magazine. Walking out of the room, I saw him standing checking his messages on his phone. I introduced myself and thanked him for what he imparted to the room of pastors. Then he said it: "Next time you come through my city, let me know and we'll do coffee." I felt like the Holy Spirit spoke to my heart as if it say, "When you say that to others, you mean it. Why don't you think he means it too?"
The old Dave would've just said, "Cool. Thanks for offering." Then I'd go back to my room kicking myself for letting my insecurities get the best of me. But you don't grow from fear. My response was, "I'm actually driving through there in a month. Can we do it then?"
Don't Be Robbed of a "Giant" Opportunity
That coffee meeting fed more into my spirit than most conferences have. The pastor provided food, coffee, access to staff and his building. I have his cell number to text or call. He invested in me (and others with me) more than I ever expected. And all of that would have been forfeited had I been too prideful about "needing help" or too fearful of asking for help.
Pride and fear are keeping pastors living in a state of trying to maintain an image but having no power. Competition and comparison has robbed church leaders of our joy and has sapped us of our passion. The individualistic, glory seeking, empire building mindset has distorted what the kingdom of God stands for. We are his body. And we need each other.
We need mentors and giants. We need spiritual fathers and mothers pouring into us. But stop waiting for a Paul to chase you. Stop allowing pride and fear to disrupt a holy opportunity. A Paul might choose a Timothy, but Timothys chase Pauls. Go after a giant. Be in the room with them. And whatever is poured into you, go and do likewise.
Who do you need to be "in the room" with? Who do you need to set up an appointment with to talk? Get out of your pride and over your insecurity to sit, glean, learn and grow.
Billy Graham. You are one of these giants from whom I have gleaned wisdom from afar. Much of our world has been touched and transformed directly or indirectly by you. Only heaven will be able to calculate the amount of churches birthed, mission fields pioneered, vocations impacted, families restored by the message you offered to all and the hope you planted in hearts.
Thank you for your investment in us and for placing the baton in our hands. We will not allow fear and pride to prevent us from being faithful with it.
Dave Barringer (@PDBarringer) is the lead pastor at Kalamazoo First Assembly of God in Portage, Michigan, and the author of Mosaic Marriage. He blogs about pastoring and marriage at PDave.me.