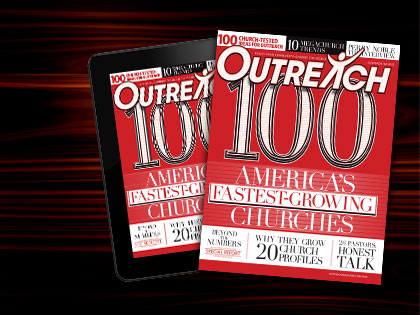 View the Outreach 100 lists online for the first time ever and see what's trending in the largest and fastest-growing churches today.
Editor's Note: For the first time ever we're making the complete Outreach 100 list available as a free PDF download and online. Also, make sure and check out the Outreach 100 Special Issue to read the amazing stories behind the numbers.
Churches on this year's Outreach 100 lists of the Fastest-Growing and Largest Churches in America are pursuing many of the same growth strategies and values, including worship locations at multiple sites, breaking into smaller groups throughout the week and intentional compassionate service to their local communities. Another widely held, and perhaps self-evident, value: Fastest-Growing Churches are seeking to create a welcoming environment for those outside the church. The lists appear in Outreach magazine's recently released 2013 Outreach 100 Special Issue.
To survey churches for this report, Outreach partnered with LifeWay Research. Led by LifeWay Research President and Outreach columnist Ed Stetzer, researchers contacted more than 27,000 churches to gather the self-reported data used to compile the lists. The results are based on February and March weekend attendance averages, not membership. More information is available at Outreach100.com.
The common denominators of multisite, small groups and community engagement surface throughout the 2013 Outreach 100 Special Issue, including in-depth profiles of churches on the Fastest-Growing list and articles featuring leaders of churches on both Fastest-Growing and Largest lists.
The special issue also highlights trends reshaping the megachurch movement in America, including the rise of young leadership, a greater emphasis on personal spiritual development within the congregation, the continued growth of the country's ethnic churches and the leveraging of church resources for community development, among others.
This year's Fastest-Growing list includes churches with attendance greater than 1,000—a numerical gain of 224 or more and a percentage gain of at least 7 percent. The rankings are determined by a formula that averages percentage and numerical gain. The Largest list includes all churches participating in the survey with attendance of 6,010 or more.
Fastest-Growing Churches Fast Facts
● Some 607,657 people are represented by the combined attendance of the Outreach 100 Fastest-Growing Churches in America. These churches added 105,662 people over their combined previous year's attendance, an average of more than 1,000 per church, which represents a combined growth rate of 28 percent.
● The state with the most churches on the Fastest-Growing list is Texas (19). California and North Carolina have seven, followed by Virginia (six), and Florida, Indiana, Ohio and Tennessee, each with five.
● Fastest-Growing Churches continue to leverage a multisite strategy, generally offering live music but streaming the preaching by video to large screens at additional campus locations. Combined, the 100 Fastest-Growing churches represent 246 worship sites.
● The youngest churches on the Fastest-Growing list are Destination Church (No. 57) in Colonial Heights, Va., and Rock City Church (No. 17) in Columbus, Ohio, both founded in 2011. The oldest church is Traders Point Christian Church (No. 99), Indianapolis, Ind., founded in 1834.
Top 5 Fastest-Growing U.S. Churches
(church name, location, pastor, growth by percent, by number)
1. Triumph Church, Detroit, Mich., Solomon Kinloch Jr. (+49 percent, +3,800)
2. NewSpring Church, Anderson, S.C., Perry Noble (+44 percent, +7,072)
3. Legacy Church, Albuquerque, N.M., Steve Smotherman (+49 percent, +3,300)
4. Celebration Church, Jacksonville, Fla., Stovall Weems (+44 percent, +3,396)
5. Northview Church, Carmel, Ind., Steve Poe (+50 percent, +2,201)
Largest Churches Fast Facts
● Some 1,147,686 people are represented by the combined attendance of the Outreach 100 Largest Churches in America.
● Combined, the 100 Largest churches represent 398 worship sites.
● Texas has the most Largest churches with 17, followed by California with 16, Florida (nine), Georgia (six), and Arizona and North Carolina with five each.
● Almost half (47) of the Largest churches identify themselves as "nondenominational."
● The youngest church on the Largest list is Elevation Church (No. 28) in Charlotte, N.C., founded in 2006. The oldest is The Greater Allen Cathedral of New York (No. 96), Jamaica, N.Y., founded in 1834.
Top 5 Largest U.S. Churches
(church name, location, pastor, attendance)
1. Lakewood Church, Houston, Texas, Joel Osteen, (43,500)
2. North Point Ministries, Alpharetta, Ga., Andy Stanley (30,629)
3. Willow Creek Community Church, South Barrington, Ill., Bill Hybels (25,743)
4. NewSpring Church, Anderson, S.C., Perry Noble (23,055)
5. Church of the Highlands, Birmingham, Ala., Chris Hodges (22,184)
Carlsbad, Calif.-based Outreach magazine offers the ideas, insights and stories of today's outreach-oriented Bible-based churches. Founded in January 2003 by church communications company Outreach Inc., Outreach is an award-winning, leading periodical for church leadership. Outreach is available by subscription.
The Outreach 100 lists were compiled by LifeWay Research and include only evangelical Protestant churches—as defined by the American Religious Data Archive—that opted to participate in the study. The Outreach 100 is based on a self-reported survey, not an independent investigation. Outreach magazine and LifeWay Research are not responsible for errors/discrepancies in self-reported data or churches not opting to report.
Copyright © 2013. All rights reserved.